Hey all, I thought I'd post pictures of my first venture into planted tanks. Originally I had purchases live plants in order to promote the health of my fish, but now it has turned into a satisfying hobby in itself.
Here we go. This journal started on March 1, 2007
It first started with some plants in an otherwise dull looking tank. I am somewhat loath to post this pic, as it's rather embarassing. Clown puke blue gravel and live plants do not mix, PERIOD. And yes, the wisteria looks absolutley horrible, because the bottom leaves were all browning and I clipped them all off in a perfectionist rage. Just think of them as palm trees. Don't laugh :hihi:
Current occupants:
1 quarter size angelfish, 1 gold dust molly, 1 siamese algae eater 1 cardinal tetra.
Here we go, some major change. Added in Flourite. Boy was this a pain. The fish most definitely did not like sitting in a 5g bucket for 2 hours. Note this was only taken an hour after putting in Flourite. How is it so clear when I'm only using a Whisper HOB filter you ask? Simple. Because, like an idiot, I decided to use an aggregatting water clarifier. So now, the dust was on my plants, not in the water. :help: Shortly after this, I got my DIY CO2 up and running, as that tubing isn't doing much just hanging there
In other news, I had to put a divider up because the molly had her fry (I was at work, and so only managed to save 4 of them). Also added 2 cardinal tetras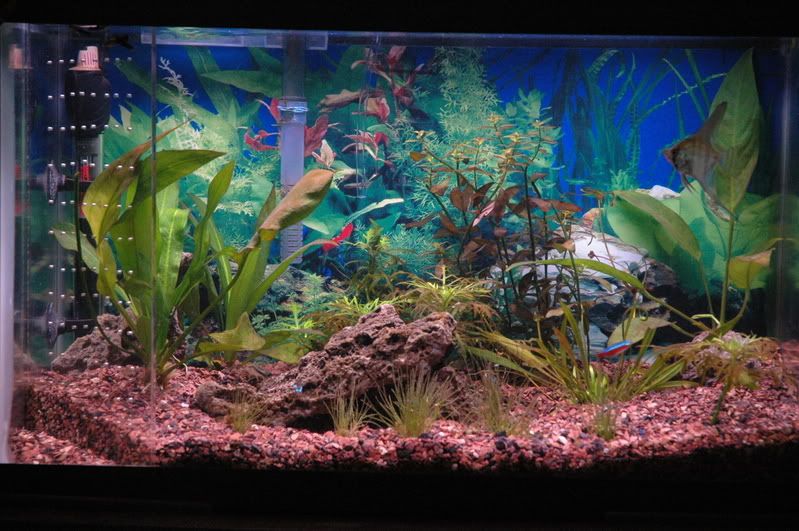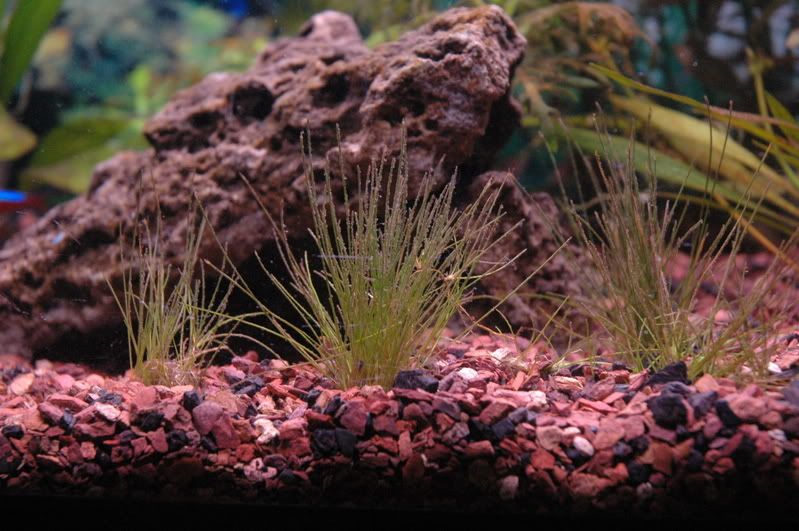 Woot! New light fixture for cheap, courtesy of Paypal 15 dollar cash back and Ebay. It's a 28 watt Coralife CF fixture......with 50/50 bulbs. lol. I figured I may as well try them before discounting actinic bulbs. Remarkably enough, through this period, which lasted a week, each of my anubias nana sprouted 2 new leaves. After switching in 6700k bulbs, they stopped. The water is cloudy from my scrubbing the brown algae off of EVERYTHING. They say Flourite does not leech silicated into the water, but I must respecfully disagree. All of the dust gathered on my leaves proved to be a perfect growing area for all the brown algae that subsequently took over my tank. My Siamese algae eater simply couldn't keep up.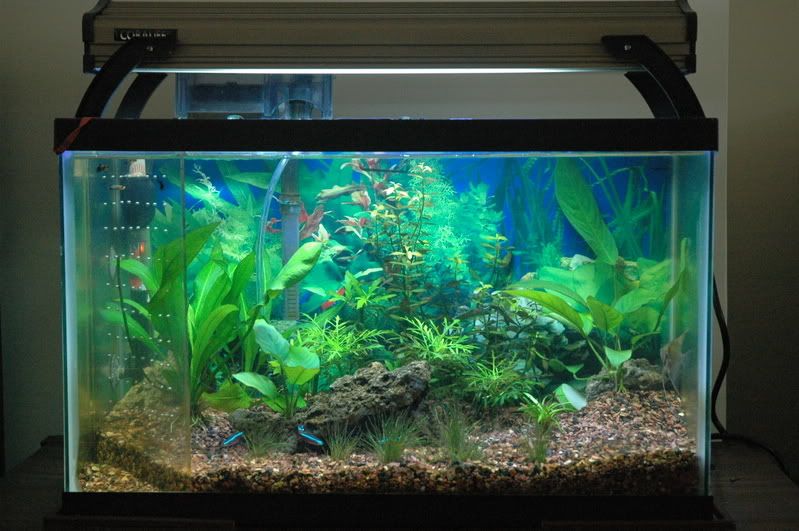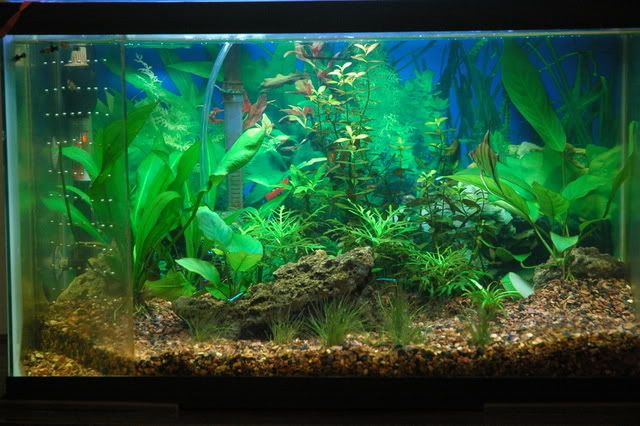 At this stage, I had been looking at other people's tanks and realized I needed a groundcover. Esarkipato was kind enough to send me a portion of marsilea hirsuta RAOK, which then took me an hour to plant, since I did not have tweezers in the house
I also switched to 6700k bulbs and began EI dosing.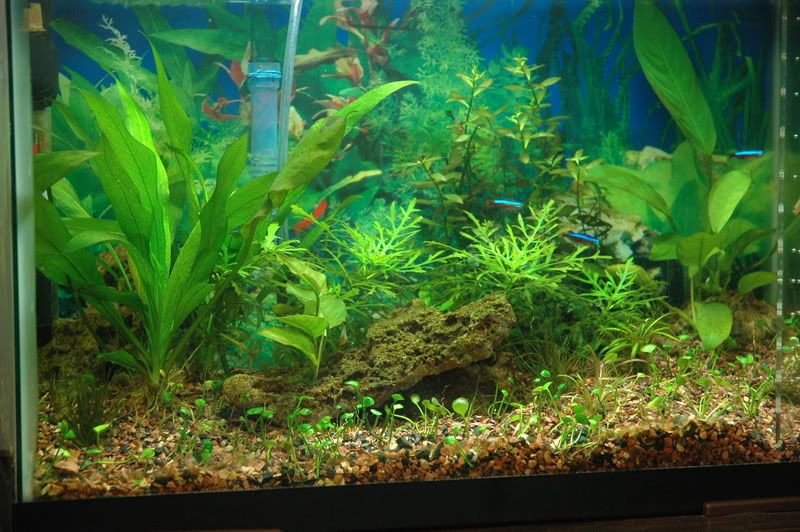 Marsilea closeup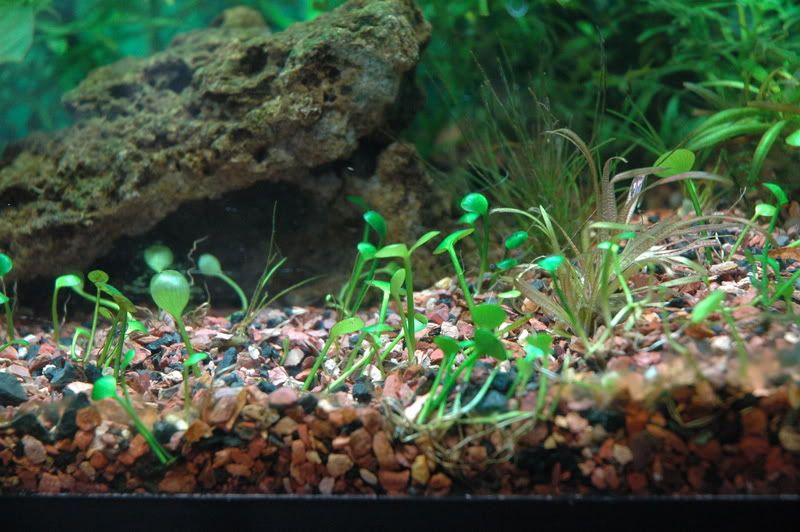 New occupants in the tank! The angelfish and siamese algae eater were switched out for 2 otos and a dwarf gourami. Within 24 hours of adding the oto's, my brown algae had all but disappeared :thumb: Green algae appeared on the front glass for a few days, but then went away after I reduced the photoperiod to 9 hours. I can finally sit back and enjoy the tank!
Oto resting on a leaf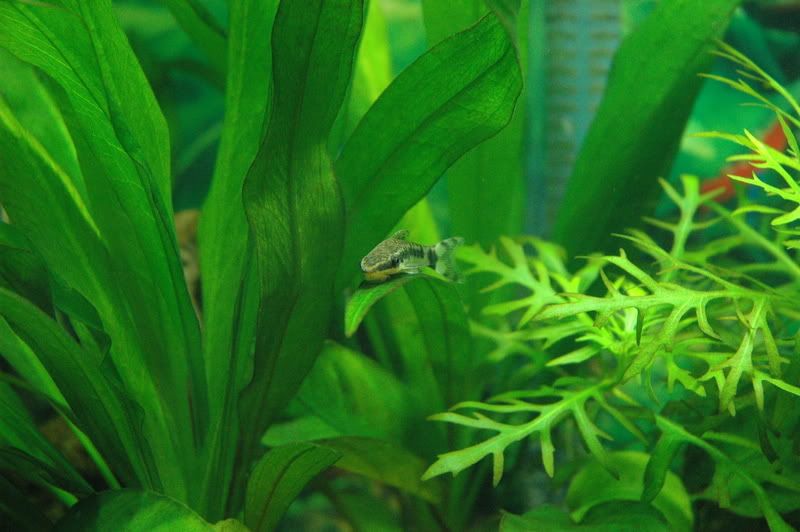 Dwarf Gourami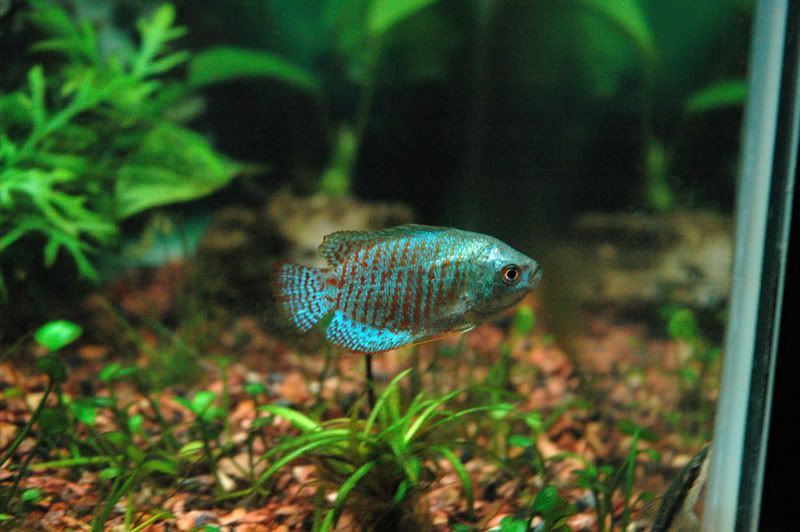 Cardinal tetras (which are finally schooling now that the angelfish is gone)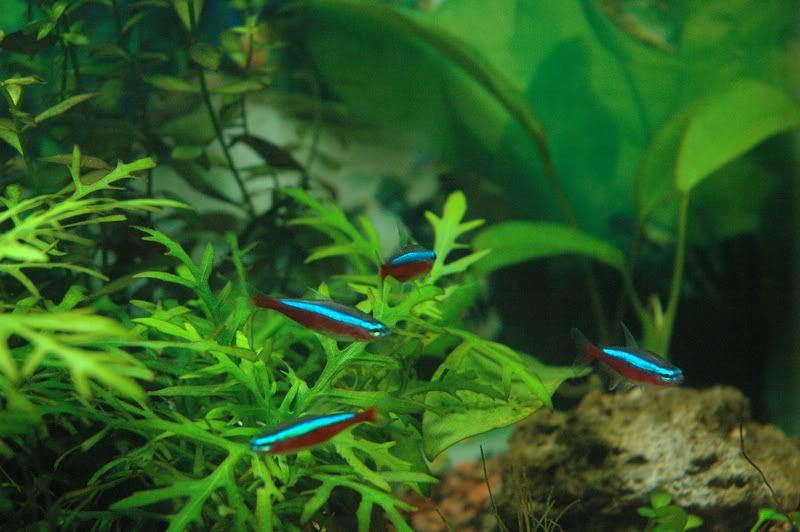 And finally, my tank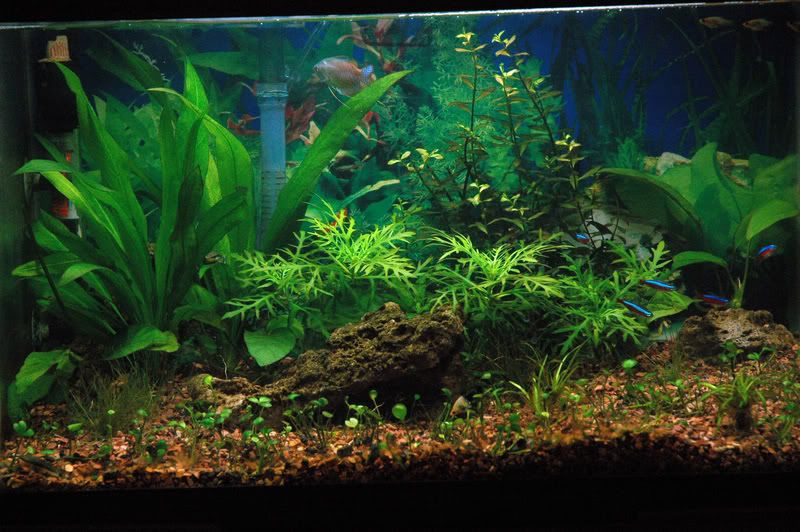 I hope you've enjoyed reading this. I know that this experience has been a blast for me. Looking back, I see that this tank has surpassed my expectations, coming from such "humble"
beginnings. I have learned a TON about plants in the past few weeks, with the help of this forum and the Barr Report. I've also learned about taking good pictures
I will be sure to post updates when my marsilea spreads out and my blyxa and chain sword get big enough to rescape.
Feel free to comment or make suggestions...I'm actually still not quite sure where I'm going with this tank. Perhaps some moss on the rocks?