Discussion Starter
·
#1
·
Fall MTS is kicking in, soon it will be cabin fever weather. A thought popped in my head and I haven't found much in the way of DIY or WIP threads to base it off of. I'm not even sure how phrase it for searching.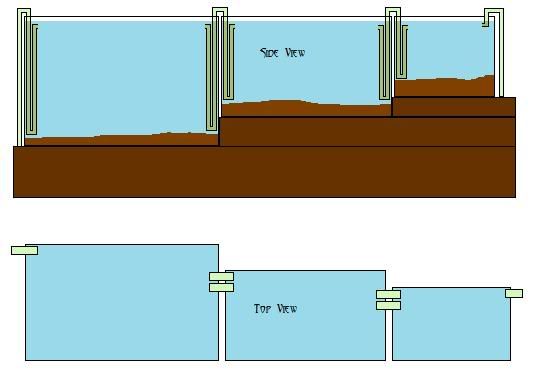 Multiple tanks plumbed in series, or tiered tanks of different sizes. As long as the tops are level, there should be no overflow due to gravity. Using one canister filter which can support more than the sum of the tanks volumes. This way I'd save on equipment but be able to keep species separate tanks, or a breeder a grow-out and fry tank...many uses!
I'm trying to understand the pros and cons before I bury myself too deep in this:
Pros:
Simplified water changes, essentially acts as one tank
Can sit the tanks caddy corner or line them in an arch to fit in a corner space
keep otherwise incompatible species separate, or keep strains of species separate (bee & CRS & snowball shrimp...bettas, tetras and slow moving long finned fish...etc)
Ability to temporarily isolate a tank if re-scaping by moving hoses around.
If you have one long higher wattage shop light, you can light all tanks at once rather than having to buy individual lights.
Can keep multiple completely different tank scapes, substrates and plant species separate but on the same support equipment.
Technically a larger water buffer from having more volume in circulation. Think of it like a wet/dry sump to an already existing setup.
Cons:
All for one and one for all...parasites/disease & algae & ammonia spikes & fert overdosing mistakes, etc.
could pose a problem with poor water flow
The little stuff:
The inflow and outflow pipes at the end of the circuit should have less total flow than the inter-tank pipes. Just use 2+ of the same diameter pipe and it should prevent tank overflow from restriction.
water level of all tanks should be identical to prevent gravity causing a tank overflow.
An overflow pipe between tanks may be overkill, maybe just a loop between with a check valve?
Maybe it would be better to T off the intake and outflow of the canister to each tank and put a tube between tanks just in case flow is not identical between them. You wouldn't want one running dry because of flow differences.
Any ideas/c&c appreciated.