Discussion Starter
·
#1
·
Here is my latest mini project: 1gallon AquaOne tank, Java moss-based "Sanzoniwagumi" (hopefully).
Have been playing around with photoshop to try and see what the finished result should be, so here's what I got.
Tank Now: (still quite cloudy as I was lazy with the sand washing)
Finished "photoshop" Scape with Java moss (again, hopefully) :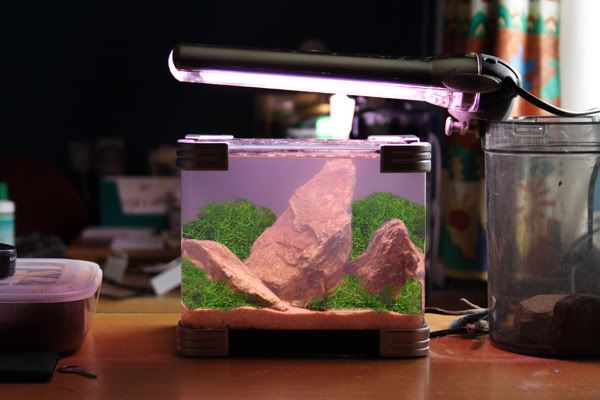 I hope that will give you a clue as to what I hope this to turn out like.
The lighting is, as you can see, an 11w Arcadia ArcPod
Filtration is the good old Red Sea Nano
Substrate pure silver sand, no additives,
Rocks from Italy,
Plants are Java moss only, tied to slate with cotton.
This tank will be unheated as I can't fit a heater in there, and I will use rainwater for water changes to keep it very soft and acidic. Current pH is 6.5ish, but may go up because of the sand and rocks. KH and GH are at 0, but may also go up.
Fertilization will be: Macro's via ADA green brighty special lights, and Micro's via JBL Ferropol.
I have DIY CO2 plumbed into the filter.
Ta for looking, I should be updating as the bloomin stuff grows!