Discussion Starter
·
#1
·
"You have too many tanks we have to take care of when you aren't around". So what's her answer to that? "I saw this on sale and got it for myself for mother's day". I don't think she fully realizes what she just got herself into.
One confused son later, and we have this so far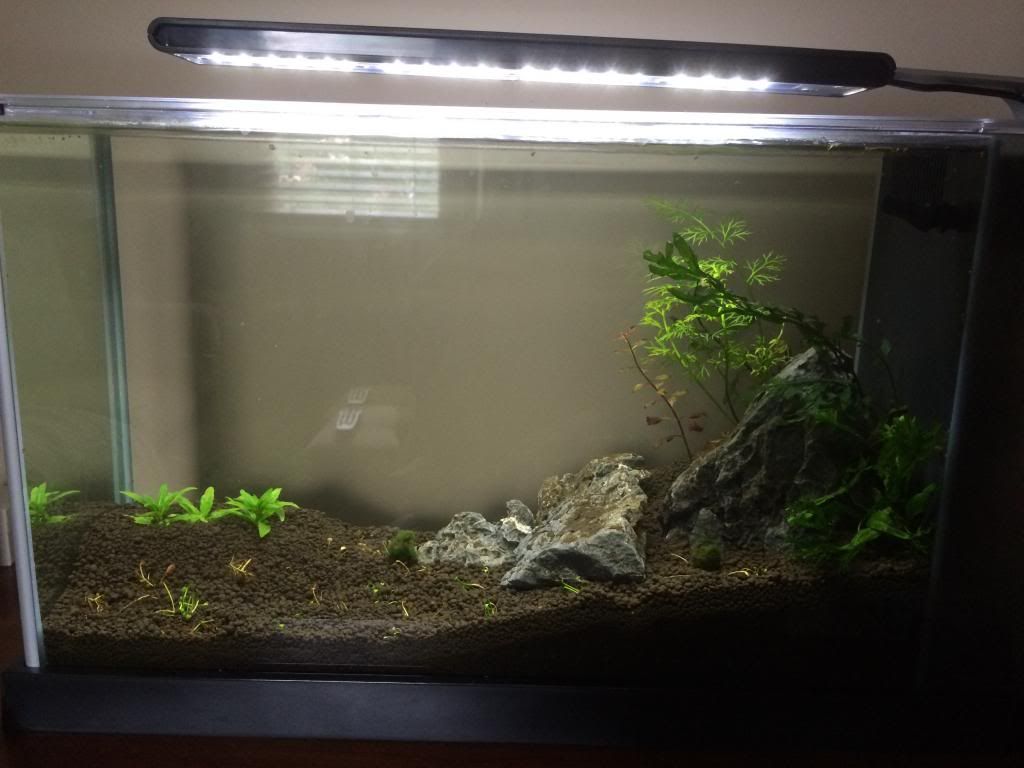 Its…not the best looking thing in the world. But I firmly believe it will get there in time, and that I have laid down the foundations for this to be a pretty nice looking tank once things fill in more. Of course, fish will be added, and some plants may be removed or replaced, but so far this is what it is. And it has a LOT of growing to do.
This tank may also be the closest I come to doing anything iwagumi-eque for a long time. Idk, the openness isn't my style but its my mom's tank so I will try to make it as lush as possible. Probably will come off as more of a iwagumi meets nature style meets "lolwhatisscaping" style.
Here are the specs on this so far:
• Current Inverts
• Planorbis arnoldi – "Mini Ramshorn Snail" x#
•
• Plants
• Marsilea crenta
• Aegagropila linnaei – "Moss Ball"
• Staurogyne repens
• Ludwigia sp. 'Red'
• Ceratopteris thalictroides – "Water Sprite"
• Bolbitis heudelotii – "African Fern"
• Microsorum pteropus var. 'Windelov'
• Bucephalandra sp. "Mini Belinda"
• Filtration - Stock
• Heater – some small thing I have to set once I get a thermometer for this tank
• Lighting – Stock (and I hate it, I'm going to convince my mom to replace it with some other LED)
• Substrate - ADA Amazonia
• Hardscape - Ryuoh Stone
As you can see, I wanted some nice things for my mom's tank. So far, the frustration is coming from the lack of lighting intensity from that stock LED. Even she seems convinced that she should get a better light for this tank at some point. I'm thinking either that clip on fugeray with red LED's (but idk if it will have enough spread to really get the whole tank nicely) a straight up fugeray, or ideally the satellite plus since that seems fun and gets the PAR. Its just a little more expensive than the other options. I don't think the planted+ is worth it for this tank though, as I feel that might have too much PAR for such a small tank, and I don't see my mom doing co2 injection on this.
My pal MonsterFish has some Badis badis he can rehome so I might either take a pair or a single male for this tank, as that seems like it would have the blue in it that my mom would appreciate. I have also been told that a single male might work out with a few nano schooling fish, but I will see.
And incase anyone is wondering, the buce is here, inbetween the stones. It will look cooler once the buce grows out more…however long that takes.