Hi, so I am currently new at this aquascaping business so please excuse my lack of knowledge at time. Anyways... this 10 gallon project has been pushed back over and over again. It has been used as a goldfish tank, a crayfish tank, a neglected tank. But looking through pictures I wanted to do the tank some justice...
Now, being a noob i have to admit that this isn't my first tank.. i've had a nano 7.5 cube before but due to light failure I lost almost everything I had in there.. so i guess this 10 is kinda like my way of remembering my once planted cube. -sigh-... Inspiration for this tank was brought to me by this tank:
and this was my tank..=(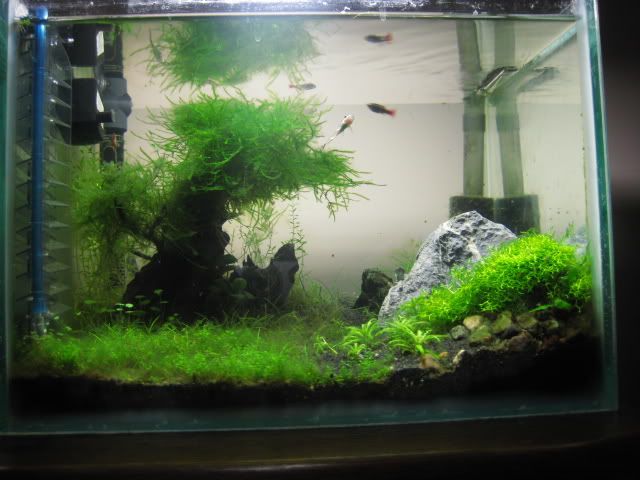 I miss that moss tree..But anyways past behind me.. Here's to the new Project..
Plants (i'm going simple for plants mostly moss)
-Java Moss
-Christmas Moss
-Flame Moss
-HC
-Dwarf Hairgrass
-Anubias Nana
-Java Fern (Narrow variety)
Fauna
--6 Borara Maculatas (still to get)
- Shrimp.. (still debating what species)
Equipment
-25 watt Compact flourescent
-Elite Mini Filter
-Aqua Clear 30 filter
-Substrate: Normal geo system gravel T_T i miss my fluorite.
*future additions
-once enough money->pressurized Co2
-if my tank hasn't grown in yet i might rescape it later and get fluorite substrate.
now i don't have any pictures about the process unfortunately but its quite amazing how i was able to turn this tank from a "single log with gravel tank" to a somewhat respectable hardscape.
Pic 1: too bright.. still kinda cloudy from rescape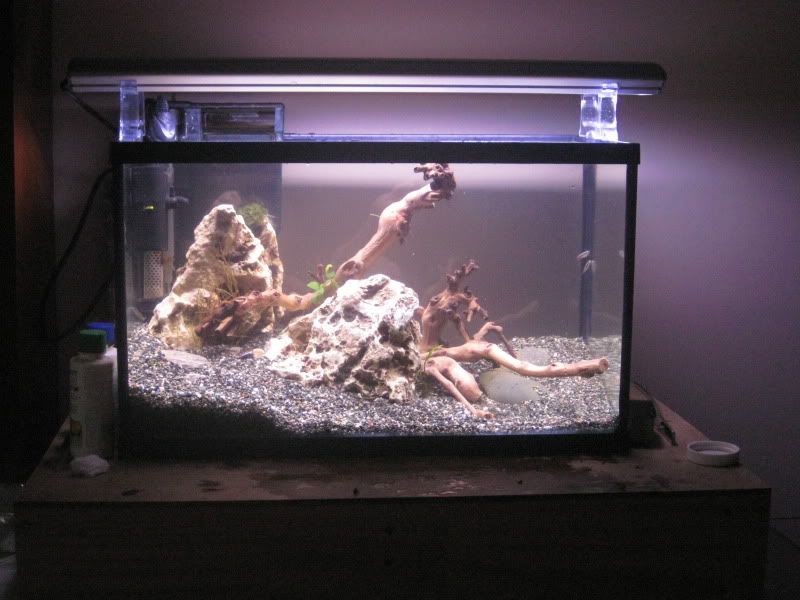 Pic 2: a bit clearer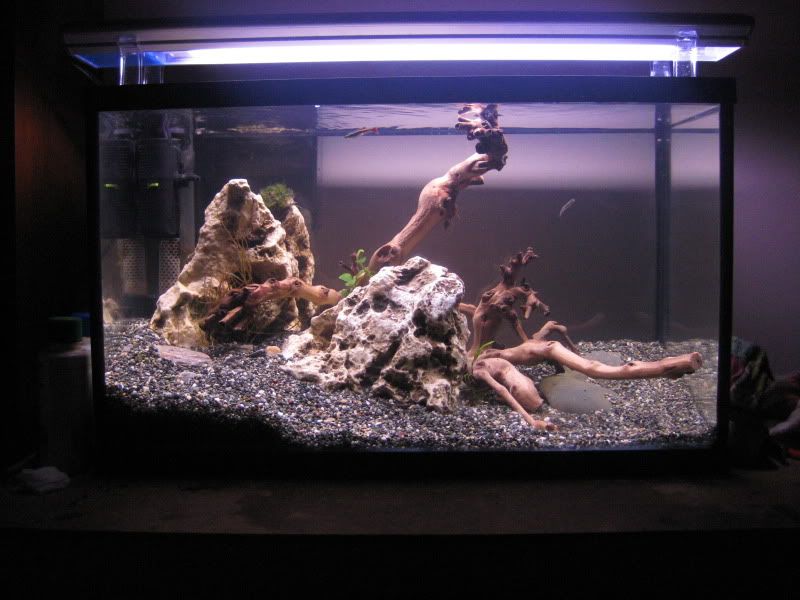 Pic 3: (side view)
(all the moss is comming in tomorrow.. so im gonna moss up the wood. and hairgrass is comming in later on soo. yea. don't mind the spindly dead brown grass looking plant its just there to see if it makes a rebound... it WAS hairgrass.. LOLOL)
Yay. now the waiting game begins.