Discussion Starter
·
#1
·
I just finished dinner and I thought I'd share my ramen recipe with you. It turned out really delicious and my sister is already asking for it again next week. This recipe is good for anyone who has semi-easy access to a good Asian grocery store as some of the ingredients are harder to find.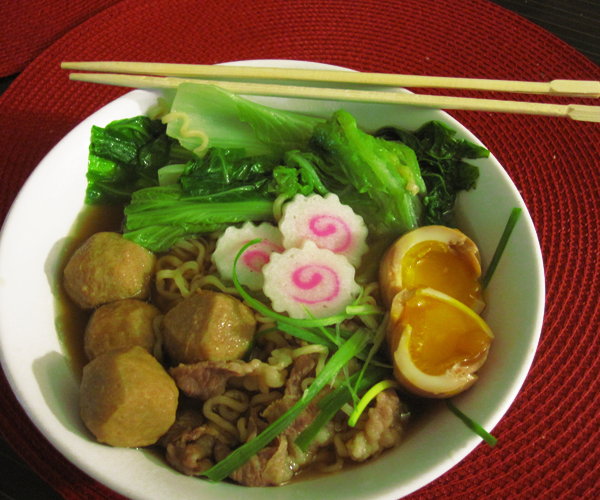 ​
The ingredients:
- 2 instant ramen packets beef
- 1/4 lbs thin sliced beef brisket
- 8 frozen meatballs (the one's used in Phở )
- 1 bok choy bunch
- 4 stalks from Chinese cabbage
- green onions
- soy sause
- mirin
- 2 eggs
- naruto maki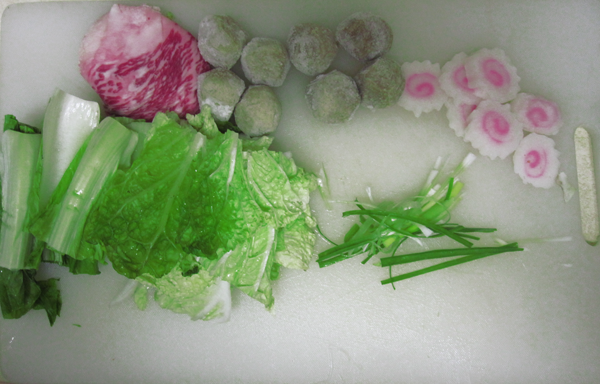 ​
First I'll tell you how to make the soft boiled eggs since they have to sit over night.
Soft Boiled Eggs
1. Place room temperature eggs into pot and move around constantly until brought to a boil. Let boil for 4 minutes.
2. Remove eggs and place into a bowl full of ice water.
3. Take 1/4 cup of soy sauce and a 1/4 cup of mirin and mix in a bowl. Heat in the microwave for 30 seconds.
4. Pour mixture into small plastic bag.
5. Carefully remove shell from eggs and place both eggs into the mixture. Tie it up and let it stay in the fridge for the night.
Soup
1. Heat up 4 cups of water on mid/high heat and mix in the beef broth packets that are included in the instant ramen packets.
2. Throw in the frozen meatballs, and let cook for about 3 minutes or until the meatballs become soft.
4. Put in the instant noodles. Cook fully.
5. Add in the bok choy and Chinese cabbage. Cook for about 1 minute.
6. At the very last minute add in the thin sliced beef brisket. This should cook in a matter of seconds.
7. Place your ramen in a bowl and add the sliced naruto maki to the top for some color. Also take the green onions and slice them very thinly length wise. Place on top.
8. Take eggs out from the fridge after being marinated over night. take a string and slice egg in half. Place on top of the ramen.
And there you go! My special ramen for when you feel like warming up.
Enjoy PT.