Discussion Starter
•
#1
•
I decided to start this post to bring into light possible identification of micro nutrient deficiency that was affecting my 40B. While I was able to grow my 40B tank the way I wanted, certain plants seemed to struggle even with the correct (and even elevated) levels of macro nutrients. After all the fert tweaking, nothing was making sense until I finally decided to do the low range Manganese test on my 40B.
I would have never thought of having a micro deficiency issue affect my 40B tank and I never bothered to test my Manganese levels since the tank was getting a regular daily dose of CSM+B. I was in for a shock after I finally decided to test the tank this past weekend after actually reducing my CSM+B dosing to every other day for that week (thinking it was micro tox!). The machine (Hanna HI-83200) gave me a 0 ppb Manganese reading twice! Manganese in CSM+B is one of the 3 micros that have a higher concentration in the fertilizer mix so to come up with a 0 ppb reading was pretty bad. My machine can read from 0.000 to 0.300 ppm. or 0-300 ppb of Manganese with the accuracy of +/-10 ppb.
200 mg of CSM+B in my 40g tank yields.
Fe 0.086
Mn 0.025
Cu 0.001
Mg 0.018
Zn 0.005
Mo 0.001
B 0.011
dGH 0.004
The culprit is most likely the high CEC Safe-T-Sorb substrate. Even after almost 2 year in the tank, it seems the substrate still sucks out fertilizers from the water column. Still trying to figure out how much.
My dosing routine for CSM+B.
600 mg CSM+B for 40g after every water change yielding:
Element ppm/degree
Fe 0.259
Mn 0.074
Cu 0.004
Mg 0.055
Zn 0.015
Mo 0.002
B 0.032
dGH 0.013
NOTE: Also additional .4 ppm Fe from DTPA 10% Fe dosed after water change PLUS 2x .1 ppm from Seachem Iron everyday on separate schedules
350 mg per week of CSM+B (7 x 50 mg everyday) yielding total every week:
Element ppm/degree
Fe 0.151
Mn 0.043
Cu 0.002
Mg 0.032
Zn 0.009
Mo 0.001
B 0.018
dGH 0.007
Total Micros
Fe 0.41 + .4 ppm Fe from DTPA 10%.
Mn 0.117
Cu 0.006
Mg 0.088
Zn 0.023
Mo 0.003
B 0.05
dGH 0.02
Now the total estimated dose of micronutrients might not be much but I decided to run the test on my 20g and 29g grow tanks which uses inert substrate (petco fine and acrylic coated gravel) and I was shocked to see both tanks show up with more than 90+ ppb of Mn. 94 ppb and 140 ppb for my 20g and 29g which was way more than what I saw in my 40B. Considering the 40B was getting a daily dose then I would have expected to see a higher Mn reading from the machine but that was not the case.
Some picture of the results from the machine:
ul/L is parts per billion or ppb not ppm
Two test for my 40B - had to do the test twice to confirm the low Mn level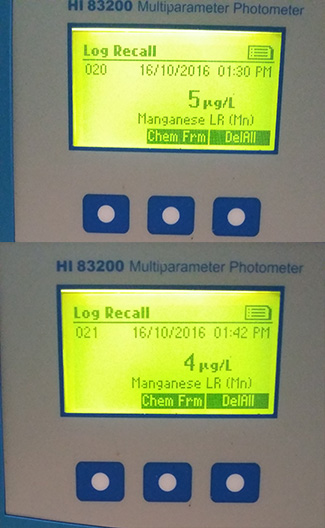 Single test of my 29g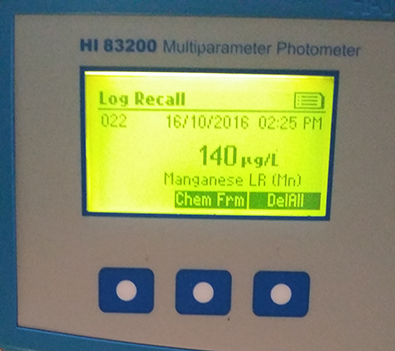 test for my 40B 3 days after adding 800 mg of CSM+b or 0.099 ppb Mn during the 3 days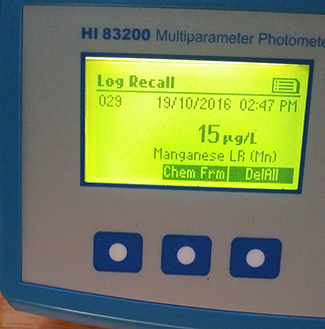 Single test of my 29g after 3 days with no additional CSM+b dosing.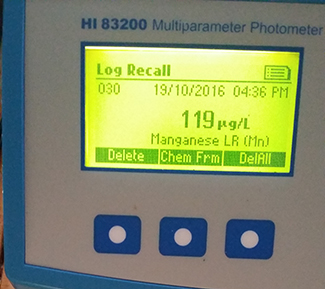 As you can see the total estimate 104 ppb for my 40B ended up to be around 15 ppb. Losing as much as 85 ppb of Manganese in almost 3 days while my 29g at 140 ppb with no additional CSM+B dosing lost only 21 ppb of Manganese in the 3 days between the test.
Before making the discovery this past weekend, my tanks was probably bottoming out of Micros for the past week since I altered my CSM+B dosing and started to dose less.
Some observations on some of my plants
(I'll post the photos soon!)
- Pogostemon Erectus - Tips just stopped growing any new leaves, no twisted leaves, just completely no growth at the tips. The plant does not grow more than 3 inches per stem and starts to grow sideshoots which have a tendency to stop growing too. Small stem width.
- Downoi - Just stops growing. Will grow a partially new leaf after a water change then it will just stop growing. Only 1 new baby plant appeared out of 8 plants since the plants were added almost 6 weeks ago from my 20g.
- Tonina Fluviatilis - Bottom leaves were small and the older leaves would just start to become clear from the bottom as if nutrients were being moved from the older leaves but no sign of chlorosis. The tips were small and the distance between leaf nodes was very very short.
- Stargrass - older leaves would appear with black leaf tips and tip margins
- AR (mini and var) - older leaves turn black and would twist a little and leaf margins would cup downward. Leaf nodes was very short and new leaves grow very very very slowly. Leaf size is smaller.
- ludwigia senegalensis - necrotic stem and leaves at the bottom part of the stem, pale orange leaves and not your healthy red leaves with a yellowish strip at the top of the stem. I had a tiny growing stem that almost never grew for the past 3 weeks and started growing just this week after the adjustment in my CSM+B dose.
- Creeping Jenny - grows very very very slows and appears with smaller leaves
Very common thing across the plants that was showing signs of the deficiency was the poor growth of roots. The roots were fine and healthy except only a very small amount of roots will appear.