Discussion Starter
·
#1
·
I'm such a sucker! After reading the "saved a betta" thread below I gave in to my urge to save a betta from petco. Normally I would never buy any livestock from them, but I sometimes get cat litter there when I can't get to my usual worker co-op to buy it. The sad little bettas in the cups get to me.
I brought home a female who was showing almost no color, I mean she was white with just a tiny hint of pale lavendar in the fins. I had previously set up a 4 1/2 gallon planted tank, no filter, 3" sand substrate with about 1/2" aquasoil/powersand at the bottom, one 20 watt colormax CF bulb (very pink!), hydor 7.5 watt heater, no CO2 (dosing 4 drops a day Excel and a little Green Brightly).
I thought she would color up some and show more purple in the fins but I was amazed at how she changed. She loves her tank (especially since it had been uninhabited and was full of naturally occuring live food!).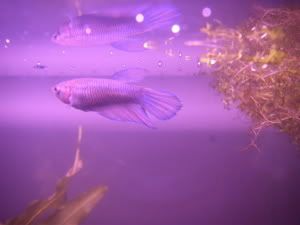 With flash on below you can see she's not as purple as the colormax makes her but she ain't white either!