"L'arbre Sous L'eau"​
"Tree Under Water"​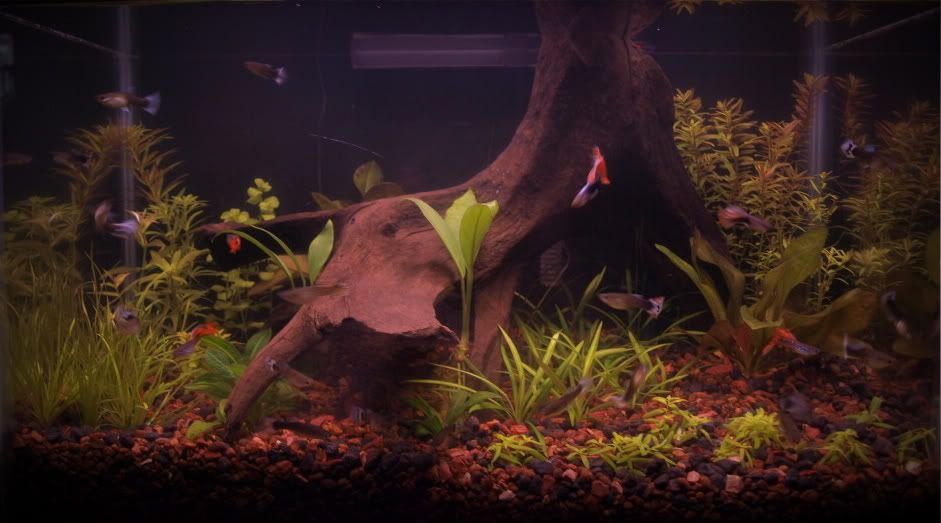 Don't you just love how french words roll off the tongue and seem so elouquent if you don't know what they mean.
Well, this is a journal I wanted to start for a 10 gallon tank I re-did over the weekend. It is not high tech, no special fish, not trying to have it win any contest, no fancy CO2 equipment, no high tech lighting but just a tank to house my guppies and some other plants I have that I didn't want to get rid of or wouldn't fit in my 90 gallon. Here are some specs...
Tank:
10 gallon
Filter:
Whisper 20 Power Filter, with a (1) mesh bag of purigen & bio-foam filter pad
Lighting:
Don't fall out of your seat! - (2) Single Fluorescent 15watt, 6700K, Life-Glo2 bulbs.
Heater:
Visa-Therm in-tank
Substrate:
A mix of black gravel, flourite and laterite. Also I put on the bottom, Laguna Peat Granules.
Dosing:
I am dosing 2.5ml of excel daily, and then 1/2 the EI Method dose of a 20gal tank.
Flora:
Rotala Rotundafolia, Limnophila Aromatica, Limnophila SP Mini, Creeping Jenny, Rotala Mac. Green, Elatine Triandra, Echinodorus tenellus, Echinodorus 'Kleiner Bar', Blyxa Japonica
Fauna:
Fancy Guppies, (Coming Soon - Julii Cories, Otos, and some nerite snails)