Discussion Starter
·
#1
·
Like the title says buy 2 get a 3rd free (
of equal or lesser value of coarse. lol

)
Measurements are all there as well as the Yard sticks in the pics as a reference. Measurements of any with multiple pieces has the largest piece measured. Manzanita is very versatile and can be used to scape in many different ways. Lay it in the tank, situated with a small piece of slate, tied from the top of the tank to give the appearance of coming from above, or ???? there is just so many possibilities. I can also trim any piece for you if you like. Send me your zip code for a shipping quote. A lot will ship for $15-20 with the larger pieces being just a little more.
Any questions at all please feel free to ask!
Remember
All pieces are measured from the widest points which is usually a thin branch. So if a piece is only a few inches to big for your tank it can be trimmed most of the time without loosing it's style. Trimming can be easily done with pliers, snips, saws, or even scissors.
PLEASE SHARE PICS OF YOUR TANK WHEN IT IS SET UP
#1826 32"x13"x16" $30
#1831 37"x12"x16" $40
#1844 21"x7"x15" $25
#1845 23"x7"x12" $25
#1847 17"x8"x10" $20
#1849 31"x6"x8" $20
#1850 20"x7"x8" $25
#1851 29"x10"x16" $25
#1853 32"x8"x11" $25
#1858 35"x15"x16" $40
#1859 29"x7"x12" $25
#1749 29"x8"x10" $25
#1751 21"x4"x12" $20
#1754 28"x9"x15" $25
#1755 25"x7"x21" $25
#1756 21"x6"x9" $20
#1759 16"x3"x8" $20
#1760 18"x7"x6" $20
#1761 17"x8"x12" $25
#1764 27"x10"x10" $25
#1766 30"x12"x8" $25
#1768 27"x6"x17" $30
#1769 27"x6"x14" $25
#1771 25"x9"x6" $30
#1774 22"x5"x11" $25
#1778 25"x12"x10" $25
#1782 31"x12"x19" $40
#1783 30"x14"x15" $30
#1787 21"x10"x12" $25
#1789 18"x8"x11" $20
#1790 15"x5"x10" $15
#1792 13"x4"x10" $15
#1797 12"x6"x7" $15
#1798 23"x6"x11" $25
#1799 18"x6"x10" $20
#1800 22"x9"x9" $25
#1801 17"x11"x13" $20
#1803 17"x8"x12" $20
#1804 19"x8"x9" $20
#1704 35"x8"x14" $40
#1705 28"x8"x16" $30
#1709 18"x16"x16" $25
#1712 25"x7"x10" $20
#1714 19"x6"x15" $20
#1717 26"x5"x12" $20
#1719 18"x6"x7" $15
#1720 17"x7"x10" $15
#1723 26"x8"x10" $25
#1724 21"x9"x10" $20
#1726 23"x12"x14" $25
#1727 25"x6"x10" $20
#1733 22"x15"x9" $25
#1738 16"x7"x9" $20
#1741 15"x7"x7" $15
#1647 18"x6"x14" $25
#1656 18"x8"x15" $25
#1661 32"x12"x12" $30
#1662 22"x11"x14" $25
#1663 33"x10"x16" $30
#1675 15"x10"x16" $20
#1678 22"x6"x10" $20
#1680 24"x5"x9" $25
#1689 16"x6"x10" $20
#1691 16"x6"x8" $20
#1537 25"x10"x13" $25
#1560 29"x5"x12" $25
#1568 15"x11"x7" $25
#1576 22"x8"x12" $25
#1579 20"x11"x7" $15
#1595 25"x6"x18" $25
#1603 20"x6"x9" $20
#1490 20"x5"x9" $20
#1504 20"x10"x16" $25
#1518 22"x7"x16" $25
#1522 17"x9"x13" $20
#1456 17"x4"x7" $15
#1458 25"x10"x11" $25
#1460 32"x9"x15" $25
#1466 18"x11"x15" $30
#1483 19"x8"x11" $20
#1420 20"x10"x9" $20
#1428 30"x7"x13" $30
#1444 21"x8"x10" $25
#1374 24"x13"x15" $25
#1392 32"x12"x19" $30
#1397 18"x13"x10" $20
#1413 35"x7"x15" $25
#1295 15"x7"x20" $20
#1296 27"x9"x12" $25
#1298 21"x7"x15" $25
#1194 20"x6"x10" $20
#1169 31"x5"x12" $25
#1140 16"x7"x10" $20
#1142 20"x15"x10" $20
#1149 21"x13"x8" $25
#1061 22"x6"x15" $20
#0850 17"x12"x10" $25
#0681 17"x7"x12" $30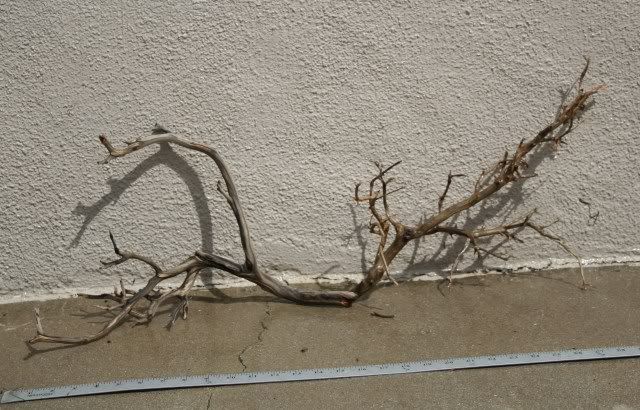 Here's some pieces that someones been waiting for.... These pieces are AWESOME!!! Each have great branches that give them a lot of character. Shipping is possible via fed-ex ground or by the Greyhound bus lines if you are near a city they go to which is much cheaper than fed-ex especially to the east coast. Shoot me your zip and city and see what shipping will be. Jump on one QUICK!!!! They are......
#1862 51"x13"x25" $85
#1864 40"x11"x21" $50
#1865 48"x15"x24" $60
#1484 44"x20"x29" $80
Seiryu Stones​
I have lots of Seiryu Stones available I am selling these by the pound. I don't have individual pictures of all the stones I am selling them at $2.75 lb shipping is generally $11 for a medium flat rate box.
DON'T PAY $4+lb for a picture.
Below are a few example pics of some groups I put together and a few photos from the net as set up examples.
There is 2 yard sticks in the pic for a size reference. These are all very beautiful stones! (US Shipping price, outside the us PM me for a quote)
Remember nothing makes an aquarium stand out like the perfect decorations. We try and create an enviornment in our aquariums that is not only visually pleasing for us but also provides its inhabatants with as naturalistic of an enviornment as possible. By using Rocks, Woods, & Live Plants we are giving them places to hide, places to feed, even places to breed. These actions are all important to aquatic life and allows them to do what it is they would be doing in nature. This is one of the most sought after aquarium stones you can get. Seiryu Stones are grey and full of nooks, crannies, and crevices giving the stone a beautiful texture. This auction is by the pound, I can ship up to 20 lbs in a medium flat rate box & 25 in a large flat rate box. They will be picked at random and will always be chosen to compliment each other.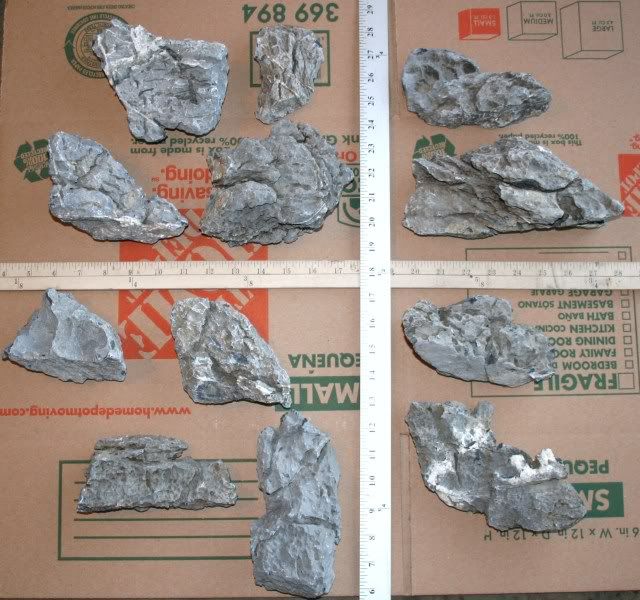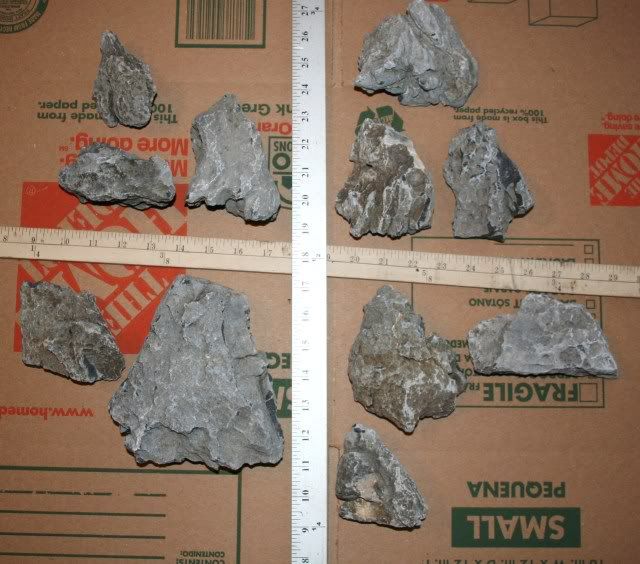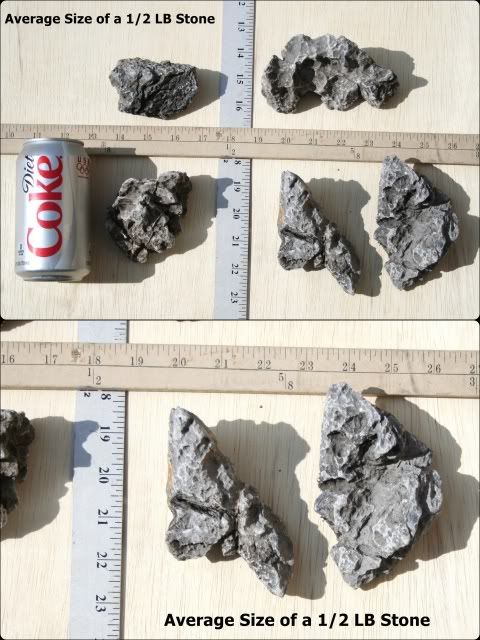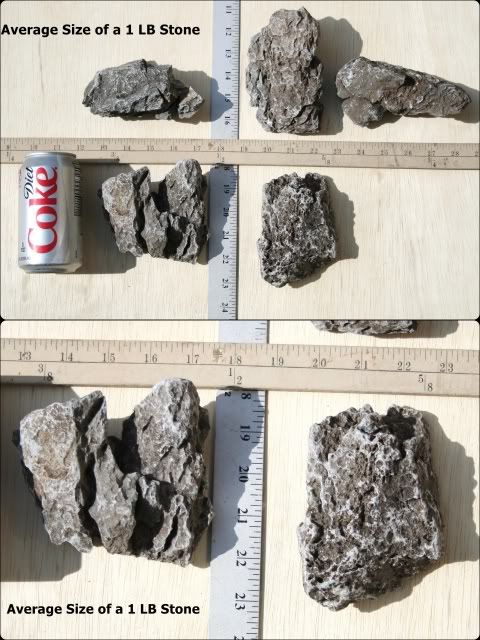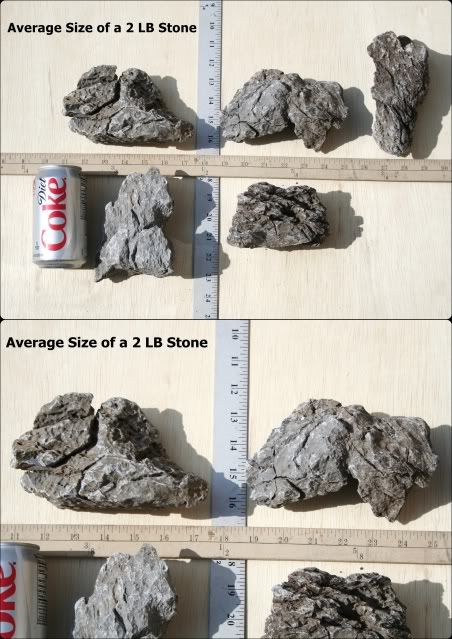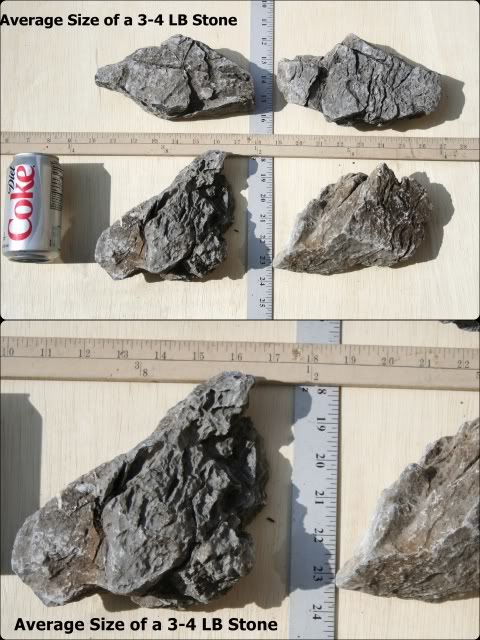 Alder cones​
Alder cones have been used by fish keepers for many years, for fish that prefer a lower pH. I use them in all my shrimp tanks and they can be used for so many fish, including Discus, South American Dwarf Cichlids, Killifish, Bettas, Corydoras, Plecs and many species of Barbs, Tetras and Rasboras.
The cones will naturally lower the pH and release natural organic acids and tannins into the water, some of which have anti-bacterial qualities which help prevent bacterial and fungal infections. For this reason many breeders use the cones when hatching eggs.
I use 1-2 cones per 2 gallons in my shrimp tanks. This amount of cones doesn't tint the water
For hatching eggs, in a separate container, use 1 or 2 cones per 500ml.
The cones may float for a day or two but will eventually sink and will last for at least 4-6 weeks before breaking down. At this point they should be replaced.
Alder cones may be used in conjunction with Indian Almond Leaves to give your aquarium an even more natural look.
If the cones are kept dry in a sealed container and out of direct sunlight they can be stored for many many months.
50 cones for $5 I can ship also $2.50 in a padded envelope (post office might crush) or Priority flat rate box $5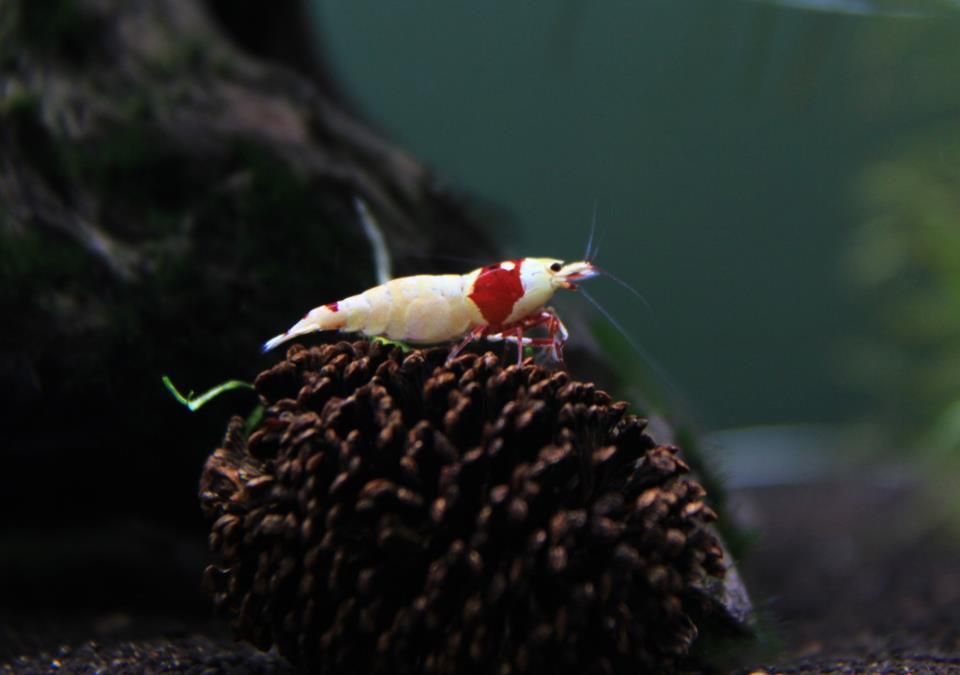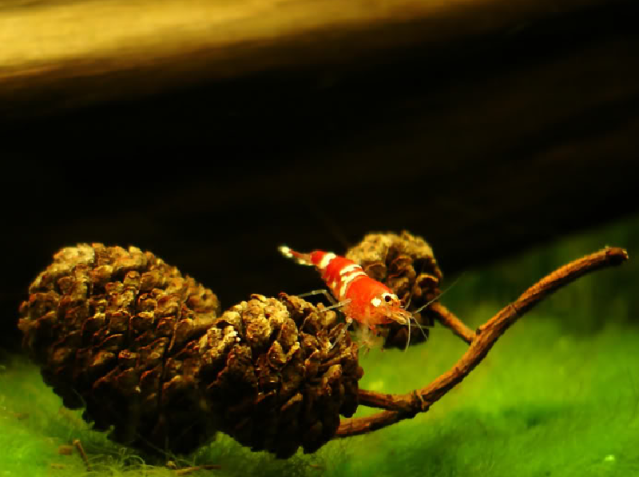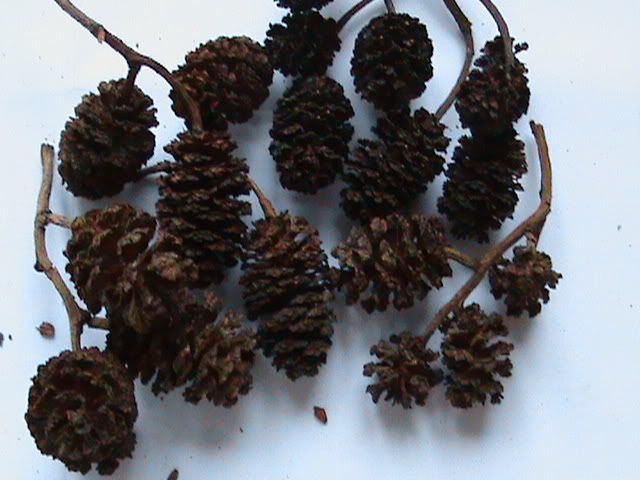 Borneo Wild & Mosura​
I have used many of these in the past with great success. We all want our shrimps to grow, reproduce, and thrive. The key to that is proper care and nutrition. If you ask any truly successful shrimp keeper and they will tell you nutrition is key
Any questions at all please feel free to message me and I will do my best to answer.
As someone who started off with just a few shrimp and has built up from there I know using these higher end shrimp food and supplements can get expensive so I am happy to offer them in smaller portion by the gram so you can try several types of these WONDERFUL products and not have to spend a arm and a leg on all of them at once. Portion prices are under the RED portion spot and are by the gram.
Shipping​
Shipping is a flat $5 on the full bottles in a small flat rate box or $3.50 for portions in a bubble envelope vis 1st class. If you are ordering Manzanita or Seiryu Stones these can be combined in that shipping and ship for FREE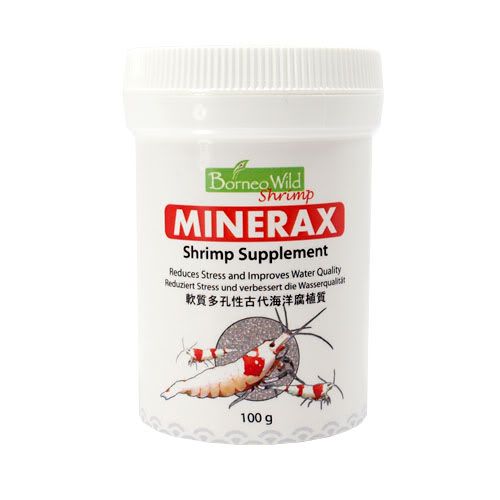 MINERAX
100g Bottle $22.00
Portion Sample
$.40 per gram
A natural mineral that improves water quality, as well as encourages activation and growth of bacteria in the water. Reduces stress as well as prevents sickness on shrimps and livestock. MINERAX can also be used as slow releasing base substrate mineral supplement in a shrimp or planted aquarium.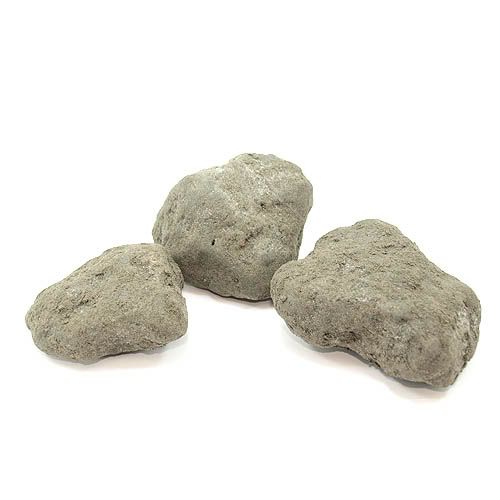 MINEROCK
Portion Sample
$. per gram
A rare natural mineral found only in Japan. It releases mineral gradually and improves water quality, as well as encourages activation and growth of bacteria in the water. It reduces stress on livestock and encourages proper molting and breeding. It also improves photosynthesis, semiconductor action, mildly increases GH/PH and ion exchange ratio.
STOUT
15g Bottle $10.00
Portion Sample
$1.20 per gram
A supplementary food made of various minerals, vitamin and micronutrients for shrimps that promotes strong and thick shell.
VITAL
30g Bottle $10.00
Portion Sample
$.60 per gram
A unique proprietary blend of essential vitamins and supplements which is essential for healthy growth of fishes and shrimps. It activates enzymes in living organisms, reduces stress and also improves luster of scale and shell.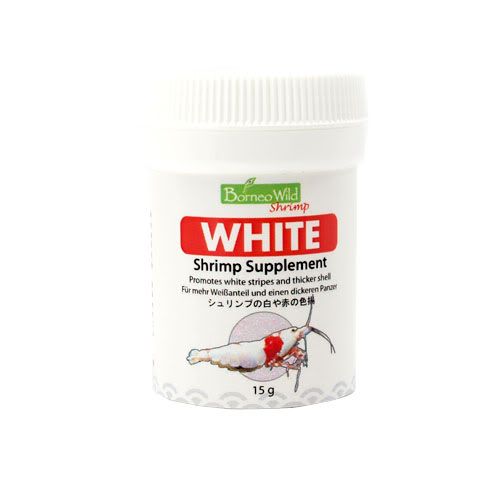 WHITE
15g Bottle $14.00
Portion Sample
$1.70 per gram
A supplement of various minerals, vitamin and micronutrients for shrimps that promotes healthy white stripes, general color development and thickening on outer shell. Recommended to be used from young for proper development.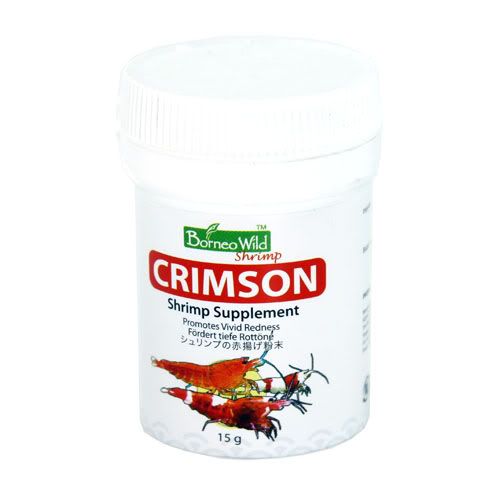 CRIMSON
15g Bottle $14.00
Portion Sample
$1.70 per gram
enhances the redness of bee shrimps in a clear and striking fashion. GH and TDS are raised mildly when added.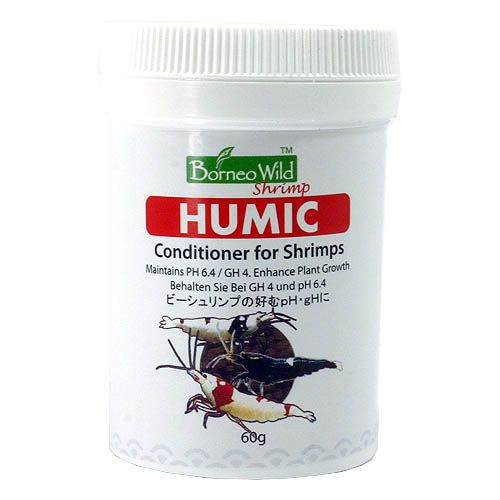 BORNEOWILD HUMIC
60g Bottle $14.00
Portion Sample
$.50 per gram
A organic, granulated humus conditioner that buffers water at pH 6 - 6.5 and gH 3-4. It is ideal for improving activities, survival ratio and higher success rate of breeding in bee shrimps. It also serves as a source of nutrients for microbes, thus maintaining high and healthy levels of soil life. With its hormonal characteristics, plant growth and root development are also enhanced.
Directions:
- Use HUMIC when you are setting up a new tank, observes juvenile shrimp dying or when the population growth is stagnant.
- When setting up a new shrimp tank, sprinkle them below or above the substrate layer, or put them in a mesh bag in the filter.
- When setting up a new planted tank, sprinkle HUMIC below the base of the substrate layer with the fertilizers or put them in a mesh bag in the filter.
- To apply HUMIC above the substrate layer, please soak them in water for up to 15minutes as they may float due to its dryness.
Dosage:
- For Shrimp tank, use 30g / 60x30cm tank.
- For Planted/Shrimp tank, use 60g / 60x30cm tank.
- Last for up to six months.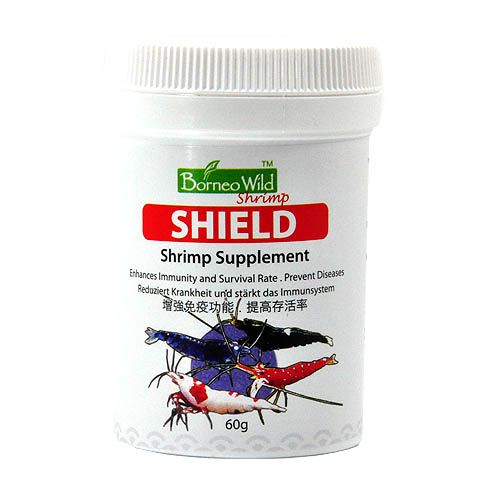 SHIELD
60g Bottle $18.00
Portion Sample
$.55 per gram
A natural product that enhances growth, immunity and anti-disease ability, lowers death rate, and even control white spot when used with fishes. It absorbs toxin and waste such as HNO2, NH3/4, NO3, H2S, assimilate organic waste into micro-organism food, thus creating a balanced environment in high bio-load tank.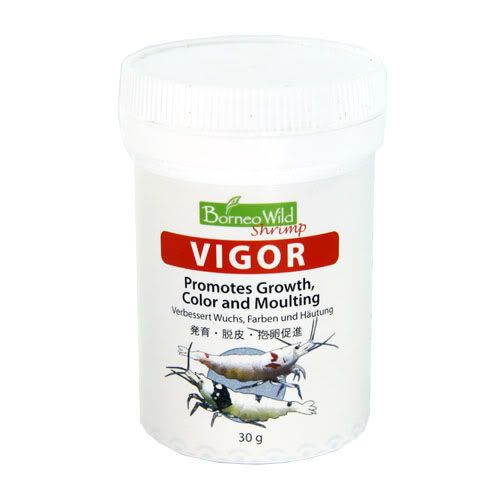 VIGOR
30g Bottle $20.00
Portion Sample
$1.20 per gram
A mixture of enzyme and chitosan which maintains water quality, promotes growth, coloration and moulting of juvenile and adult shrimps. You can observe that shrimps stop dying during unsuccessful moulting. Vigor also helps in boosting plant growth in a planted tank. Directions: Mix with tank water before adding to tank. Use 1 spoon for a 90cm tank. Aquarium use only.
Please note that VIGOR must be stored refridgerated
BORNEOWILD BARLEY
60g Bottle $6.00
Portion Sample
$.25 per gram
Made from organic barley straw, humic acid and peat. It is a supplementary food for both fries and adult shrimps in promoting growth. Uneaten crumbs help improves bacterium activities, buffers pH and prevents development of black mold.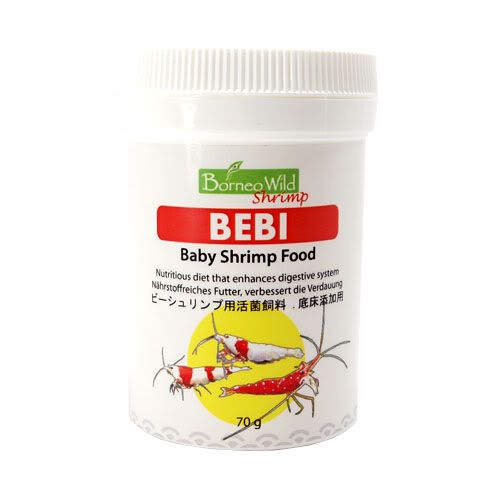 BEBI
70g Bottle $12.00
Portion Sample
$.35 per gram
A nutritious diet specially formulated for new born and juvenile shrimps which at the same time, enhances the digestive system by activating the intestinal bacterial flora. It is also capable of maintaining and expediting the maturation of water by breaking down organic waste as well as supporting continual growth of beneficial bacterial, thus useful both as a water column and a substrate additive.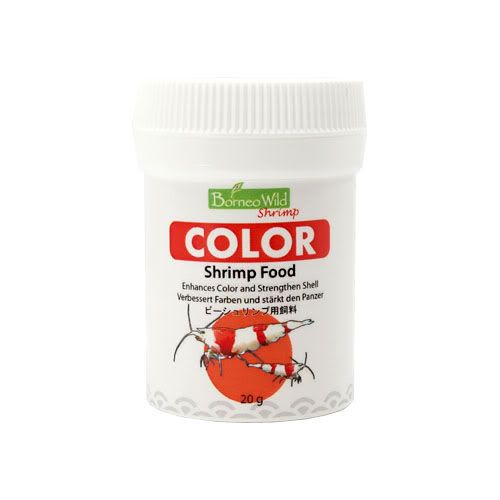 COLOR
20g Bottle $7.00
50g Bottle $12.00
Portion Sample
$.45 per gram
A organic shrimp diet rich in various types of essential minerals, vitamins, dietary fiber, amino acids, nucleic acid, cysteine peptide and spirulina. It enhances the color and strengthen the outer shell of the shrimps. It does not clouds water.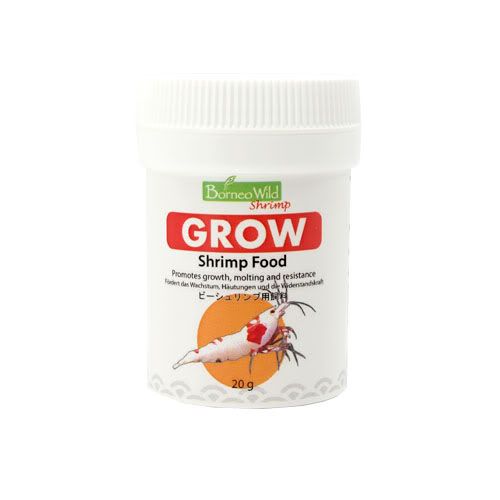 GROW
20g Bottle $9.00
40g Bottle $14.00
Portion Sample
$.66 per gram
A complete shrimp diet rich in Phospholipids, various vitamins and chlorella that increases stress tolerance, promotes growth and stimulates moulting. It also contains SG (Shrimp Guard) which improves resistance to infectious disorder. It does not clouds the water.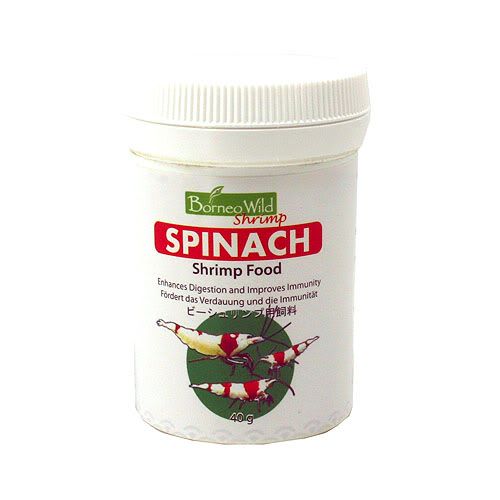 SPINACH
20g Bottle $9.00
40g Bottle $14.00
Portion Sample
$.66 per gram
A healthy shrimp diet made from organic spinach, rich in Iron, Calcium, Vitamin (A,C,K), folic acid, carotenoids, Lutein, other minerals and amino acids. The high content of Chlorophyll aids in digestion and antioxidants helps improves immunity.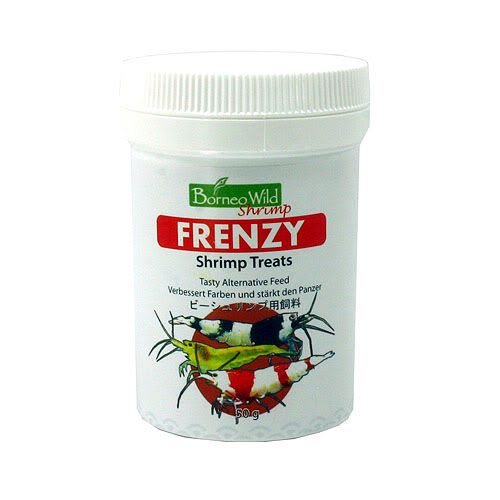 FRENZY
50g Bottle $14.00
Portion Sample
$.50 per gram
A tasty treat made from natural and organic raw material that is simply irresistible to shrimps. Use it as a supplementary bits two to three times week or feed together with staple recipe that you wish the shrimps to acquire taste of.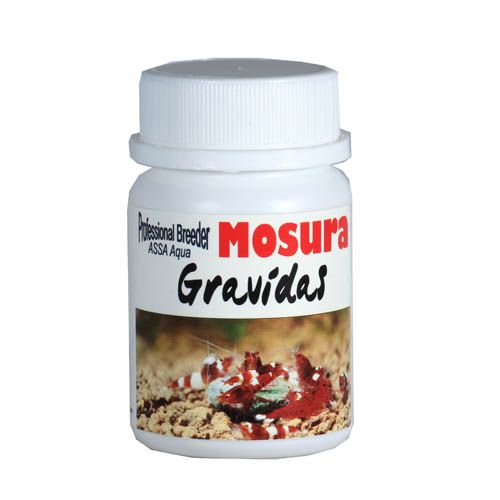 Mosura Gravidas
25g Bottle $25.00
Portion Sample
$1.80 per gram
A growth and breeding aid. It is produced by a fermentation process and is rich in vitamins, minerals, amino acid and high-potency chitin (~ 8%).
Gravidas helps in digestion, food nutrient absorption, metabolism and improves the overall feeding situation. Most importantly it helps juvenile shrimp to grow and adult shrimps to molt normally, significantly reduce molting problems.
Gravidas reduces stress in shrimps and increases disease resistance.
For pregnant female shrimps, it helps them pull through the gestation period.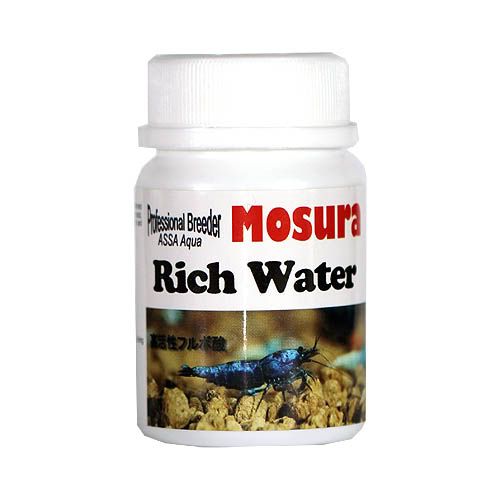 Mosura Rich Water
30g Bottle $15.00
Portion Sample
$.90 per gram
A biochemical fluvic acid that is specially cultured through biological treatment and bio-fermentation to achieve a product of very high biological activity for aquatic use. It is rich in amino acid, vitamins, microelements, surface activant, nucleic acid, polysaccharide and biologically active acid and unknown growth factor.
Mosura Rich Water:
- Creates an ecological balance in a tank
- Promotes growth of plankton (an additional microscopic food source for shrimps )
- Reduces the adverse effects of ammonia and nitrite
- Reduces shrimp stress and enhances immunity
- Increases vitality, metabolism and improves breeding
- Prevents eutrophication
- Improves shrimp and plants growth
- Re-energizes old gravel/soil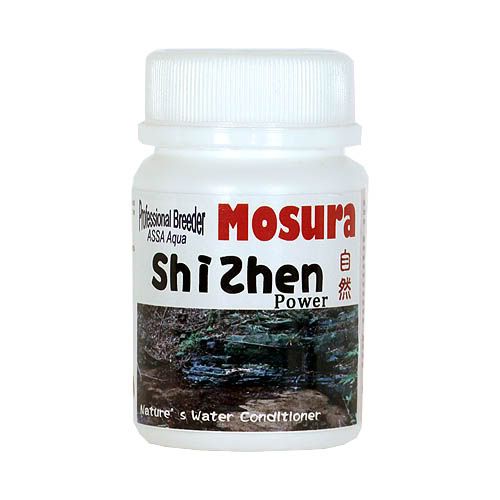 Mosura Shizhen Power
30g Bottle $38.00
Portion Sample
$. per gram
Is the powdered form of the popular Shizhen water conditioner. It is specially developed with the users in mind as it is lighter to ship, treats more water and therefore more savings can be passed on.
Mosura Shizhen Power is made from natural ingredients which contain humic acdic, fulvic acid and multivitamins. Shizhen Power treats aggressive tap water to free it from contaminants proven to be devastating to crustaceans like shrimps and crayfish. It recreates an environment as found in nature.
Mosura Shizhen Power:
- Removes hazardous chlorine and breaks down chloramines without producing sulfonated toxic byproducts which are harmful to some sensitive aquatic species - Locks heavy metals like copper into an inactive state - Contains materials which simulate water from lakes, rivers and creeks - Protects crustaceans from stress - Uses multivitamins to combat vitamins deficiency - Boosts the immune system of aquatic species - Absorbs toxins and contaminants, much like properties of activated carbon - Contains over 70 minerals and compounds
Mosura Excel
25g Bottle $22.00
Portion Sample
$1.50 per gram
Is formulated to encourage fast growth and to provide a special diet for the brood stock of species like Crystal Red Shrimp, Red Bee Shrimp, Fire Red and Tiger Shrimp.
It contains the wholesome goodness of carefully selected ingredients such as Shrimp meal, White Fish Meal, Squid Liver meal, Seaweed Extract, Artemia Meal, Shrimp head extract, Carotenoid, Cholesterol, Phospholipids, EPA, Gluten and Fish Oil.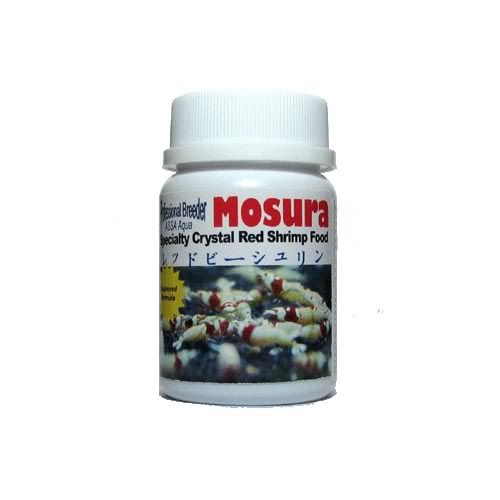 Mosura CRS Specialty Food
25g Bottle $18.00
Portion Sample
$1.25 per gram
Is especially designed to enhance the color of crystal red, red bee and other algae eating shrimps. It is mainly plant based, mixed with a small portion of wholesome brackish water crustaceans. The high plant based content is responsible for enhancing the color of crystal red, red bee and other shrimps, while the animal content is necessary for growth and reproduction.
In the wild, algae eating shrimps include a small amount of animal matter in their diets. This animal content is obtained from fallen insects, dead larva and other dead aquatic livestock. Therefore we too, include a small, carefully calculated amount of animal content into Mosura CRS Specialty Food.
Mosura CRS Specialty Food is enriched with multivitamins (including stabilized vitamin C and E) and minerals which are essential to increase resistance to diseases.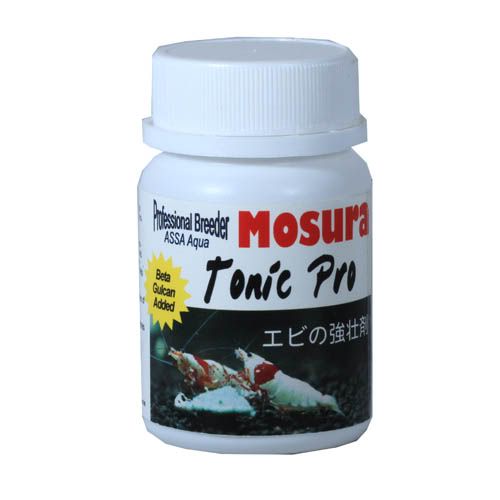 Tonics Pro
40g Bottle $38.00
Portion Sample
$1.70 per gram
Is an improved version over Shrimp Tonics, the new version is based entirely on plant ingredients. Shrimp Tonic contains high level of nutrients and immunostimulants which provide a general line of defense for shrimps by strengthen cell to increase resistance to virus and bacteria attack. Shrimp Tonic is able to increase vitality and help in the growth of shrimps and even fishes.​