Discussion Starter
·
#1
·
I'm setting up a bare-bones paludarium, and I'm looking for tips on a few things.
stats:
This paludarium is going to me made primarily to house Eastern newts. However, I wouldn't mind putting in a few fish, if I can find things that would go good with them(specifically thinking otocynclus, and maybe a couple bottom feeders of some kind- a dwarf species of pleco, possibly), and I'm sure I'll catch tadpoles that I'll put in, as well. Everything except the fish would be caught locally. The newts require low temps(room temperature to 75F in the summer, and can go all the way down to 40 in the winter), and could really have 95% of the tank as water, as long as there's somewhere for them to climb out.
I'm setting it up in a 20 long (30"x12x12). If I put the land area 3/4 of the way up the aquarium, and put in a glass shelf or some such thing, i'd still be running between 13 & 15 gallons of water.
In additions to the animals, I also want plants. I want to completely fill the water with plants. I only want enough open water in the tank to be able to see the animals in it. I really don't even care if the moss hides them most of the time. Doesn't bother me. I want it to be mostly naturalistic(except for the whole.. otocynclus in with easterns, and plants from other parts of the world..), and critters hiding is part of the natural world.
Now, I'm debating between land areas. I've seen a couple different ideas that I've liked from Google, and here are pics of a couple of them.
1: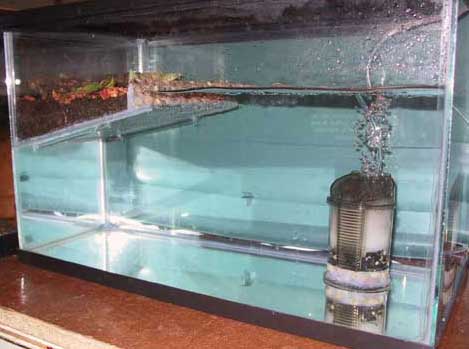 I like the fact that this one provides a lot of water. Even where the land is, there's still water under it, where I could grow plants, and make more of a water area for fish & such to live. If I did this, where there's real dirt in the land area, I could put plants there, as well. Specifically, I could put in a pothos, where the vine would then grow out over the water.
2: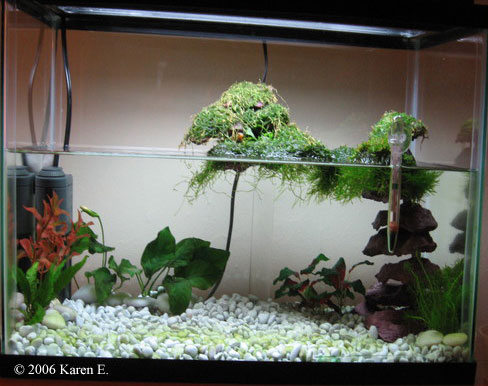 There's another one that provides a TON of water space. The way the land area is set up, it's not even land, it's just a mossy area out of the water. That one is made with an acrylic shelf, and an acrylic support that runs down to the bottom. This is what I'm thinking of doing right now. If I did it that way, I could do it in a corner, with a square piece of acyrlic. The only problem with that is that acrylic warps in water. And it's expensive, compared to glass. I could do the full glass divider cheaper. I'd be scared to use glass without it being siliconed on 3 sides, because I'd be scared of it breaking under the weight of rocks. I do really like the idea of this land area being completely covered with moss, though. That's aesthetically pleasing to me.
and finally, 3: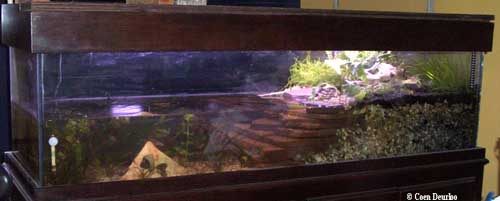 If I could find smooth, flat rocks like that, I could make a partial pyramid shape, and pile it into one corner. They could be siliconed together into a stack that would be removable if I decided that I didn't want this aquarium to have a land area at a later date and time.
I'm not terribly worried about the land area being permanent.. I'm setting this up because I have a couple empty 20 gallon aquariums left over from when I housed snakes in them. I've since built custom cages for the snakes, so of course, I'm suffering from Empty Cage Syndrome, as I'm sure most of you have experienced at one point or another. At least I'm finally filling them with things that won't outgrow a 20L, like my snakes have!
However, I am worried about using a removable stack like that because in the past I had a paludarium set up where the newts I had in it worked their way into cracks between rocks, and I was terrified to ever move anything around in the tank, because I was afraid I'd crush one of my critters. I don't want this to happen again.
Plants. I'm planning on Java moss, Java fern (I have both of these, so it'd be easy to get cuttings of them to use in this!), either anachars or hornwort floating free, and some type of aquatic grass. So, with this many plants, I'm going to need CO2 and proper lighting.
Lighting- I'm trying to be cheap here. I have a couple 18" 15 watt fixtures. However, I don't think 15 watts will be enough for this tank. Even with these low-light plants, 15 watts would still be too low to fill it as full as I want. I have a 1/4" thick 30x12" pane of glass that will fit into my aquarium to cover it. For the remaining 2" of width, I could put a piece of plastic lighting or some such thing over it, so that it'd lift off for feeding the tank, and so i could cut off /drill whatever I needed to run cords & airlines into the tank. If I do this, I could use any old lighting fixture, rather than having to have an aquarium hood. Wal-Mart has a light that comes comes in a fixture for $10. It's specifically listed as a "plant-growth" bulb, and says that it runs on 15 watts of electricity, but puts out as much light as a 75 watt bulb.
Would this be overkill for my tank? There's going to be a 4" drop between the bulb & the water, and I was told that this is one thing that makes your wattage requirement higher, as light will diffuse more before it hits the plants.
Will this 15/75 watt bulb actually do what it claims? Or is it a joke, and does it really only put out 15 watts of light?
And finally, CO2. If I introduce CO2, I'll do the DIY thing, where I make my own reactor. That's no problem. But a diffuser IS a problem. I'd need a diffuser that is fairly small, and easy to be hidden. I really don't want a huge bulky gatorade bottle stuck in the tank. Does anyone know of CHEAP pre-made diffusers? If not, how can I make a compact CO2 reactor that would go in?
And- if I'm using a CO2 reactor in a tank that has airbreathers, I'll need some way to cover it so that they can't surface in it, and suffocate. I was thinking about making my diffuser out of a tiny little tupperware container, cutting a square out of the lid, and siliconing screen over the hole, so I'd be able to take the lid off to clean inside the diffuser. Would this work? If not, where could I find a cheap diffuser that would fit in my tank, and not be a big, horrendous thing in there? If I went with method 1, I could just put my diffuser under there, and it wouldn't be too noticeable, but, I don't know where I'd be able to put it anywhere else in the tank. I'm gonna have a little bit of driftwood, but I'm really thinking I might do manzanite instead of standard driftwood, so that really wouldn't hide it well, either.
Any tips on any of that? Any recommendations about what would work better than anything I've thought of? And any recommendations about fish that could og in? At first, I was thinking about one single larger fish, instead of smaller fish, like a dojo loach, but a dojo would get too big for this tank. Anyone know of anything that would fit? And remember, it would have to handle low temps, and not eat my newts.
thanks!