Discussion Starter
·
#1
·
About six weeks ago the husband was in the LFS (Aquarium World, in Houston) with me and he spotted a 20-gallon tank with a pair of green tiger barbs, a pair of swordtails and some other colorful fish. He was absolutely enamored of the green tiger barbs. After about two weeks of, "Do I wanna? What do you think I should do? What would you do?" I finally deposited him in front of one of the sales people and pretty much said, "He wants a 29 gallon with the Eclipse hood." I was thinking something simple, easy for him to get to everything, and no live plants for him...
Then he saw my corkscrew val...
We walked out of the store that first weekend with the tank and hood, five green tiger barbs and a bristlenose pleco. That was 2 weeks ago. The bristlenose is fine; he even has a little bit of algae to munch on in the tank now. Three of the tiger barbs have lost half of their tails. We figure the other two are probably the culprits since their tails are intact, so they are in quarantine to return for credit. He also got several corkscrew vals, some torta vals, a dwarf onion plant, and some crypts.
Today he added a swordtail, a rainbow shark, a pair of red eye tetras, and two other fish that I haven't looked at real closely yet. They're livebearers, but that's about all I can tell.
Here's a shot of the whole tank: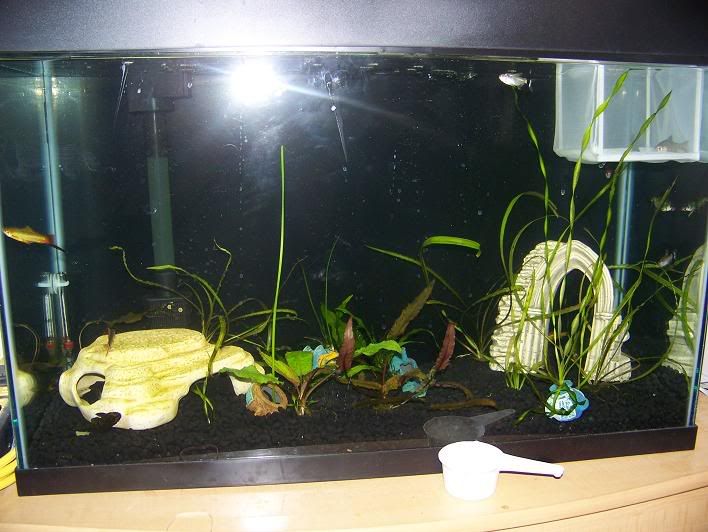 he's going for a sunken ruins theme.
He thought he wanted a red-tail shark (knowing he'd have to return it when it outgrew the tank). They were out of stock, but he decided he liked the rainbow shark even better.
Any thoughts or suggestions on plants that will do well with the Eclipse hood?