About
6 months
ago my sister told me that she wanted a "water plant" for her apartment. I figured, cool!, this will be easy. So I went to Cost Plus World Market and got a little vase. It was nice, thick and fairly cheap. I had some extra ada aquasoil laying around, threw that in and planted some glosso with a small piece of driftwood. She had an extra desk light in her room, so we stuck in a 13w C.F. bulb and it was off to the races.
She really liked the gift and put it on a table in the living room of her apartment. On occasion I would ask her how it was doing.
She mentioned:
How it's growing great,
roud:
How she forgets to turn on the light for days on end
,
Hasn't bought ferts yet :icon_conf:,
She is constently trimming the plants because they grow to
high
Wonders why I keep asking about algae
The only thing she does is add water.
Here's what she sent me this morning. Keep in mind.
No Ferts, Inconsistant (at best) lighting, No Filter, No heater, No Co2, Not even declorinator!
Considering the maintenance, this is a really cool Glosso forest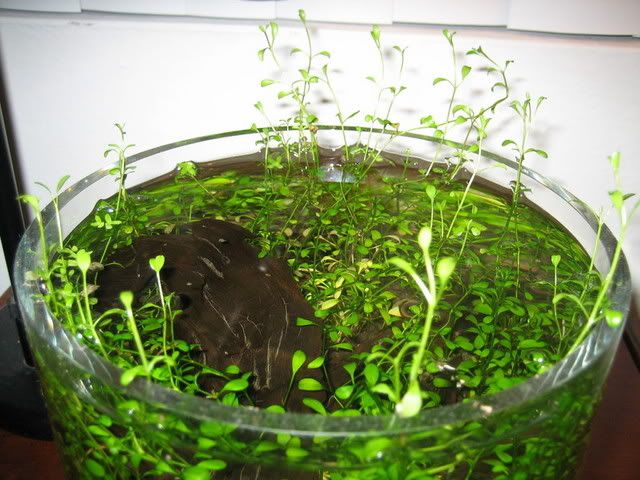 And Come One! Emersed growth are you kidding me lol. If it flowers I swear to God.....
I guess this is what happens when you fertilize with...Love?
*edit* Notice, the shades aren't even open behind it, it doesn't even get sunlight lol