Discussion Starter
·
#1
·
Hi guys,
I am going a bit crazy here about reading different lighting options and I would like to ask your help
Tank:
140 gallons or 530 liters.
63inchx24x24inch or 160cmx60cmx60cm
Soil and I am injecting co2.
At the moment I have quite basic plants:
Ceratopteris thalictroides
cryptocoryne parva
Cryptocoryne wendtii 'Mi Oya'
Nymphaea lotus
Hygrophila difformis
Ceratopteris thalictroides
Echinodorus bleheri
I am thinking of adding Java Moss, Anubias and maybe one or two red plants.
This is my previous set up before I went travelling for couple years: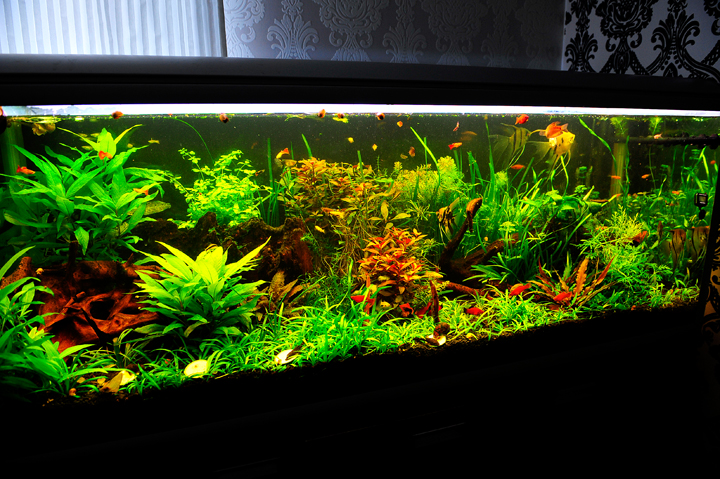 So I am thinking of doing something similar again. Not sure about the carpet though.
I have the same light under the hood:
4x80w T5
I kinda want to replace that with LED lighting.
This brings me to the problem. I do not know what to choose.
I am living in Europe, so basically I have picked out 4 different options:
1.
Zetlight ZP 4000 48-56inch, which 46W, 4100 LUMENS
The cost is roughly with the signal receiver and controller ~ 250€ or
280usd
2.
Finnex planted 24/7
The cost is roughly the same with the first one, ~250€ or 280usd
3.
USA satellite Plus PRO 48-60 inch
60w, with 60 leds.
The most expensive one, coming about 380€ or 430 usd.
4.DIY? Have no idea how much it would cost or how do it though
What do you think guys?
What would be the best option?
If I pick something from 1-3, do I need two of them because of the size of my tank?
Probably the cheapest option would be best for me. I do not really have a lot to spend on this upgrade.