Discussion Starter
·
#1
·
No, I'm not building an LED fixture, but judging from the amount of people that have, I figure that somebody should be able to help me with this.
As to why this thread is in the lounge, for halloween, my backup costume plan in a Daft Punk Guy-man helmet from the discovery era, the gold one, with the lights. The only problem is that I have absolutely no experience with any kind of electronics, and I need some help on how to put it all together.
I've figured out what I need to do, and now I need some input on how to achieve it.
The guy-man helmet I'm planning consists of this: 8 lighted rainbow panels, below that a bar of 6 scrolling white LEDs and just a normal bar of white LEDs, then two bars of 6 red LEDs, a bar 6 and then a bar of 4 yellow LEDS, and finally a bar of 3 green LEDs. I want to backlight the rainbow sections, I was thinking two white LEDs per panel except in the back two (indigo and violet) panels. So it would be 14 LEDs in total in the rainbow.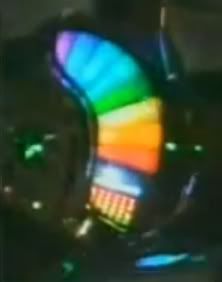 I believe I would be able to run all of those but the scrolling LEDs on relatively simple circuits. I'm not entirely sure how the scrolling ones would work though.
I would like to power this all off a relatively small battery or two per side, and be able to turn it on and off, even if that means just disconnecting wires from the battery. Ideally I would like somthing I could pop the battery in and out of.
What I basically need to know is how to go about doing this in the simplest way possible. I also need to know what to mount all this on inside the visor, hopefully in a way that won't fry my face off when I'me wearing it.
tl;dr How does I make the pretty lights work?