It came today!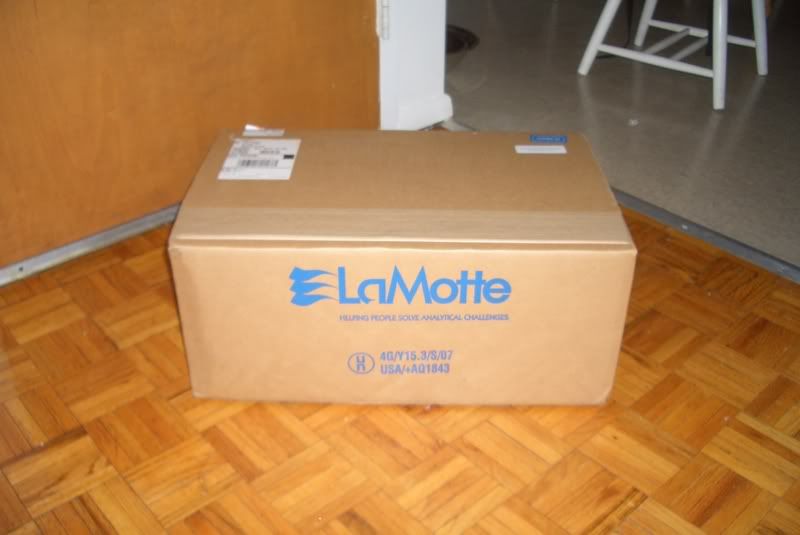 As some of you might know, I "tried out" the
Hanna Photometers
, and didn't have much luck with them. So several days ago, I broke down and ordered the
LaMotte Smart2 Colorimeter
. I had a bit of luck with, and may have developed a trust in the other LaMotte kits I have used. The range of the LR Nitrate-Nitrogen kit (0.00-3.00ppm NO3-N, or 0.0-13.3ppm NO3) is much more useful for testing the parameters I intend to keep my tank at (5-10ppm NO3). The fact that my parameters do not fall at the extreme end of the testable range means the results will likely be slightly more accurate.
Once unpacked and put in the case that I ordered (smaller of the two cases available), this is what everything looks like:
So far, the only reagent sets that I've picked up are the LR Nitrate-Nitrogen and the LR Phosphate. The case has room for 4 more "small" sized reagent kits. You can bet it won't be long until I decide on what will fill those spaces.
So I spent the majority of today familiarizing myself with the device and its multi-level menus. I ran quite a few tests today to check for consistency, and I have to say, I'm pretty impressed with the results so far! The range of results from testing nitrate-nitrogen (NO3ppm/4.43) was 1.97 to 2.00, running 12 different tests. the phosphate results ranged from 2.90 to 2.91 on 6 tests.
Although I have not tested standard solutions to calibrate the machine, the results I got DO make sense with regard to the dosing I've been doing on the tank. If a standardized solution test result differs from what it should read, the machine can be recalibrated by setting it's result to the standard solution, much in the same way a pH meter is calibrated.
I ran tests on reagent blanks to really nail down the accuracy of the machine. I will be spending the next couple weeks attempting to determine the reliability of the device. I will report any important findings here.