Discussion Starter
·
#1
·
I have had the pleasure of keeping this beautiful ancistrus for about 2 years now,
Ancistrus dolichopterus
to be exact. I purchased 3 for what one cost now from a local fish store, that from time to time has more oddball stuff than the others in my area. The striking "starry" patterning and clear, pure white of the line on their dorsal and anal fins. Now after quite a few territory disputes between them only one is left.
Since moving to a home with a proper basement I have been itching for a project like this and so it has begun. A few weeks ago a friend gave me a 37g that was no use to him after I found him a very nice 75g (who is a member of the sitem thanks Jon). Also in the mix is a 30gLong that was given to me by another member on this site and my current partner in an aquatic business/hobby forray (thanks Tim). I had a few extra Eheim filters after a bulk purchase for the aforementioned aquatic venture so it just had to have been fate. Tanks, Filters, I had some lights and even some left over spent ADA Aquasoil, which the L183's enjoy quite a bit of driftwood as most ancistrus do so the soil was a perfect match.
Here are the pics I have. Thee were some more of the building of the stand and the fish during acclimation but a camera malfunction has destroyed them im afraid.
Here is what I have right now, you cant see the 2215 under the tank but it's there.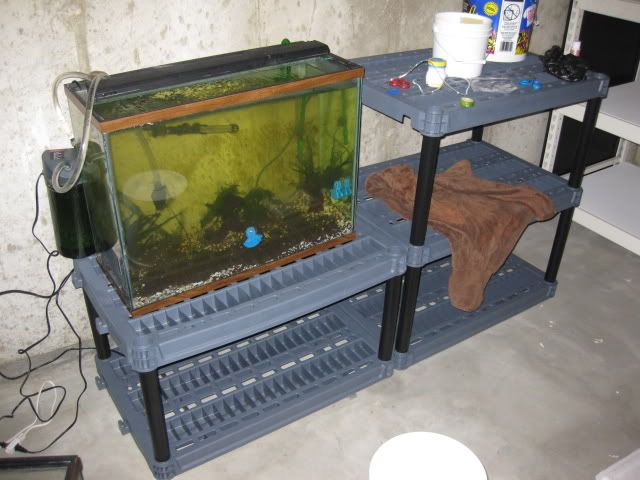 Their current home, I have some more wood on the way!:bounce:
Seeing this will make you want to put together a proper stand pretty quickly!
The 30long, im waiting on a 2217 to arrive. Ill have the 2217 in the 30L and the 2215 and 2213 on the 37.
Fish in the bag.