I have been making my own shrimp and fish food for a few years now. I always make it by hand with locally sourced organic ingredients. Living in the Bay Area I have a lot of local farms and farmer's markets at my disposal. I also grow some of these plants in my large aquaponics setup. I used to hand dry and cut up into chunks. It was effective but was hard to create equal pieces and it looked kind of ugly. I have always been looking for pill presses or fish food extruders to make uniform pcs, but they are crazy expensive and I just couldn't go there. Just in the past few days, after receiving a tip from a forum goer on these forums, I was able to find a local guy with a food extruder who is willing to produce some of my food for me. It now is a nice uniform shape I am happy with and am confident to put on the market.
Again, I use locally grown organic vegetables. I avoid fillers like wheat germ and fish meal that are cheap and don't provide much nutrients. I focus on vegetables and whole fish in this food. My shrimp go crazy for it and I think yours will too.
I am offering free samples of all these foods to anyone who will cover the $3 shipping. In addition, to purchase 40 grams of a food is $4 plus $3 shipping. I believe this is a great price for the work and love that goes into this food. I hope you're willing to give it a try!
Complete Mix
Complete mix of vegetables for everyday feeding. Contains organic vegetables to enhance color and improve health. Utilizes collard greens, the highest calcium-containing vegetable, for shell growth and molting success. Kale, the now famous "super food," provides a ton of nutrition. Other vegetables such as spinach and broccoli provide iron and well-rounded nutrients.
Ingredients: Spinach, collard greens, kale, broccoli, turnip greens, carrot greens, alfalfa, dandelion, vitamin C, lecithin
Protein: 28%
Fat: 8%
Fiber: 3%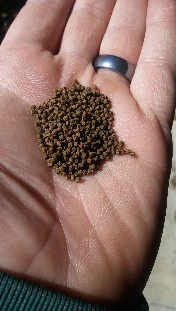 Fall Blend
Contains ingredients I only gather in the fall months: pumpkin, carrot, squash. It's a rare treat for shrimp that they all fight over. Pumpkin is high in vitamin E, and iron. Carrot and squash provide vitamin A and the bell pepper increases color development. Plus shrimp just love it!
Ingredients: pumpkin, carrot, squash, bell pepper, vitamin C, lecithin
Protein: 31%
Fat: 9%
Fiber: 2%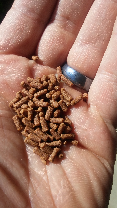 Protein Plus
A high protein food designed as an occasional use. Shrimp get most of the protein they need from vegetable source but I have found a lot of breeding success giving them high doses of protein occasionally. Uses high protein plants and whole fish.
Ingredients: Tilapia, whole shrimp, soy beans, green peas, kelp, vitamin C, lecithin
Protein: 54%
Fat: 11%
Fiber: 1%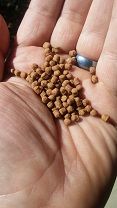 Shrimplet Powder:
Similar to Complete Mix, this powdered food is perfect for baby shrimplets. Add sparingly to the water, a little goes a long way!
Ingredients: Spinach, kale, broccoli, radish leaves, kelp, dandelion, spirulina, soy beans
I am cleaning out my tank and getting rid of the following plants. $3.5 per Anubia and Sword, $8 for the moss balls, $15 for the Staurogyne Repens. I have 2 of the Anubia Congensis. The Staurougyne repens is for 40+ plants (may be up to 60). Priority shipping $7, first class $5.
Anubia Congensis: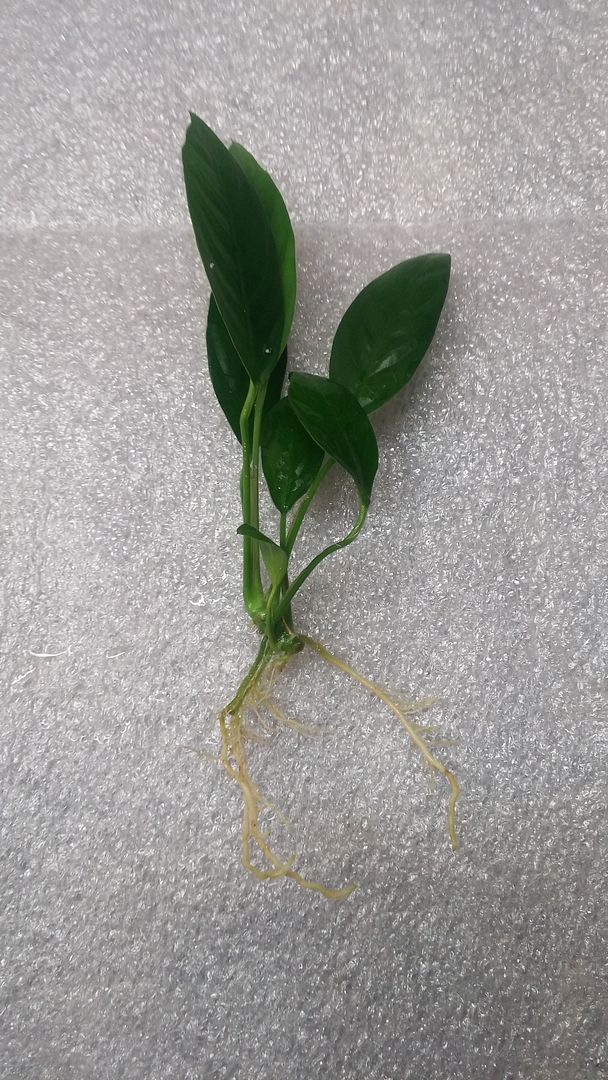 Anubia Nana: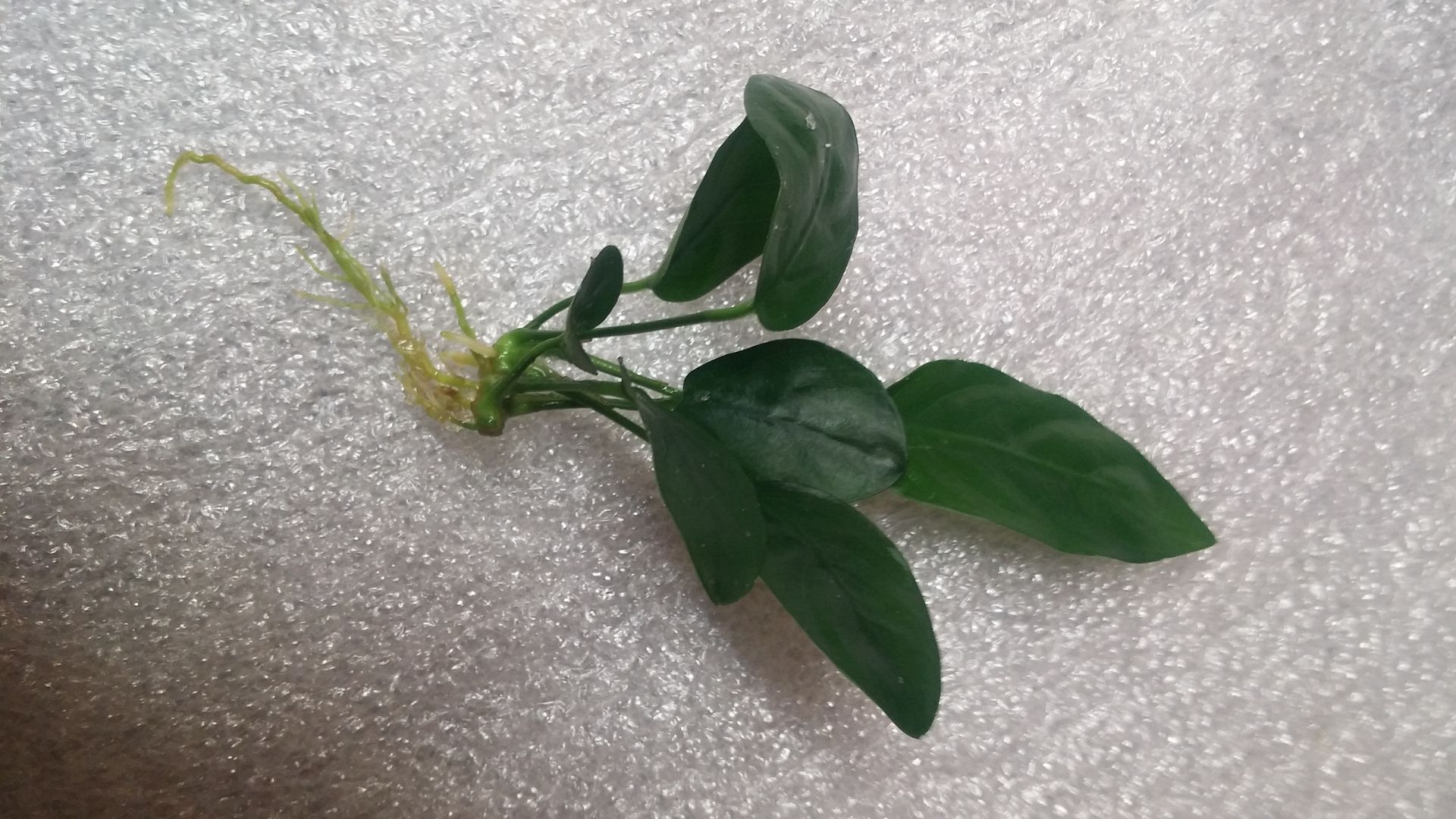 Staurogyne Repens:
Rosette Sword: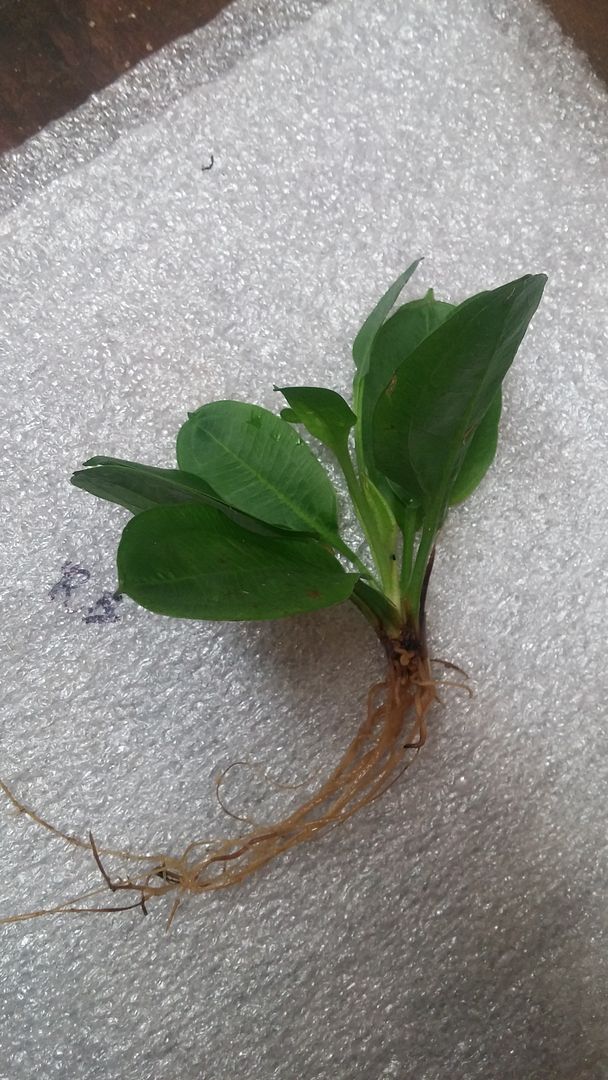 3"+ Marimo: