Discussion Starter
·
#1
·
For Christmas my girlfriend got me the tank I had been planning (read
procrastinating
) on buying since the summer. I had initially asked for her to get me the Do!Aqua Mini-M, and that is what she ordered and was billed for, but to my surprise I received the ADA Mini-M complete with sticker and all. I didn't take a picture of it considering the camera in our apartment is a synonym for "Kent's phone". Maybe they mixed the stickers up? Not sure, but lets just go on thinking it is the ADA version.
So far I have my tank, stand, filter, CO2 cylinder, regulator, and light. I have some ryouh (spelling?) stones coming through the mail as well as some UG from Ramos. Anyways, onto the poor pictures I do have. PS - the stand was homemade by my dad and I. We are not craftsmen by any means, and neither of us can measure or cut wood worth a damn. I think this is the first thing either of us has ever built with his smattering of tools in the garage, including the tablesaw which took us 20 minutes to turn on because the safety key was missing
. It looks good to me considering the supplies were all off hand, and I hope to make the aquarium the focal point anyways.
Here is my cat checking it out
And here is the tank and stand. Note: the material underneath is cabinet liner and I will be replacing it with an appropriate sized piece, I just happened to only have some random small square of it in my junk drawer.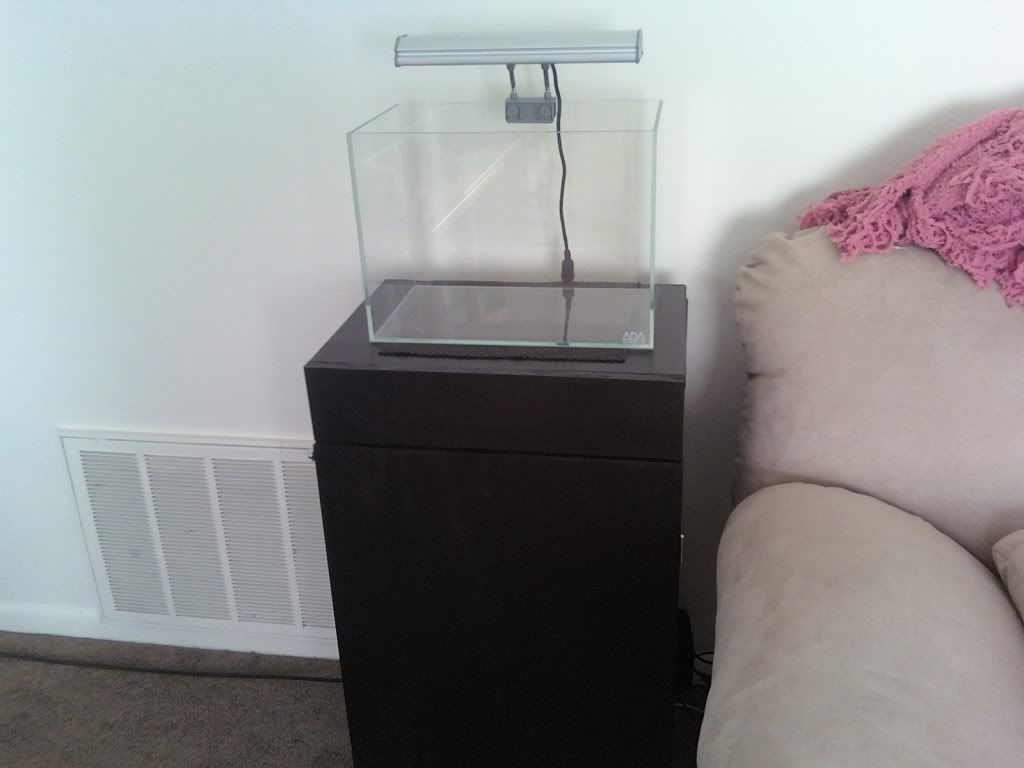 I expect to get the UG in sometime later this week as well as the rocks. I plan on starting things off dry, so if anyone has any pointers send them my way! This journal will probably die for a few weeks as I dry-start, but I will definitely be picking it back up as far as picture updates go.