Photo update with some comments 11.28.18
Note to self - clean up this first post with pertinent information, pictures, editing and overall presentation.
Scroll a bit to get past old pics of tanks that aren't running anymore. There is a 20 Gallon Long somewhere in here that is the current tank being run. Also available is my youtube channel if you wish to see video - there's no talking or commentary or music, just tank footage. https://www.youtube.com/user/kaldurak
So few of you may remember my Spec V, I loved that tank. It started a slow seeping leak from the front bottom seam. Enough to make a 6 inch round pool of water every 24 hours. It's my fault, I had to move and merely drained 80% of the water and gently got the tank on a big wood cutting board to transport it. Didn't move any livestock out.
Anyway, here was my last photo of the Spec.
So I ran out and got a 10g tank ($1 per gallon sale), an Aquaclear 20 (wish I got the 30 - more media space, 150 watt heater (sold out of 100's at the time - argh) and a bag of pool filter sand.
This marks the first time I've used a substrate that wasn't eco complete or clown puke (loved my tanks as a kid! Bred bettas for hobby money!) And so it's a new adventure for me. I'm looking forward to an inert substrate. I placed a smattering of Osmocote+ at the bottom of the tank and added the sand.
I stole a bag of bio media from the Spec along with half of the sponge I had stuffed in the top of the Spec V filter area and placed those along with the new aq20 sponge into the aq20 filter basket. I put the carbon packet in my parts box. I needed to get this tank seeded immediately and cycled in record time
Fast forward to tank cycled, because it was just days of changing a towel and pouring water to top up leak and evap.
Yay! Moving day!
Lesson learned from spec v, HM grows like mad - don't take all of it. So I didn't. Now, I've never been good at aquascaping, now I don't even try. But I like a full tank, I just don't want another tankfull of HM because I want more room for plant variety.
That's more seeded material from the Spec V laying about. Moneywort to the left, ludwigia.....repens? To the right, HM across the middle and Glosso? across the front. And some rotala walichii that I can't grow unless I severely reduce csm+b dosing. Java moss in the rocks, all grown from a dime size ball that came with a local shrimp purchase.
Oh yeah, livestock. My grumpfaced murderer Søt Fisk the Betta Fish decided to carpet surf during cycle time. I was very upset, but my Chilis and cherrys were likely not too disheartened. 5 Chilis and 1 cherry are what I had left along with a nerite and an oto. So into the 10 they went. Bagged and drip acclimated because habit.
Plants not in the best shape, I'm still questing to find the right light/co2/fert circle of life throttle balance Zen and maybe I'll find it in my inert substrate.
That was April 10. Onward!
April 16 - added AR Mini. Tissue cultured.
April 21 - I took this picture because ar mini is all Praise The Sun at night, I forget the technical term for plants that fold their leaves at night. I love the color of this plant.
April 24 - full tank shot and various other pics. Playing with a macro lens for my android. Super cool. Added 6 red cherries and 5 more chili rasbora to boost their numbers.
April 26 - the day I actually played with the macro lens. And apparently didnt photograph the tank...
Today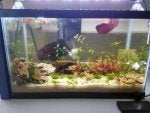 Trimmed down the HM a few days back, added a bunch more Ohko? stone - big shrimp hidey holes all about it.
Plants are starting to catch on to a new tank. It was almost like going emersed to submerged transition all over again. Lots of low old leaf die off followed by new growth. Reached my pic limit, will post again soon.