So like the title says, or not. This is my First EVER fish tank. I have always loved to have a fish tank, but for some reason, it never really happened earlier... And finally, I started this tank ~2 months ago. For the first 4-5 weeks, a couple young convict cichilds were borrowed from my cousin to cycle the tank. Being a normal noob, I just started going right away without reading much before hand... As a result, the tank started pretty primitive, and I slowly add this and that to complete the package. I wasn't even thinking about keeping a journal or taking any pictures of this tank; so I will start the journal from 9/7/2009, about 3 weeks since it first started. So here we go, this is the journal of my first 10g tank :icon_bigg
9/7/2009
Tank: 10g with an Aqueon Deluxe Full Hood
Lighting: 1x15w fluorescent bulb that comes with the hood
Filter: Marineland Penguin 100
Hardscape: Malaysian drift wood and some random stones
Substrate: Inert aquarium gravel
CO2: DIY
Fauna:
4 x Convict Cichild
Flora:
Lilaeopsis brasiliensis
Echinodorus "Rubin"
Hemianthus callitrichoides
FTS
- look at the getto CO2 airtubing with a rubberband... waiting for CO2 diffuser at this moment
- the poor juvenile convicts were kept in a breeder cage between they kept uprooting my precious, and melting hc...
I REALLY like my Malaysian Driftwood. I spent 2 weeks visiting every lfs in cleveland and didn't find any I liked. And one day when I visit a Petco, which only had mopani wood before, for some fish food, I find THIS ONE.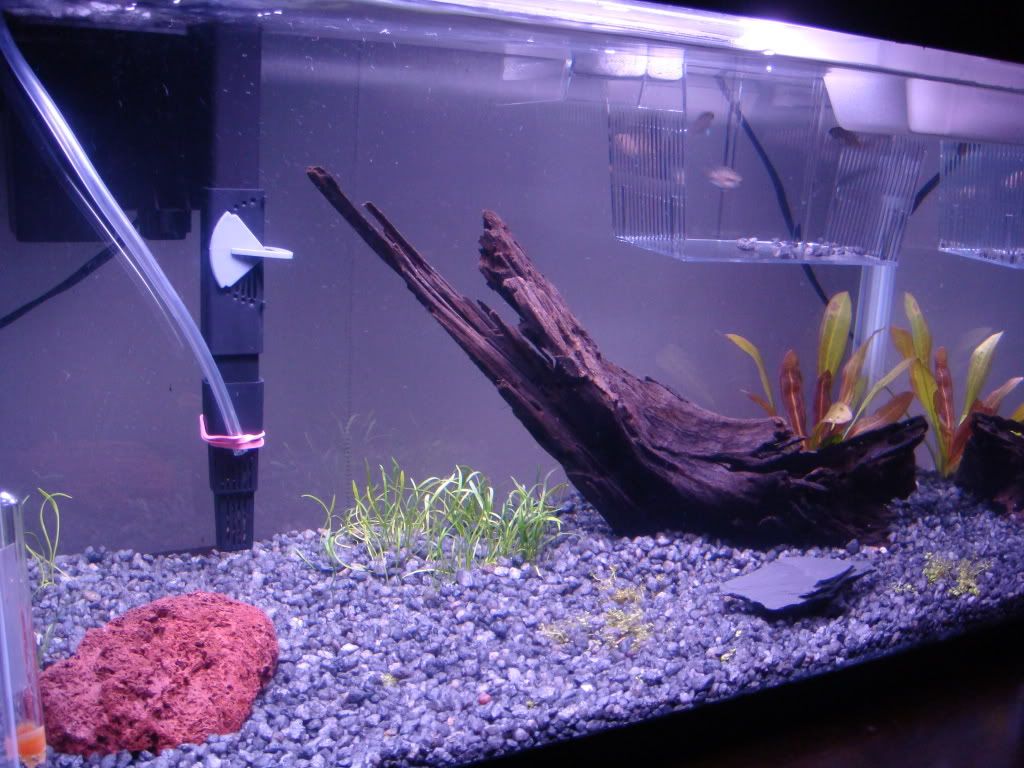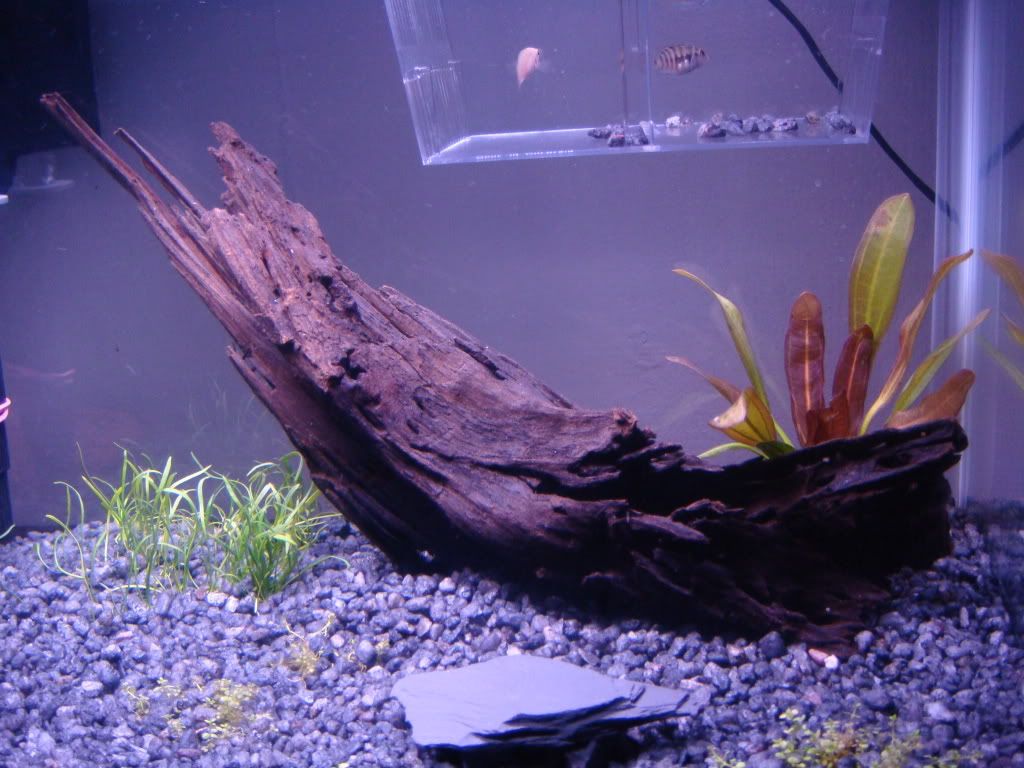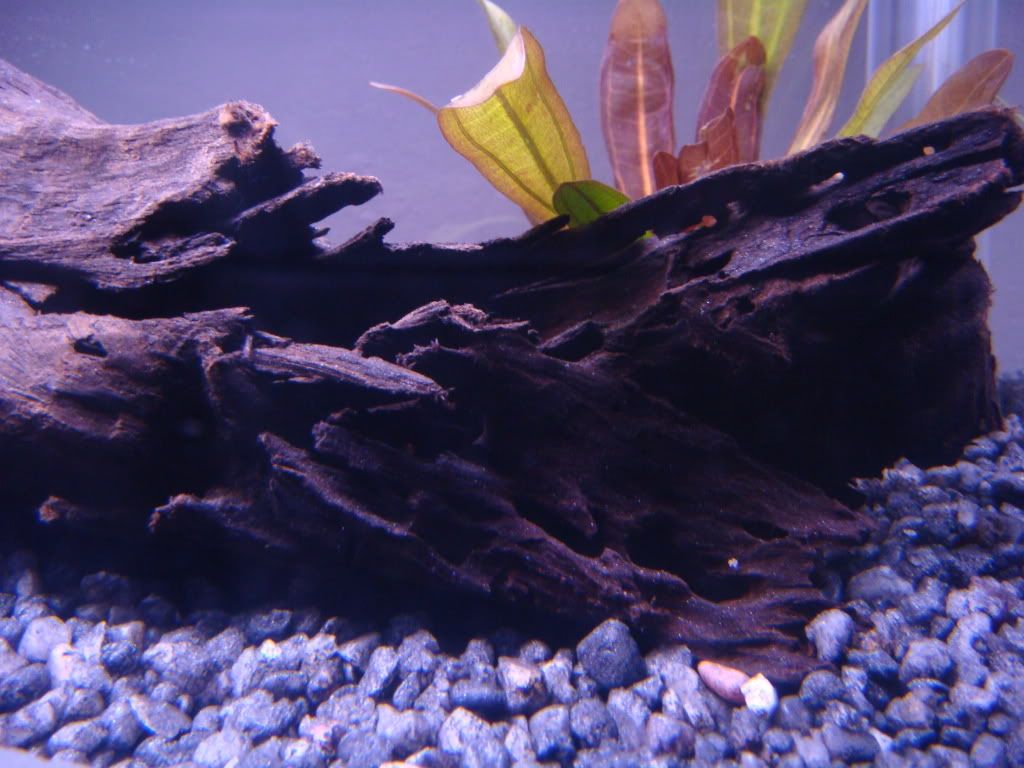 Echinodorus "Rubin" looking pretty slick
Lilaeopsis brasiliensis (microsword) sending out runners already, in 1 week time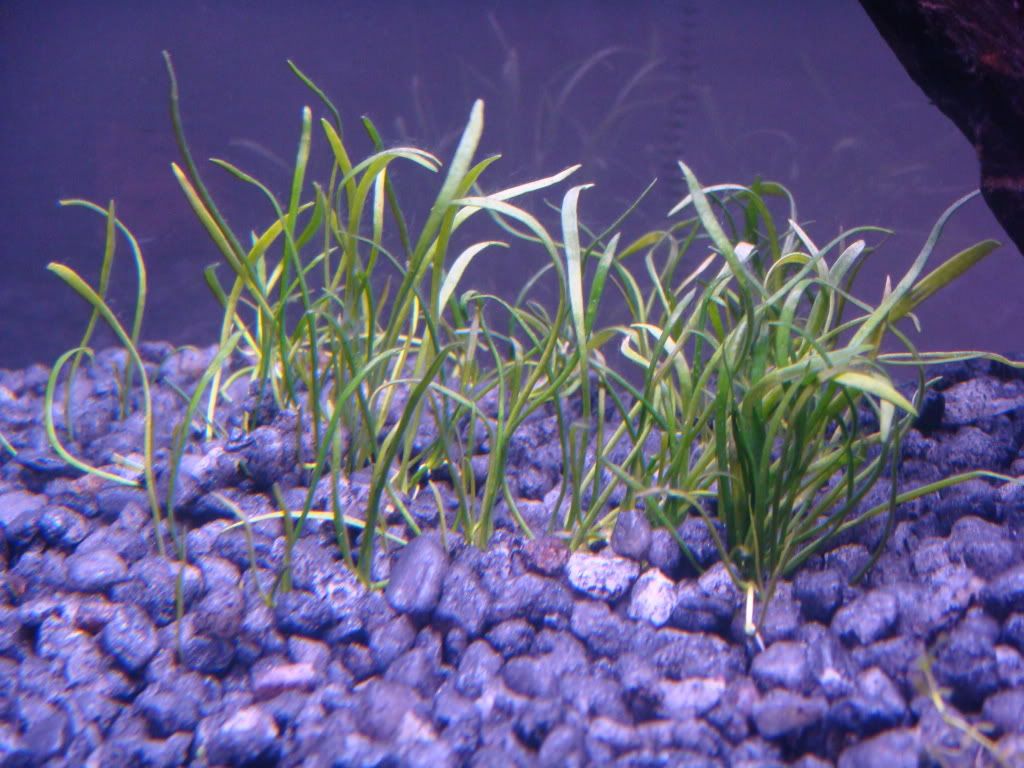 Most of the once cute (when first bought) HC is melting with MINIMUM new growth. Just hope some will survive...
At this point, I am still not using any fertilizers as I was experimenting how well the plants could grow without anything. So it went bad and after seeing my HC dying little by little, I read more and figured that it could due to K or micro-nutrients defiency or something (I still believed that my fish poop was giving enough N and P).. So I drove for like 45min to get to the ONLY lfs in cleveland that carries Flourish. I ended up getting API LeafZone for K as well...
Oh well, I was also helping some kind of algae problems. This is
the link to the video
I took. So I asked around here and figured that a fast growing stems could help. So I got some wisteria from a lfs and it seemed to help a little, idk... After a week or so, I got a water test in a lfs and woohoo, zero NH4 and NO2, and damn, zero NO3..... So inevitably, I ended up getting some dry ferts from Rex (which took about 2 weeks to get them... unfortunately). It makes me wonder why I spent $20 for the 2 bottles of WATER w/ minute amount of minerals and not getting dry ferts in the first place, and the one and half hour drive for those 2 bottles wasted.......
hum... kinda tired now... "update" later~