Discussion Starter
·
#1
·
Thought Id do a journal of my setups since so much has changed over the past year. Ive went crazy and sat up 9 aquariums in my home....focusing on cichlids and plants. Life is good when my two fav aspects of the hobby collide with success
Pair of 75s in my home office/"fish room"
75G with Astronotus crassipinnis....these are supposed to tap out at 9"; she is already there so we shall see if she actually stays put growth wise. Also have a juvie Pink Tailed Chalceus in there, BN, and 2 Pictus.
75G with a young Synspilum, female convict, 7 giant danios, and 1 BN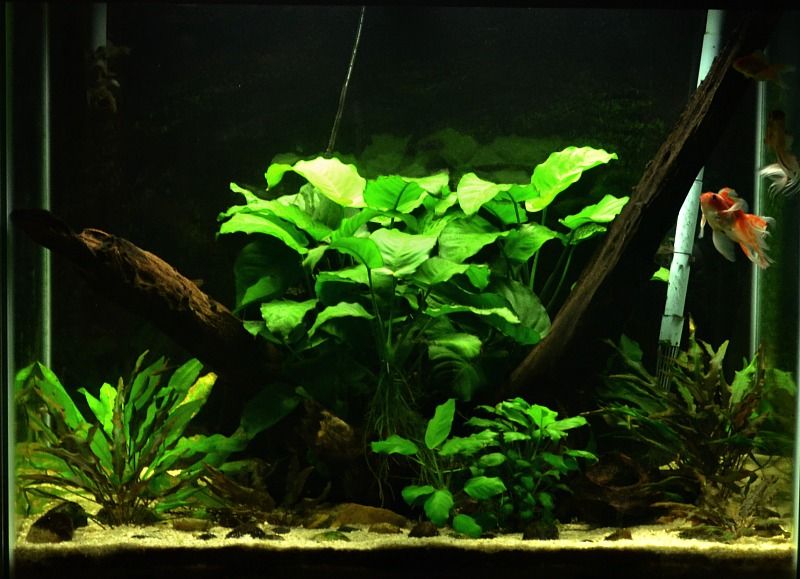 56G column- honestly one of my favorite tanks as it doesn't change much; and requires little maintenance. Ive got 2 large fantails, and 1 small fantail along with 2 BNs

55G recently setup 2 weeks ago and still dealing with mopani wood leaching everywhere. I also need a better fixture this 3ft T5 isnt cutting it. At any rate Im planning a Green Terror in there when the weather breaks and I can order one; also have 8 Buenos Aires tetras.
4ft 50G...another super low maintenance tank, yes that back wall is a thick coat of green algae. I leave it because I honestly like how it looks....nothing in here but a hand full of juvie Firemouths and 9 tiger barbs.

3ft 50G...recently rescaped with just some taller anubias and C.lutea. Once my Red Severum outgrows this tank Ill probably upgrade to a 65G or a 75G if I can find another space for my printer to give me another ft of room. lol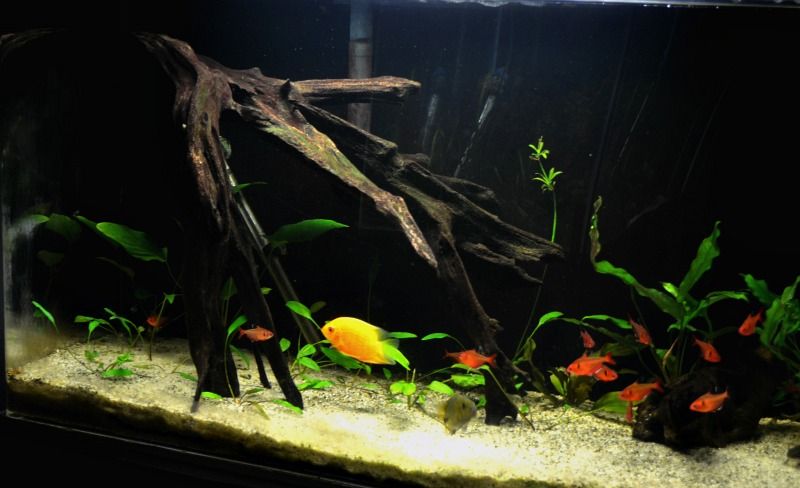 40G breeder...Im going with Malawi cichlids in this one. Just sat this tank up a few days ago and am not totally sure if it will include plants; I would like some anubias or some floating plants but unsure how they would fare with the aragonite sand making the pH and hardness very high. At any rate I will have 12 P.saulosi in there eventually.
And my 29G FOWLR...also an older cell phone shot. It will also be getting a makeover sometime this spring.
Old cell phone shot of my 20G long...it is going to get an overhaul in the coming weeks thus I didnt photograph it today.