Discussion Starter
·
#1
·
Hello Community!
I have a few questions that I wanted to ask in detail. I have scoured the posts that were previously put up, but didn't feel I got the answers I was looking for...
So just to bring everyone up to speed -- I have a whole ten gallon full of java ferns (nothing terribly big at all). They have never done terrible well or bad. However, I think it because I have never considered real good lights, ferts or even co2. Never the less I have not been able to kill them and after a year of having them I would like to know a little bit more about them.
So here is a picture of one of the plants: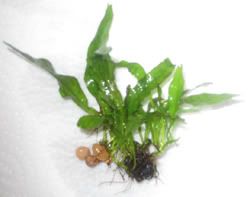 This is a pretty good sample of what is in the tank... some smaller some bigger.
My first question is about when I first received the plant. I order is on aquabid/ebay. It was what appeared to between three and fours leaves and at the base of these leaves their was what appeared to be just typical thread. Nothing special about it... just black thread that was wound around the base of these leaves.
So is it possible to just clip leaves and wrap the base to get a new plant started? Or did I miss something... like was there a small piece of rhizome in there? I originally thought is was just leaves because the thread that was wound around the plants was not a huge amount. Anyways some light on this would be great.
Next: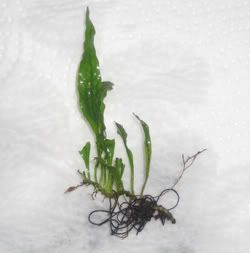 This is a good example of a rhizome that split off a bigger section. As you can see there is some major nibbling done to this thing
-- I had some Buenos Aires Tetras that I was using as dithers. In the madness of moving alot of fish around. I dumped these guys into the ten gallon. Apparently these guys love eating plants. :icon_roll
So here are some questions is about pruning. Do I prune back these damaged leaves? Do I prune back all of the damaged leaves? And when pruning how close to the actually rhizome do I prune? Also will these leaves repair themselves? Or is it that once a leaf is damaged they are done...
Finally, in this ten gallon I have a power head that has an attached filter. My of the plants often produce young... many of the young was just bouncing around the tank as there is nothing to anchor to. So I thought I would just stick them in the filter. My thinking was that alot of nutrients have to pass the filter and that it may be a beneficial place to be.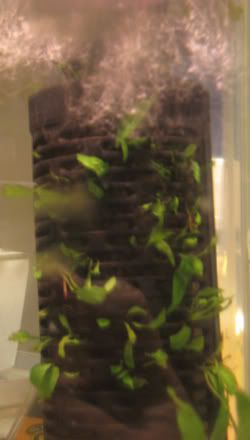 I would like to know when is a good time to start growing these out like the parent plants. I presume they should stay here until they are somewhat bigger... and can I just take like 3 of these guys tie some thread around them and plant them?
Finally if I wanted to start giving these guys ferts. (and I mean slowly... the easiest way - I don't want to be buying ferts in bulk and I doing alot of measuring hahaha :icon_eek
What should I know? Is there certain ferts that are real important to the Java fern? Would I be wasting my time by dosing ferts without co2 and a decent lighting setup?
Cheers for any help! :thumbsup: I hope thread helps answer others questions as well.