TANK : Hagen custom size 33 Gal - 31.5 l x 13.5 w x 18 h
LIGHT: 17w Aqueon Floramax, 17w Aqueon 8,000k Full Spectrum Daylight, lots of natural light
FILTER: Eheim Ecco 2234 & temp. Aquaclear 50
OTHER: Maxi Jet 600 w/ DIY CO2 diffuser attachment
SUBSTRATE: Geo System Pacific Gravel
FISH:
5x zebra danio
5x black skirt tetra
2x dwarf gourami (cobalt/honey)
2x otocinclus
1x young rainbow shark
* 2x German Blue Ram
* 10x Neon Tetra
Looking to get rid of the danios/tetras and put in about 25 neons and 1 or 2 blue rams in the near future, once it's fully cycled.
PLANTS:
Java fern
Amazon Sword
Green Cabomba
Red Ludwigia
Water Wisteria
*Pygmy chain sword
*Crypt parva
*Scarlet hygro
*Jungle vals
Hoping to add much more soon.
Wow this tank is awesome.... I am SO EXCITED!!! to get it set up, it's not even funny
Everything is filthy and has seen better days, especially the stand... it's ugly and looks awful, and it's obviously made for a bigger bowfront tank. but with a good wash, all the **** and algae came off quite easily. for only 40 bucks, how could i go wrong? i got the tank, light fixture, stand, canister, 2 maxi jet 600s, and a bunch of other junk... he also gave me some sad looking java ferns in a baggy... nice guy hehe.
The hood is a bit retro, some sweet magnetic ballasts... but it worked just fine once it got warmed up a bit. i'm going to grab some new bulbs today. the old ones work, but i'm not sure how old they are... they're a little grey on the tips so I'd rather not take the risk.
So today, my mission is:
Return old heater and hood from my 25gal to Petsmart - don't need em. Should give me about $70 to spend towards what I need below.
Pick up all supplies needed to get this thing running: substrate (thinking of doing moon sand), gonna look around the beach for a nice piece of driftwood, and maybe some root tabs or fertilizer, nice new bulbs.
Get DIY CO2 kit going - check valve, hose, syringe for bubble counter, some kind of diffuser (wood airstone?)
AND then I'm going to convert my little 10gallon to a plant propagation tank... since it has an incandescent hood it can support a whopping 50 watts, so I can crank up the light in there and get some DIY CO2 running and grow some insane plants for the big tank.
I am probably going to sell the 25 gallon to my mom - she has been wanting to upgrade for quite a while and I wouldn't mind dropping the price a bit for her.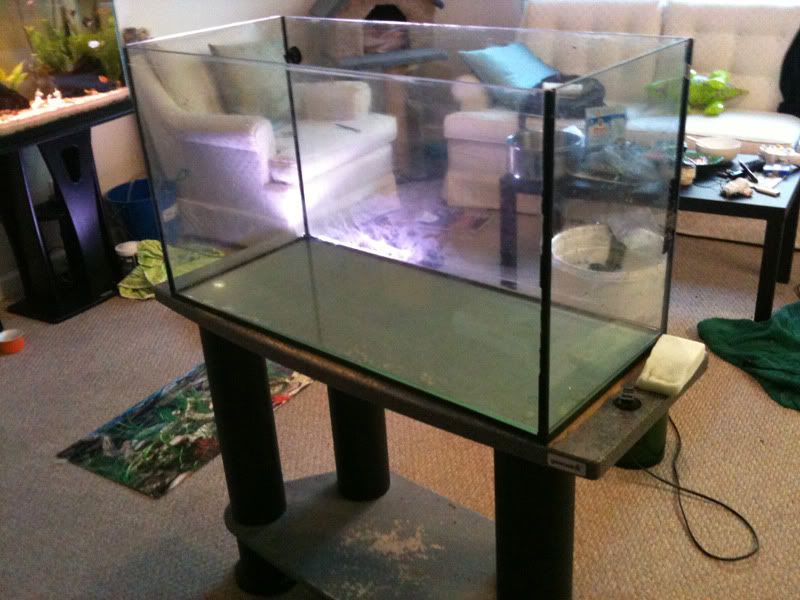 Nice and clean, trimmed up the silicone as best as I could with a dull pocket knife... lol
The hood, probably should invest in a glass cover when I can afford it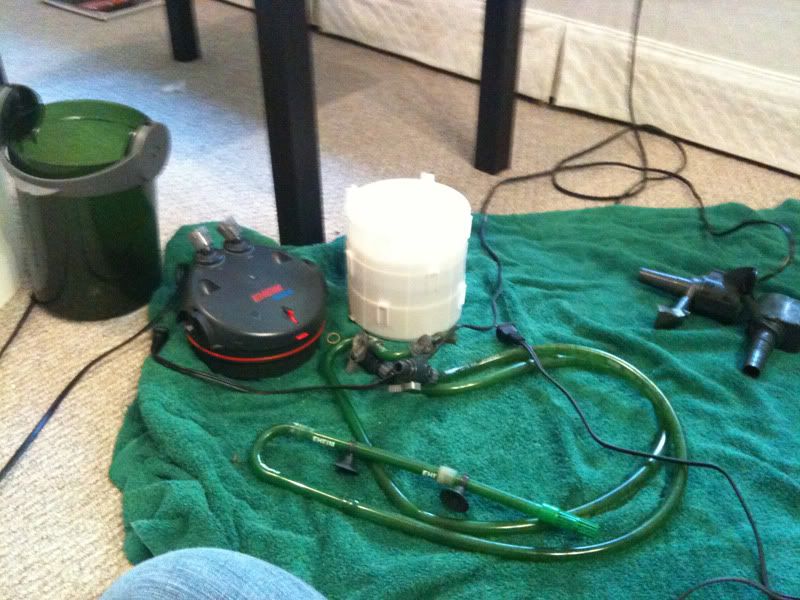 The filter... looks fun to set up, love the trademark Eheim green lol!