Discussion Starter
·
#1
·
*warning - long rant*
I bought a 20 gallon a year ago, and finally got around to setting it up in july. I had plenty of time to plan it out, so I decided i wanted something with a really striking hardscape. I went with a large piece of lace rock i picked up from a reputable LFS, and a large branch of manzanita.
I also wanted to try out emersed growing. I planted some HC and anubias back in july, and after a rocky start, finally got the HC growing like crazy and the Anubias well rooted to the rock.
Which led to today, flooding day! Several batches of plants have arrived, my light is finished, my new co2 reg and tank are here, my filter is set up. All systems go. As I'm filling the tank, the lace rock catches my eye... It looks different. It looks
odd.
I read a thread a week back on here about some lace rock being sedimentary, instead of igneous. And now, looking at this rock, I'm getting a sinking feeling. so I chip a small piece, and pull out the HCl. it doesn't just bubble a little, it fizzes profusely. It also dissolves completely. Why didn't I bother to check this during the 6 weeks I've had the tank dry? Apparently, I am a moron.
So I pull the rock out, trying to not disturb the substrate too much. Doesn't work, instant aqua-soil duststorm. I have the python running, so I switch to vacuum, pulling out the cloudy water to start aquascape over. But at this point, i'm a little annoyed at myself for the whole "giant chunk of aragonite" issue, so I don't pay attention when the water level drops below the lip of the python. Python burps water, blowing all 6 weeks of HC growth out of the soil. Again, moron.
So I pull the HC out, fill the tank, run the filter to clear the water a little. only i forget to attach the co2 line to the inline diffuser. which proceeds to leak a profuse amount of water onto my carpet.
At this point, I'm a little surprised my wife lets me dress myself, let alone enjoy(!) a hobby that involves large amounts of water and electricity.
So, 4 hours, 3 90% water changes and a wet/dry vacuum run later, all the HC is replanted, the new (rushed) scape is in, and everything is up and running.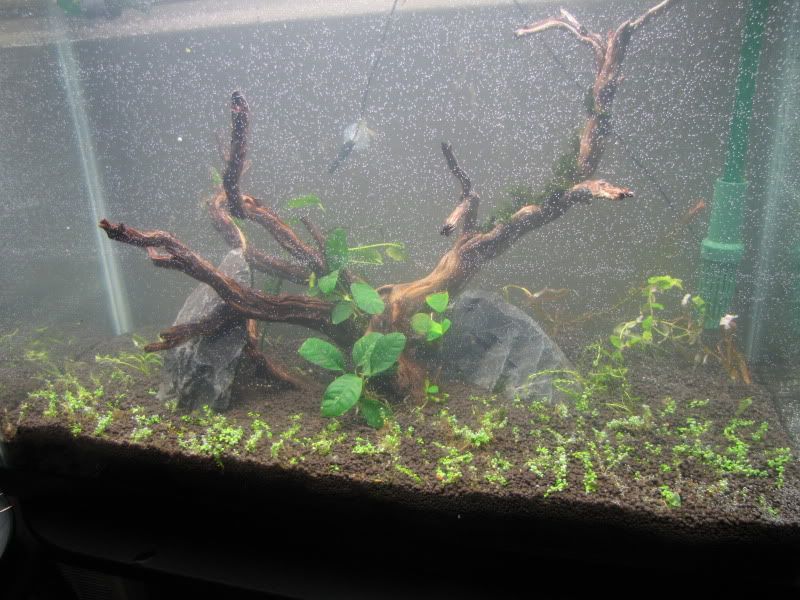 Advice on the scape? I had very few options for rocks at hand, and one of them is structural. (the driftwood wasn't pre-soaked.) I have tons of stems coming in a day or two, and I'm looking for a plant for the gap between the two rocks, to fill the space.
Things that went well:
1. My light (2x24w custom made t5HO with ice cap reflectors) works great. It's amazing how much light it puts out. First time building one, so I'm proud. Pics to follow.
2. Filter. Eheim 2236, for $70 new, off ebay. this was a source of trepidation, but turns out it was a screaming deal, as it works great. Yay.
3.
These tweezers
. After planting the foreground of HC with them twice, I think I can highly recommend them.
4. the tank didn't shatter? I don't know, i'm grasping for a silver lining here.