Discussion Starter
·
#1
·
Ok, I have been happily in this hobby for years, I have never set up a scape I was content with. That sounds sorta ridiculous but it seems like I'm always wanting to add or change something. After a while, it seems to become more of a chore than a hobby. I'd really like your guy's and gal's advice on what I could do differently. Maybe I'm missing depth or maybe I'm just crowding everything too much? I'm not sure, but I love helpful feedback! Btw, I'm using my iPhone to type on here and for the pictures, so it may not be of great quality. Here are the pictures:
Full tank
Pearl weed (HM)
Ludwigia
Unknown plant? Maybe hygro?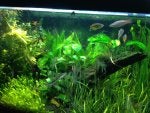 Some short Swords I've had for a year (weird!)
And lastly my Pike (crenichla marmorata)
Oh ya, and the tank is FAR over grown, and I've had a random algae bloom, hmm. Ignore those two factors though haha!
Thanks; Tyler