Discussion Starter
·
#1
·
I get asked a lot how I do my quarantine and what I do to adequately monitor all the many fish, invertebrates, and snails I bring in and keep. My approach is multi-tiered.
First and foremost, upon arrival, all fish are put in species only tanks. As many of you know, I have a three tiered rack system. New arrivals go on the bottom. This prevents "drip" contamination between tanks. I also use different nets and siphons for every tank. Initially they are put into a bare bottom tank with zero decor. This allows me to monitor easily if they are eating, if any die, and if there is any abnormal feces. If there are no losses within the first week, I then add some wood/leaf litter/floating plants/potted plants for comfort. If they clear the second week with no losses or obvious illness, they can then get moved up a row if a tank is available. At this point as well, they will occasionally get a spattering of substrate (usually dark sand) depending on species. This is also the point where I may combine a bottom dweller (cory or loach species) with a schooling species to conserve space). The decor allows me to get "better" pictures of them with more realistic coloration and makes the fish more comfortable. Every tank gets a water change 3 times a week, usually of 30-50% but it really depends on stocking density. If its a small tank with a lot of fish, it may get daily water changes.
Here are a few examples of some of my quarantine tanks. Please pardon the dirty glass, I had wiped it down, apparently not very well!
This is a 75g quarantine. Right now its is housing the CW010 and T. espei. I have floating plants and anchored plants and small stacks of driftwood.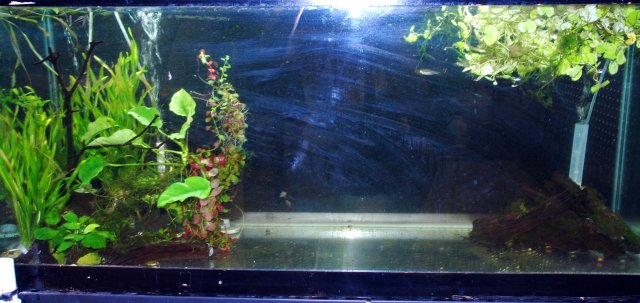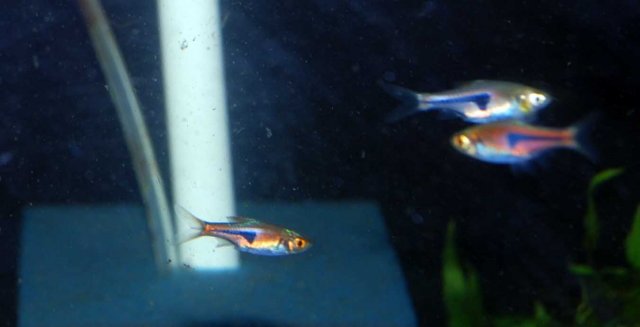 This is a 30g tank which is housing the Y. sidthimunki loaches and B. dorsiocellata. You can see that it has a mid-sized stump with anchored trident and moss. The algae has been allowed to grow on the class to culture for incoming nerites.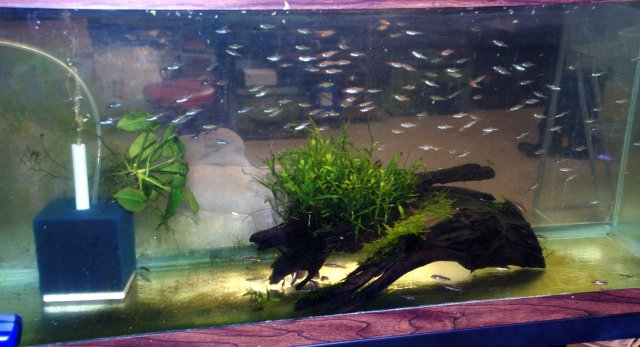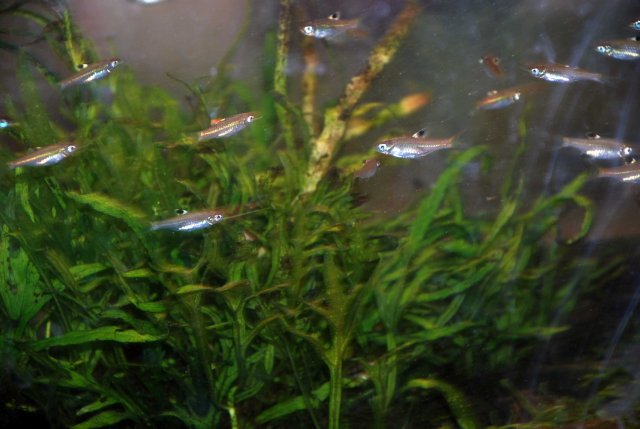 All filtration is air-driven. I use the swiss tropicals block sponges and ATI pro series sponge filters. I also use corner filters in tanks that have been medicated in order to utilize carbon or purigen to remove medications.