Discussion Starter
·
#1
·
Hi new guy here, Bri the new guy. Just thougt Id introduce my self and ask some of you gurus if you had any good advise for a reefer setting up a planted tank. All advise is appreciated. Any helpful tips, must have equipment, hard learned lessons of the trade.
Quick background, I have had FW tanks for years, and got into SW a few back, well It pushed my FW to the backburner, I always still had at least one, but nothing fancy.
Now Im back, and want to do it right. Ive learned a lot keeping SW tanks and checking around now for info on planted tanks made me realize that I really new nothing back in the day about FW.
I know the basics but am lost when it comes to plants.
Heres my SW tank, 30 long 2 yrs old and still going
And here is the tank that will become planted, it will be only half full all the time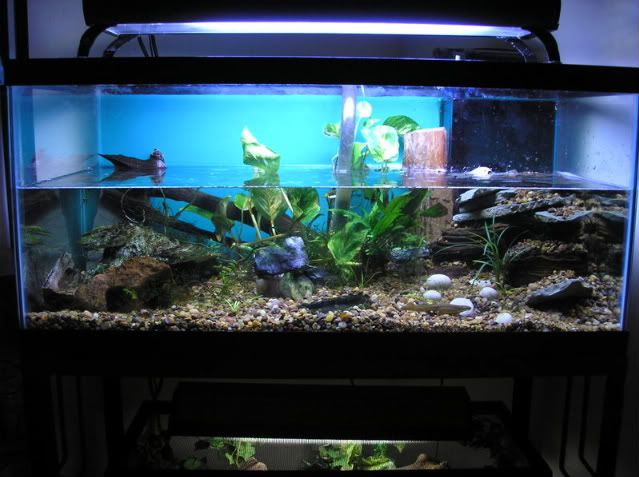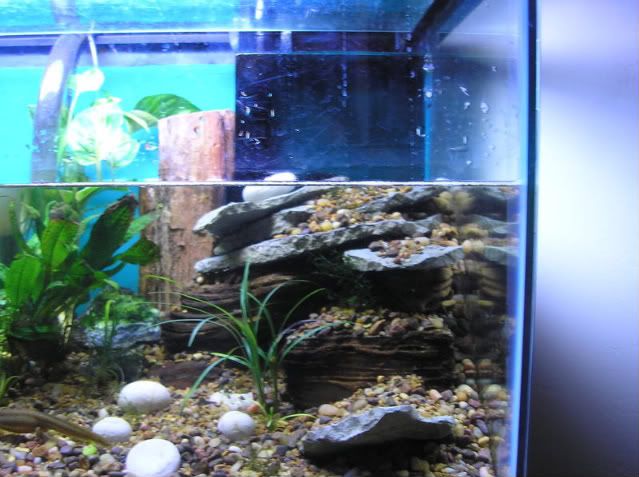 Some may say, it is a planted. Well like I said before ive been in the hobby awhile and have even had a planted tank before, but I really knew nothing, I treated it like a fish only tank, you know, change the water once in awhile.
This tank will be different, I would like to know what is going on in there.
Tank is a 40 breeder with an overflow box (was SW tank, but not the one in the pic) I reversed the flow through it making it a waterfall.
Light is an Orbit 2 x 65w PC fixture, with one 10,000K and one actinic 420nm, I realize this is a SW bulb and probably needs replacing for plants. But what bulb should I get? Another 10,000K or the 6,700K?
Right now I hooked up 1 2l DIY CO2 bottle, but im sure ill need more. How many do you think is need on say 25g?
1 HOB filter with some carbon and filterfloss.
Live stock, this is a newt tank, we have had the newts 6yrs and theyve upgraded from a 10 to a 20 and now a 40, so theres 5 newts and 2 dwarf frogs, along with a clown pleco, two kuli like loaches, and a white cloud.
Substrate, rocks for now, but im sure that the worst thing I could have for a planted.
Ferts? Ive got them, but don't know what im doing
Where Id like to take this tank is your basic fully planted tank, a variety of plants and inhabitants.
thankx