Discussion Starter
·
#1
·
Some of you may recognize me from another forum where I'm pretty active. I love DIY, fabrication, and trying to stretch natural limits. I'm here to learn more, and improve.
Here's a shot of my rack of display tanks, there are a few others spread around the house, but this is where I focus most of my energy. I don't fertilize traditionally. The only things I have been adding to these are potassium bi-carbonate, calcium chloride, and magnesium sulfate to buffer up my crazy soft, un-chlorinated tap water. I've been trying to keep my gH near 6 degrees and my Kh4-5 degrees this way.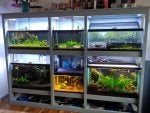 Anyhow, that's me, I'll see you all around, thanks for welcoming me in.