Discussion Starter
·
#1
·
Hey there! I've been a longtime lurker of this site. I've had a 45 up and running as my first time experience with live plants in the aquarium. I thought I was off to a good start but I think I've spent more money on plants than I'd like to admit.
Here's the setup.
Size: 45g
Substrate: Sand
Filter: 2 HOB's. Aquaclear 70 and a Penguin Biowheel 200
Lighting: AH supply 96w bright kit retrofit into the old hood.
Plants: Moneywort, Java Fern, Anubias, Swords, Cabomba, Ludwigia, Java Moss ( small amount )
Ferts: Seachem Flourish Comprehensive dosed as recommended. Flourish Tabs.
Fish: 2 angelfish, 4 sterbai cories, 4 kuhli loaches, 2 angelicus botia. 2 honey gourami. 2 oto cats
Setup time: 1.5 years
No Co2 but I dose excel every day. And between excel bottles I used a similar product from API, it's in the pic but it's currently gone and I'm back to excel.
Water changes are bi weekly, 80% and has been as such since I got the tank.
Here is the tank. Be warned, it's not pretty right now.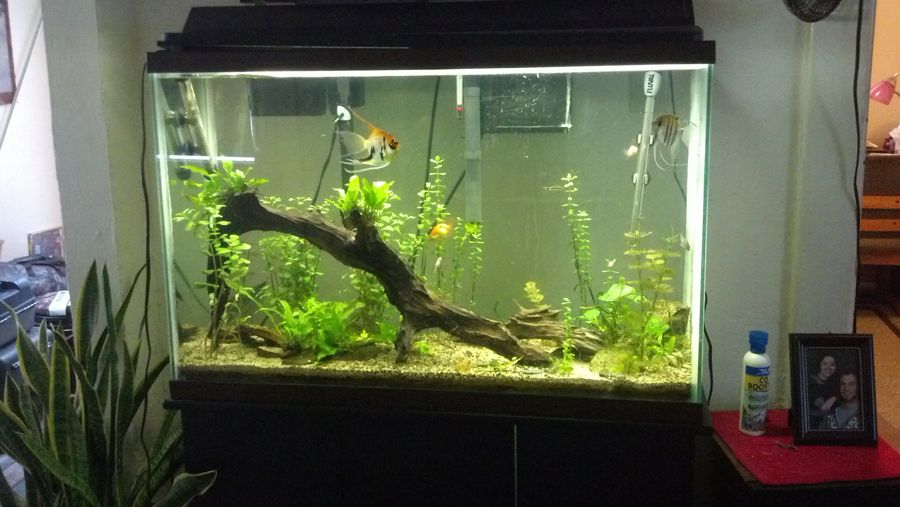 Now, I have problems. The plants are leggy at best, dead at worst now. I have brush algae and I'm thinking of upping the dose on excel. It's growing on the edges of some of my anubias and my moneywort.
Now, plants have never really thrived in this tank. I had a period at first where growth was well but they always seemed to crash and melt back after a time. I was learning and never gave ferts to the rooted plants. After a period where personal life got in the way of tank maintenance and the plants suffered even more, I got flourish tabs a couple of months ago and placed them as suggested on the box near the rooted plants. No effect. But the plants did start growing very slowly again when I picked up the excel/flourish comprehensive routine again.
I'm trying to get a handle on this tank and finally whip it into shape and I feel like I've hit a wall! It's hideous! It's ugly! The poor plants are bad and I need help lol.
I suspect the bulb needs replaced so one is in the mail now. It hasn't been changed for the duration the tank has been running.
I made osmocote plus and made my own out of gels caps and have buried them every 6 inches ( near rooted plants ) these capsules are lightly packed as I didn't want to overdo it. ( maybe 5-8 granules in each )
I'm looking into DIY co2. I have a 10g I'm experimenting on with high light and just made my first co2 project. The plants in that tank are doing great so far. If this works out I want to try a larger setup on the 45 for co2.
I feel like I need better ferts. The plants are never lush and some of the java ferns have black mottling. Deficiency? I have stunted, hole-y swords that sprouted a few measly tiny leaves and are trying hard to live but get no further. I hope the new osmocote tabs help them.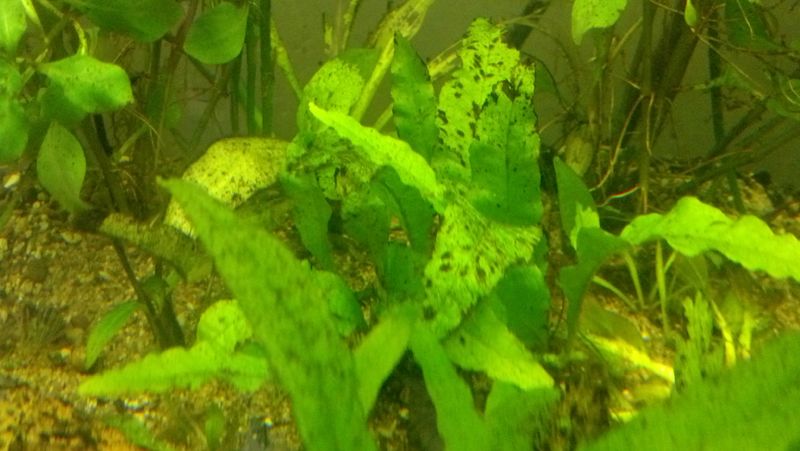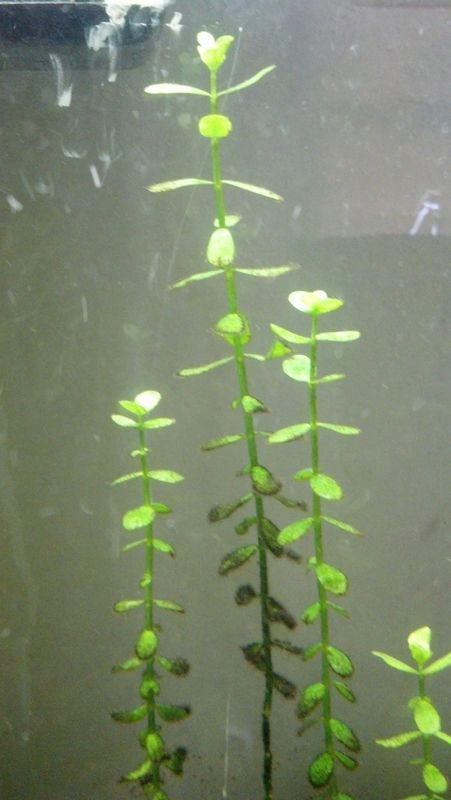 The cabomba grew fast at first, became spindly, then slowly got ugly and fell apart. I think the same is going to happen to this moneywort.
I want to try dry ferts but I feel very intimidated by the guide's I've seen. I almost bought some from
http://www.aquariumfertilizer.com
but I'm hesitating because I just don't know what to buy for my tank and how to apply it all. If I go this route, what should I buy and how much of it do I use? I'm afraid I will get it all wrong and the plants will do even worse ( is that possible? :icon_mad: )
If anyone can help, you have no idea how appreciative I would be!