Discussion Starter
·
#1
·
Ok, so the other day I noticed a new addition at my LFS and I was baffled by it. It looks like a tetra type of fish (based on the shape of the eyes, mouth and head) but is larger than the largest tetra I have ever seen, each around 4-5 cm, some even larger. Body was silver, slight orange tint at the tips of fins.
Pics are provided below. I did not bother circling since I am sure you can understand which fish I am talking about right away.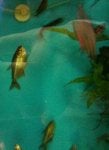 What are they, what would be suitable tank mates for them, are they similar to tetras wrt to breeding in the tank (i.e. none to very hard to achieve)?