Discussion Starter
·
#1
·
Hi all,
So a bunch of my plant species are not doing very well, namely the Pygmy chain sword, dwarf sag, and stargrass. Here are pics to start off:
Chain sword leaves are developing brown spots patches and eventually transparency towards the tips:
Dwarf Sag is dying off in patches, becoming all transparent (can't see too well in the pic but it's a whole section under there going transparent):
Here is stargrass that somehow had the bottom die off about a week ago. I moved it to see if it would help but it's still just struggling in general. You'll notice diatoms along the back wall. My tank is relatively new (4 months), and I'm hoping it'll go away.
Now I know the first thing I should point my finger at would be CO2. Well, I was running medium light before with one T5HO bulb 2-3" above my standard 55G tank, and with the glass covers on and the bulb right over the black hinge on the covers, some of the tank was even shady, so it may have been medium in some parts and low light in others. In comparison, my CO2 drop checker looks like this (with homemade 4dKH solution). I am getting slightly more than 1 full point drop in pH. Ignore the twisted L. aromatica stem; I got that in a RAOK about a week ago in the 100 degree weather and it is still adjusting to the tank (miracle that not all the stems were completely fried).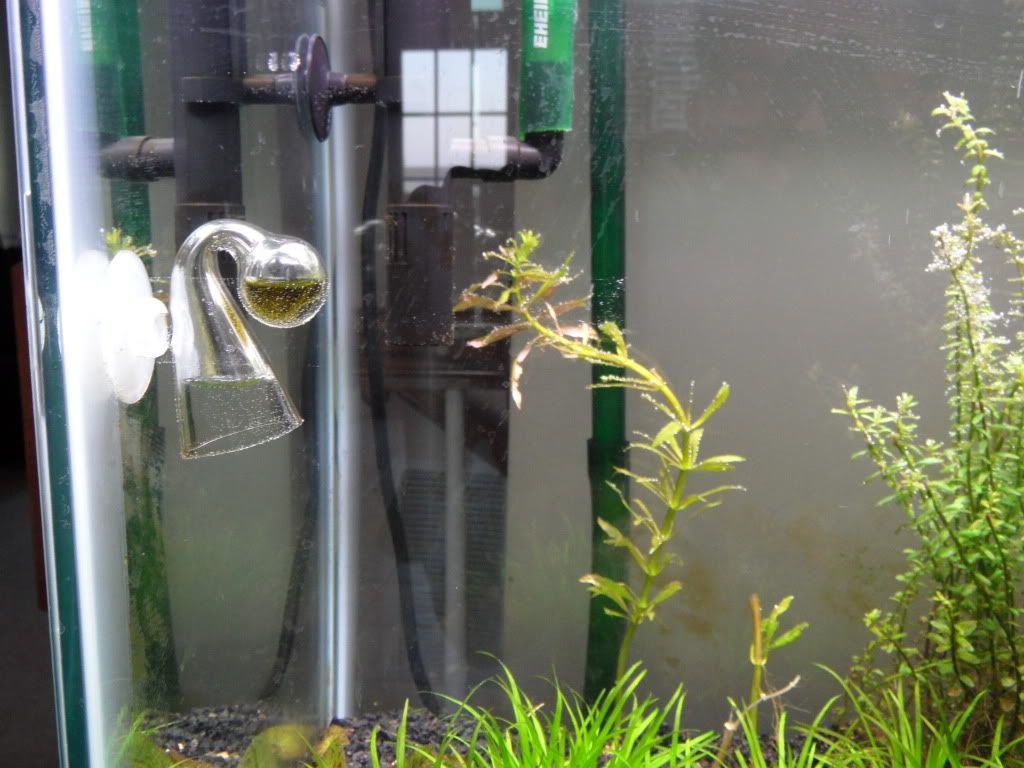 I have good surface agitation, but I'm not willing to turn the CO2 up more than it is now, and I believe that it should be sufficient at around the recommended levels, especially if I'm not blasting the light.
In contrast, a lot of the plants are doing just fine (blyxa and HM and L. aromatica pictured, the latter two I grew out of tiny stubs of each species).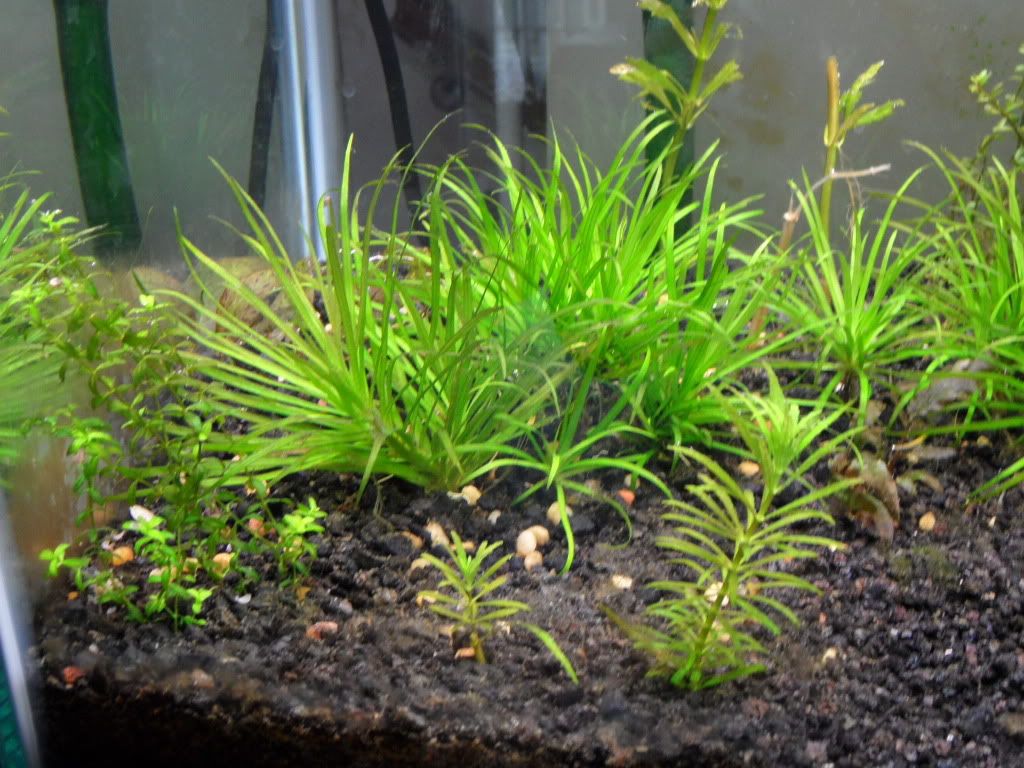 Forgot to mention dosing. I am dosing the recommended EI dosage for 40-60 gallon tanks with doses of Iron chelate on some days (1/16 tsp), adding some addition K2SO4 once in awhile because sometimes I see pinholes developing in my crypt wendtii.
More info that might help (I'm throwing anything out there so someone can help me solve this issue): my tap pH is 7.5; it decreases down to around 6.4 at the end of the day with CO2. My tap water GH is around 4 degrees, and my KH is around 2-3 degrees. I add the recommended EI dosage of GH booster after my 50% WC each week. I lightly vaccuum the substrate on some weeks during water changes to help keep it clean. I have some of each algae in the tank (diatoms, GDA, staghorn, BBA, hair/thread, GSA), but I am unsure of whether or not it was just due to me going pressurized and the plants adjusting, because it's receding now. My substrate is a mix of gravel, eco-complete, and flourite. Fauna is 11 Harlequin Rasboras and some pond snails. That's all I can think of! Help me, plant gurus! :icon_neut
Thanks a lot,
VeeSe
P.S.: Oh yeah, during the day, only my algae pearls. My plants generally do very little of it.