Discussion Starter
·
#1
·
Hi! I'm new here, but I've seen a lot of amazing planted tanks on this forum that have really inspired me to get things going with my betta tank. I figured I should probably register and start posting so I can make the most of my little tank! (Though I'm very afraid that being here will make me want to get more, bigger tanks... lol) Anyway, I went to my LFS last night and got some stuff and did my first "aquascaping" I guess it's called?
So here it is!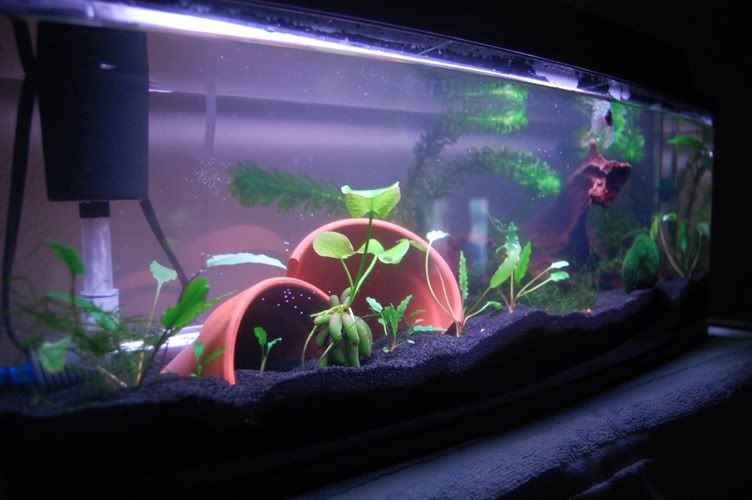 (Water is a bit cloudy because I'm impatient and couldn't wait for things to settle before taking pictures.)
Specs:
- 6.6 gallons (probably more like 6, because I can't fill it all the way because my betta needs to breathe!)
- Tetra internal filter (rated for 1-3 gallons but the next size up wouldn't fit because the tank is so shallow, I figure this isn't a huge deal because I have lots of plants and just one fish, and don't mind doing extra/higher volume water changes)
- Aqueon submersible 50w heater (tank is kept at 80F)
- Fluorescent 15w red light bulb (probably need to upgrade this?) on a timer: 12 hrs on/12 hrs off
- Petco brand sand
- Liquid fertilizer (I should probably also get some root tabs?)
- Driftwood and broken flower pot as decorations
Plants:
- Cryptocoryne
- Anacharis
- Java moss
- Marimo ball
- Banana lily
Critters:
- Male betta
- Two ghost shrimp
Soo what do you think? Suggestions/ideas are more than welcome, I'm pretty new to this
I wanted to tie the moss to the driftwood but I couldn't find any fishing line at Walmart, so it's going a little crazy right now heh.
And here's my boy, Ammo!