Discussion Starter
·
#1
·
I'm trying to think of a short, dense ground cover for my 10 gallon aquarium: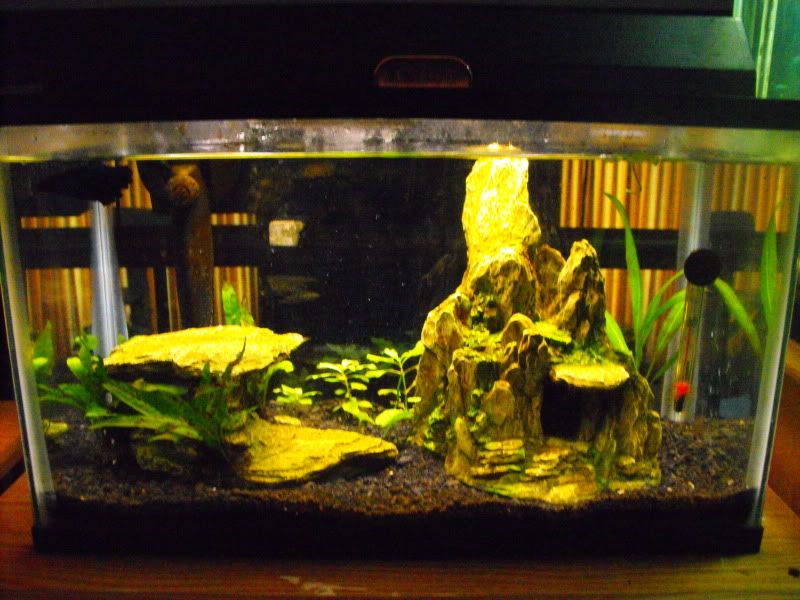 Try to ignore the yellow plants in the middle, they are actually green, the camera always wants to reflect the yellow from the caves onto things...
Since I already have plants with the elongated and slender leaf thing going on I'm trying to find a ground cover that is short, dense, and which has a leaf type that is dissimilar from the plants already in my aquarium. I'd prefer if it didn't take over my hardscape too.
This is my first attempt at a planted aquarium, so it would be good if it wasn't a difficult plant to keep. The substrate is eco-complete, it does have Nutrafin plant gro fertilizer, but no CO2 injection. Lighting is a floraglo aquarium bulb - 20 watts
My ultimate vision is: The ground cover to form a short carpet that stays mostly just on the substrate. The wisteria that I have in the center back to form a tall wall back there, the Amazon Sword to be in the other corner looking lovely like it is now, the 3 Java Ferns to fill out and be trained so they become living cave walls to the ornament they are attached to, and that Pennywort I just planted I'll probably move to a corner in the aquarium and allow to grow from the bottom to the top and spread over some of the surface as a floating plant.