Discussion Starter
•
#1
•
Background:
A few years back (2003?) I dove headfirst into planted tanks and over the years put together a few scapes. Loved it, but but interupted too many times with sequential job moves, after graduation.
A few months ago, the wife more or less said "I want you to start up a planted tank. I miss them"...who am I to say no?!
The idea :
Longevity. Current trends in competition are for the moment of the photo. Most tanks aren't designed for the time before or after the photo (this could be a huge rant/debate thread, so maybe I'll bring that up elsewhere). I'm after a tank for my house and for me, not for a photo. This means planting a tank that will last, and not require constant pruning/replanting to keep it looking like a jungle. So, I'm staying away from very high light. Staying away from stems. Staying away from super fast growers. I'm also employing MTS for substrate. First time using it, and sounds like a good idea for the eventual heavy root feeding crypts.
hardware:
I'm re-purposing my old Elos 70 for this tank. The elos sump isn't good for FW, so that is being replaced with a Proflex Model 1. Still working out CO2, but it will be there. Return will probably use the Eheim 1250 instead of 1260 (too much flow?). ATO will be with the original elos osmocontroller and an external tank of water (US Plastics). For lighting, I have available, a pair of Kessil Amazon Sun, but I'm going to see how a single will do. This will be med to med-low on light levels. There will be some extra shadowing with a single point source, but I'm ok with that. I had a pair of 14K kessils over the same tank before when it was a reef.
hardscape materials:
Rock, sand and gravel were all collected locally. It took a good amount of rinsing to get rid of most of the organics/silt. I was first thinking of using more contrasting sand-rock, but this is truer to reality since the sand/gravel was originally the rock before weathering/time took hold. The wood is 3 pieces of manzanita, glued to a base rock with IC-Gel.
plants:
I don't have any yet
I'm currently sourcing some and should have it sorted this week. On the list are things like...
Foreground: marselia minuta, parva, petite nana,??
For-mid: wendtii green gecko, petchii, willisii (nervelii?), lucens, ??
Mid: mid-back: affinis, nurii, ??
Back: retro spiralis, spiralis, crispatula, ??
All of this is dependent on what I can come across and what I get inspired by.
(I live in NM, and if I only added a few sparse plants, and a few tumble weeds, then we have ourself a local NA style tank
)
(1) clean out most of the old reef junk (note, parts of overlow are removed. There won't be a big hole for fish to get sucked into!). Single Kessil mounted. Wire needs routing and painting for SAF. (Note to others making their own kessil mount... the Kessil Goosneck has M10x1 threading). I could have attached the kessel+gooseneck directly to the tank, but I wanted more height. The back alcove (I forget what it is actually called) will probably have other plants that don't need a lot of attention.
(2) Sand/gravel perimeter, with dolomite/murate of potash base in center
(3) Add MTS and cover with sand/gravel. The MTS was higher in organics than I like and didn't hold the clay (the red in the liquid on top) super well. We'll see how it goes. I personally think the soil is only half way through the mineralization process. Probably just means more water changes at first, but not as bad as if I went the classic Walstad topsoil method.
(4) Here is the joining of the wood on a rock base (which sits on the rock shown in the earlier photos). The rock is to also keep things from floating up.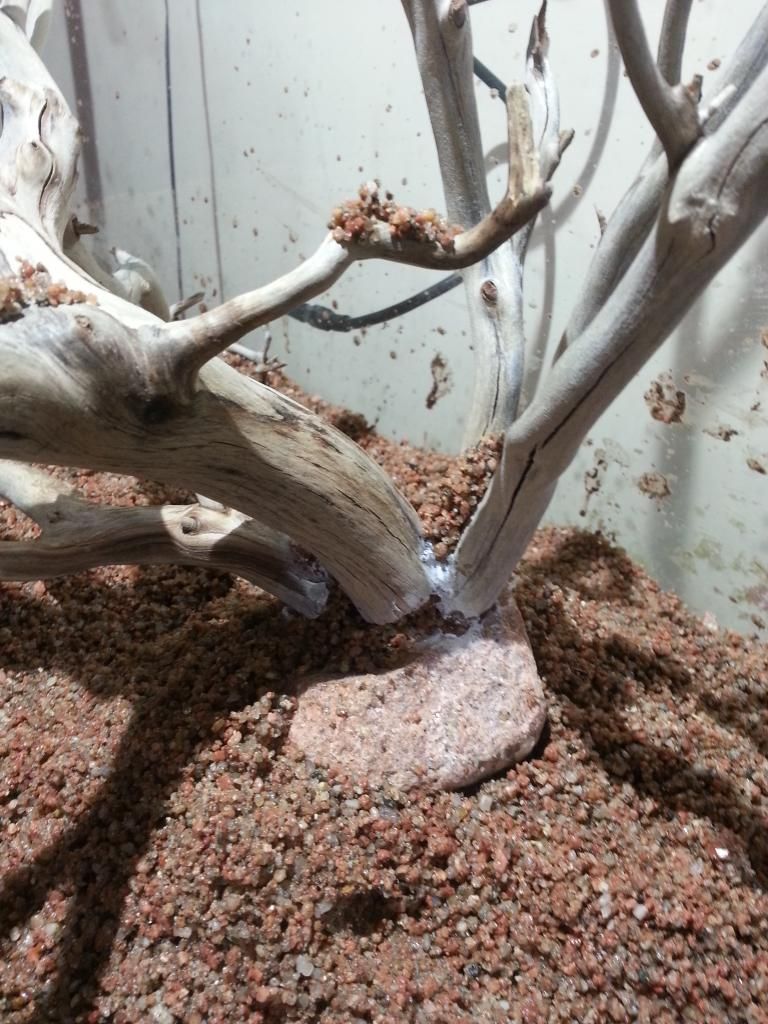 (5) Dump in base sand/gravel to fully cover MTS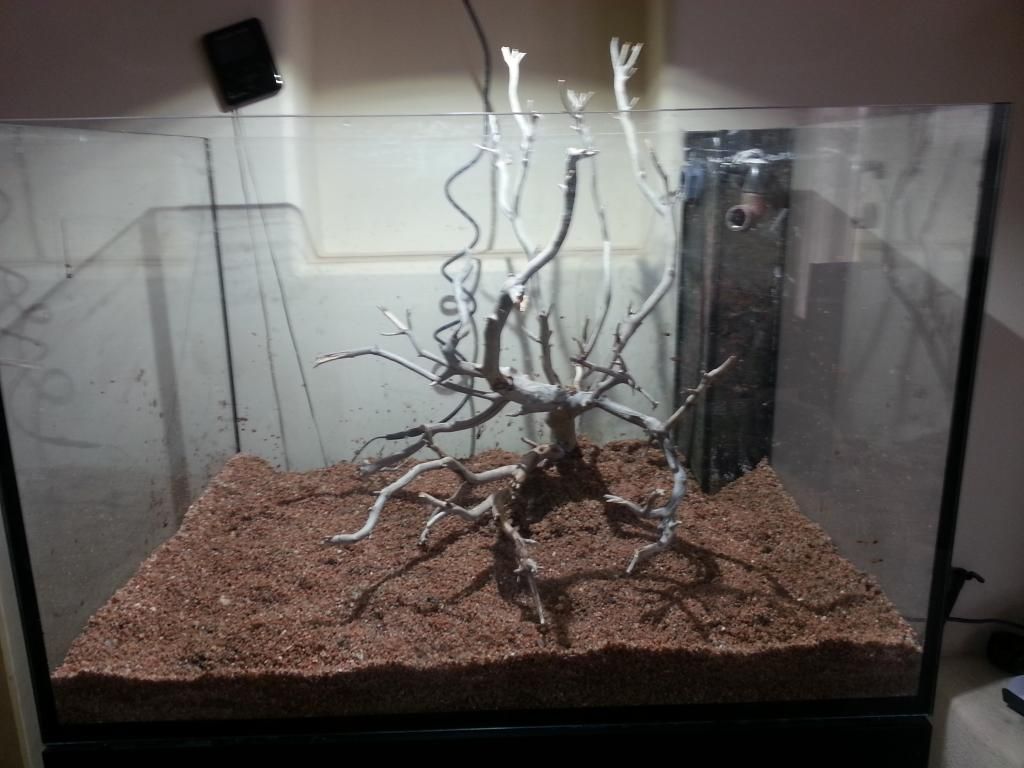 (6) figure out what rocks I want to use (I collected way more than I needed. Better to have options. This is not a rockscape, so I wanted to use rocks that add to the overall feel and not overly dominate.
(7) rocks/rubble added.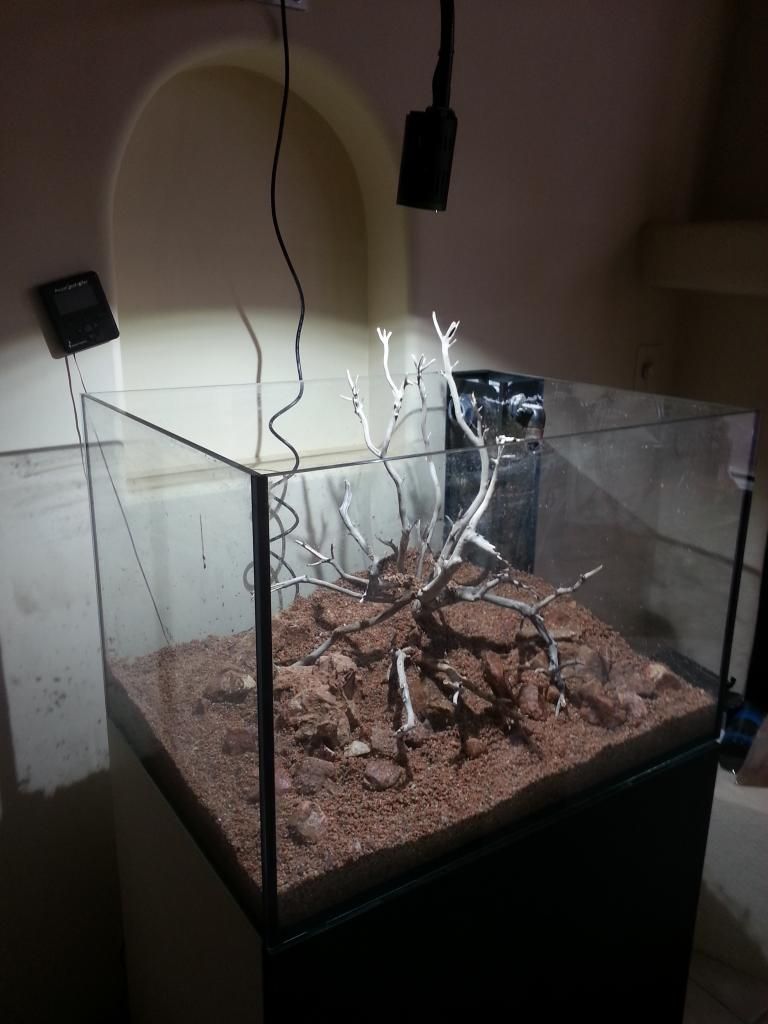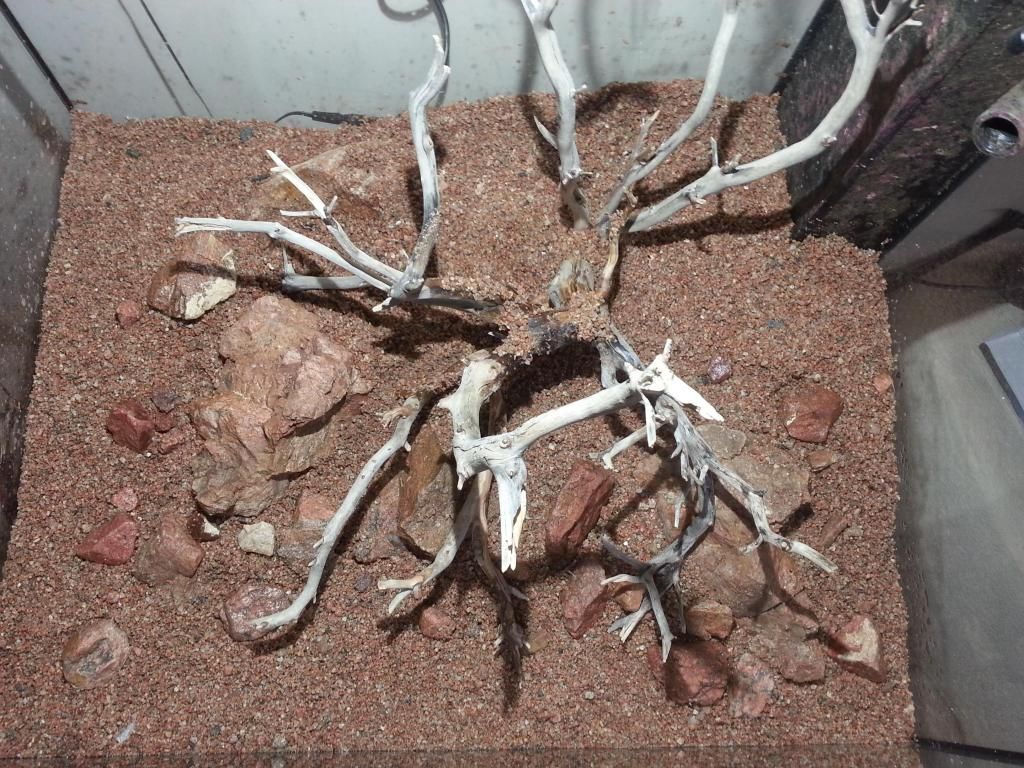 (8) this is it for now. I'll post more when I have plants :-D