Hi all,
I was doing planted tanks in the past, last tanks being a 60p and Mini M, but life happened, and after getting married, purchasing an apartment, work, etc. (no kids yet), had to shut down the tanks.
Fast forward 5-6 years later (about a month ago), my friend sends me a link to a kickstarter. It was for the Ecoqube. I thought, what the hell, 1 gallon no hassle tank, why not.
Little did I know what was to come lol.
Once I started fiddling with the Ecoqube, I had gotten bitten by the planted tank once again.
So, I start doing some research, and since I got rid of all my tanks/equipment, I thought about doing a 60P again. Then I decided I wanted to go bigger, so I thought about the 90P.
But still, I wanted to go bigger, but a 120P was just out of the question. Price is a little too high for me to warrant the tank, and since I'm in Hawaii, it would take forever to even order and get one in. Not to mention the cost of a custom made stand (I live in an apartment now, no DIY stands).
After heavy consideration, I decided on a 75g.
This is a decision I'm not sure I'll regret.
When I first got the 60P all those years ago, I vowed never to get a tank that was not ADA. i had forgotten that self-promise along with a few others, but after setting up the 75g, I definitely miss the clean look and quality of ADA tanks.
Anyways, I bought the tank and stand, just the standard 75g with the standard stand. I figured I'll start a tank journal to not only get advice from others, but also as a method to keep notes to myself.
I was away form this forum for 6 years, but when I came back and read through my old journal, i realized how informative it is to my current self, so this will also serve that purpose.
Anyways, tank has been running for about 3 weeks now, been planted for about 2. Currently in the nitrite spike phase, but just tested with results lower compared to the past few days, so I'm hoping it ends within this week.
Equipment:
75G
Standard black stand
Finnex 24/7 Planted + x 2 (I started with 1, but it seemed a little weak, so I purchased a 2nd. Yet to see if this is too much light or not, just got the second light today, will be running 1 at MAX for 8 hours, and 1 in the 24 hour cycle)
Fluval FX6 (swapped out the intake with the Eheim intake because its smaller and less intrusive)
Eheim Surface Skimmer
Koralia 425
Twinstar Nano + (been running it for 2 weeks, not sure if it's doing much, but haven't seen any algae yet)
10LB CO2 with Milwaukee regulator
ADA Aquasoil
Dosing with Pfertz (I know it's really old, but I still have gallons of the stuff left. Just started dosing yesterday @ 5 pumps for M and K, no N and P yet)
Hardscape: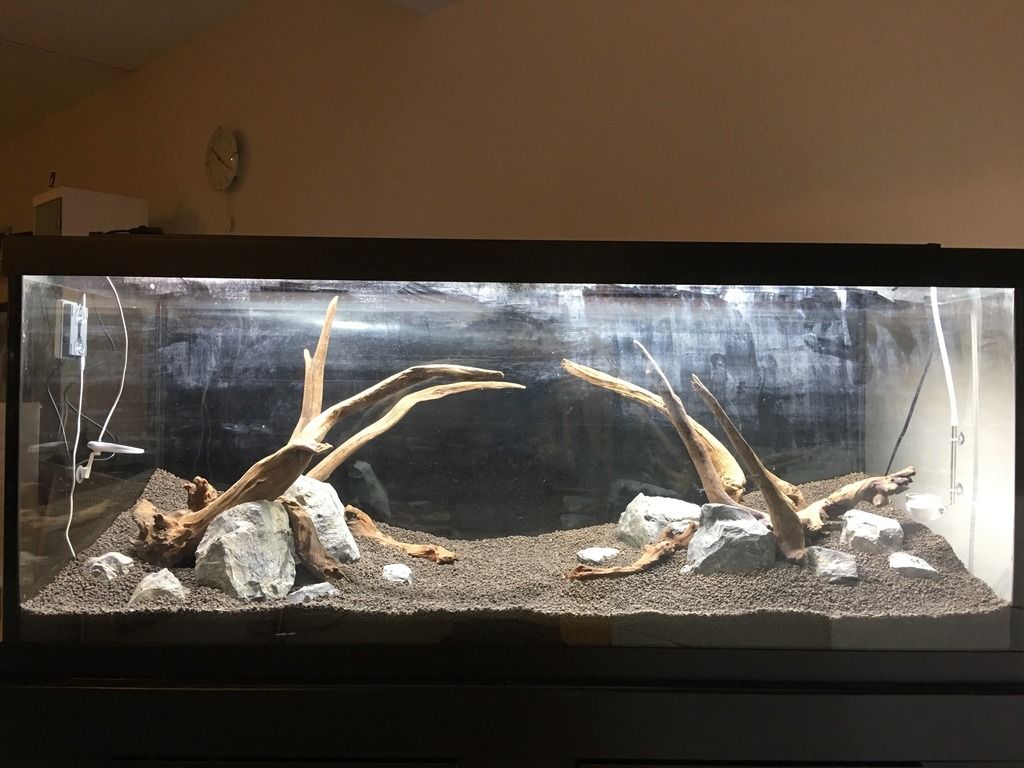 My goal for this tank was to do less trimming. Last few tanks required heavy weekly trimming, this one, I want slower growing plants that require less trimming. I would add a plant list, but I can't remember all the names, but if anyone is interested in anything specific, I can try to figure it out. Because I want to do the least amount of trimming possible, I went with Parva as my foreground, which will take forever to fill in, but will never require trimming.
2/4/16 - day 1 after planting (1 finnex 24/7 planted +)
Pardon all the bubbles, just changed water and all of the equipment are on. Looks like dirty glass, but it's all bubbles.
2/15/16 - day 11 (2 finnex 24/7 planted +)
The bubbles are really stating to bother me. I might switch to an inline reactor or something. Never had any experience with those though.
Just waiting on things to grow in.
Probably add a few more stems in the back corners as well.
Hoping I can add some fish this weekend.
Thanks