Discussion Starter
·
#1
·
I have a basic emersed plant setup growing ludwigia repens, moneywort, cryptocoryne wendtii "green", alternanthera reineckii "cardinalis", an amazon sword, and some leftover HC (the last two won't be ready for a long time). All of these have been growing in miracle gro organic choice potting mix. Most were actually in my 20 gallon before it was taken over by BBA. This was the perfect way to salvage the plants that I took out of the tank.
Also, I may have trimmings of brazilian pennywort and regular riccia sometime soon from my 20 gallon. So, I am wondering if there is any local (NW Indiana) interest in any of the trimmings when the time comes. I would have put them up in the sale part of the forum, but I don't want to attempt shipping anything in the cold.
The crypts and alternanthera are from the packages at petsmart. The crypts in the pots have not been put into an aquarium yet. Depending on how many I actually have, I may have some malaysian trumpet snails if there is interest. It is hard to count them since they aren't out often. So, if anyone is interested, let me know. I have put the alternanthera and crypts in my tank, and so far the transition hasn't effected them (pressurized CO2 and EI dosing). Here's some pictures of the plants I have.
The riccia is on the suction cup shelf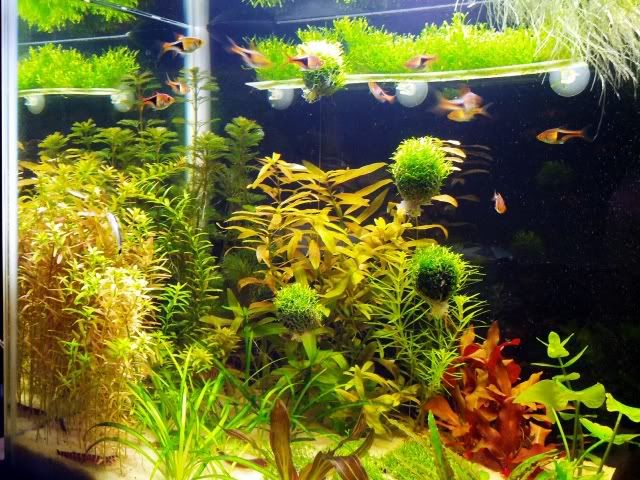 Here are the crypts a week after starting them, now 5-6 weeks in. I started with two pots with two plants, and they it is now 1 pot per plant. They are starting to run out of room again.