Discussion Starter
·
#1
·
I just moved and this is my "new" 75g planted tank. I got the tank (oceanic with starphire on the front panel) and stand used for about $100. I sanded down the stand and repainted it, and for the tank I redid all the seals. I also got an used TEK light 4 bulbs for $120, which I fan modded for better performance.
The tank has been running for 2 weeks. I planted HC with no water and a week later I filled the tank. I tried HC before and it always died, but this time seems to be doing good. It pearls every day.
Today I received some blyxa and I just planted it, maybe thats why it looks so pale hopefully it makes it.
I run the light for 12 hrs total. 8 hrs one pair of bulbs and 8 the other, overlapping for only 4hrs. Im injecting pressurized CO2 and also dry dosing ferts (Nitrates, phosphates, and CSM-B plantex).
Equipment:
75g Oceanic Tank with starphire on the front
1200 Cascade Filter
Rena Filstar XP3
DIY CO2 reactor
TEK 4 bulbs light fixture (modded) 2 6500k bulbs and 2 10000k (UV lighting brand)
DIY ADA style light holders
200w Stealth heater
Reefkeeper Controller
Plants:
Substrate:
FRONT VIEW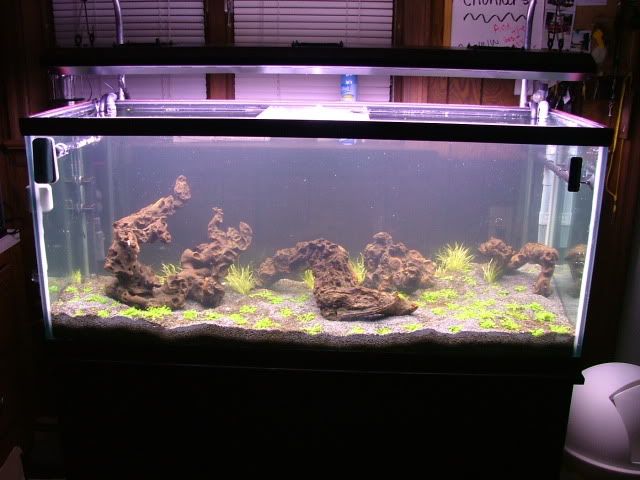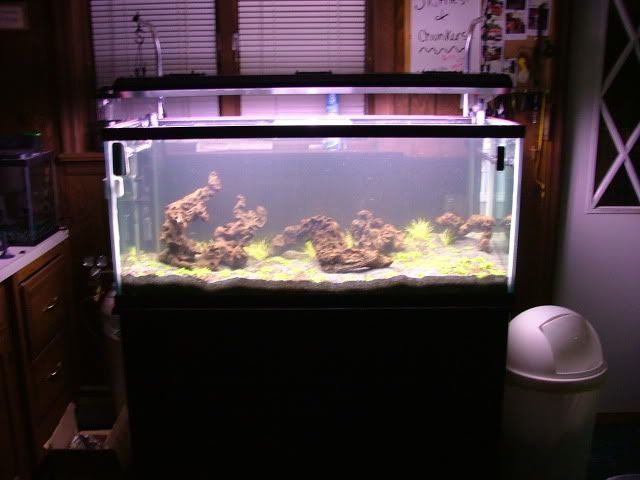 SIDE VIEW