Hello TPT, just thought I would start up a journal, not only to show you fine people my journey in this hobby, but also to help myself keep track of my own progress.
I started this hobby in July, 2012 with this: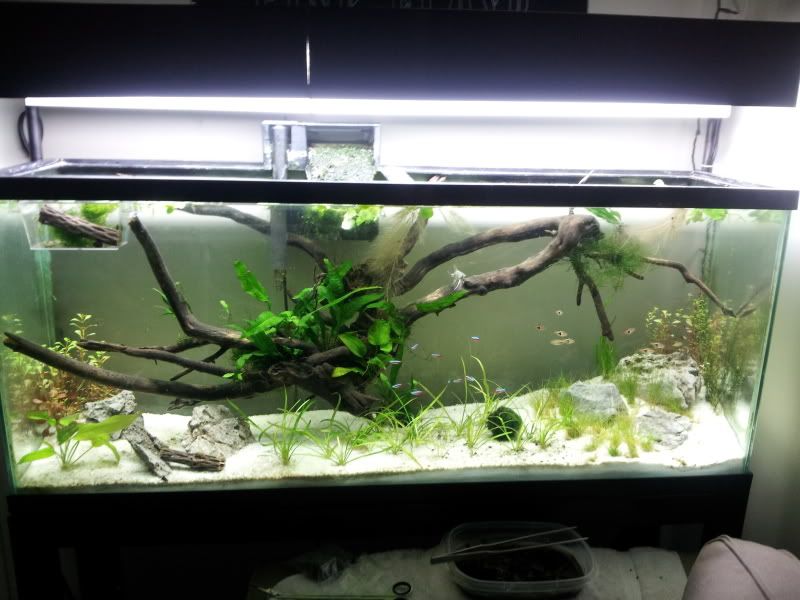 Knowing little to nothing of the planted tank world. That is how it stayed for about half a year, as I read many a thread from this very forum.
After ordering new substrate, wood, plants, I was ready to give this tank its second life.
As it exists 2/11/13:
Obligatory breakdown:
55 gallon tank
Flourite dark
Odyssea T5HO
AC70 HOB
350gph powerhead
Driftwood (thanks Tom)
Seiryu stones
Pressurized CO2
Plants:
Dwarf clover
Jungle vals
Hydrocotyle japan
Blyxa japonica
Dwarf hairgrass
?Stems??
Fauna:
2 Angels
20 Rummynose Tetras
9 Cardinals
3 Cherry Barbs
3 African Butterfly fish
2 Ottos
Ghost/ Cherry shrimp
I will be updating as I plant the tank, and re-introduce the organisms into their new environment! Always looking for advice, critique, etc.
Wish me luck folks, this should be fun!