Well time for another thread they just get sooooo long so quick! Hopefully everyone with any questions about my motives had their questions answered in the other three threads I had. The last one I had is linked
here
. The others can be found
here
and there is a link to the first one there too.
It will be $5 for the first oz of the food then $4 per oz (you can also break it up into .5 oz sizes, just do the math). This includes shipping and if you don't want a half pound that will go stale in 6 months then here where it is at. I decided to make a change to shipping. There have been more problems with USPS messing up/loosing destroying some packages as of late so I think I should give an options for shipping. Normally I throw in shipping for free with orders that are of 4oz or more ($13 shipped 1st class). Since there have been issues what I am going to do from now on if the package hasn't arrived in 14 days from shipment date I will reship as long as the purchaser pays $3 for reshipping. Now though I am going to give the option of priority shipping for $6 so the package can be tracked and also it will arrive faster. I will charge $3 to reship plus 30% of total food order but if you choose the priority option I will reship for FREE if the package has not arrived within one week of shipping date!
WHEN YOU MAKE THE PAYMENT THROUGH PAYPAL PUT YOUR ORDER IN THE MESSAGE BOX SO I HAVE EASY ACCESS TO WHAT YOU ARE GETTING. IF YOU DON'T YOU NEVER KNOW WHAT YOU MIGHT GET!!!
Due to popular demand and wanting to make it an EVEN better deal I offer 4oz of food for $13 shipped, Cant beat it for that kind of amount and also the variety. I mean you can get .5oz of 8 different foods for $13 SHIPPED!!!

First class shipping in bubble mailers is free. If you want priority, or are going to be getting 13 oz or more then that will be $6 I will only be shipping on Fridays after tomorrow (9-11-11)
I have:
Earthworm flake
-My CRS LOVE this stuff and the protein really helps with speedy egg development
Spirulina flake
- Shrimp LOVE this as well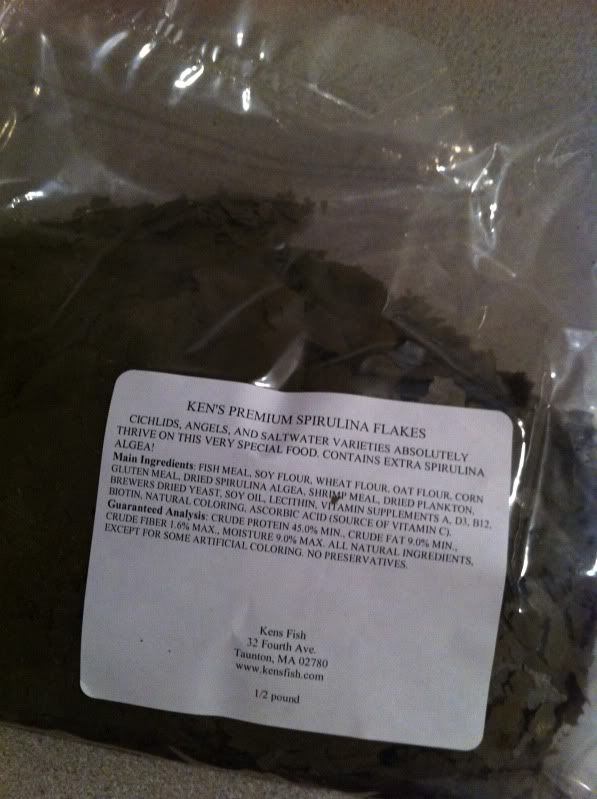 Beef heart flake
-My discus display magnificent colors since getting this.
Super Tropical Flake
-A great everyday fish food (similar to Tetra color or the like) This is pretty much the improved version of the Regular Tropical Food flake which I no longer offer since I can provide this, an even more beneficial food at the same price!!!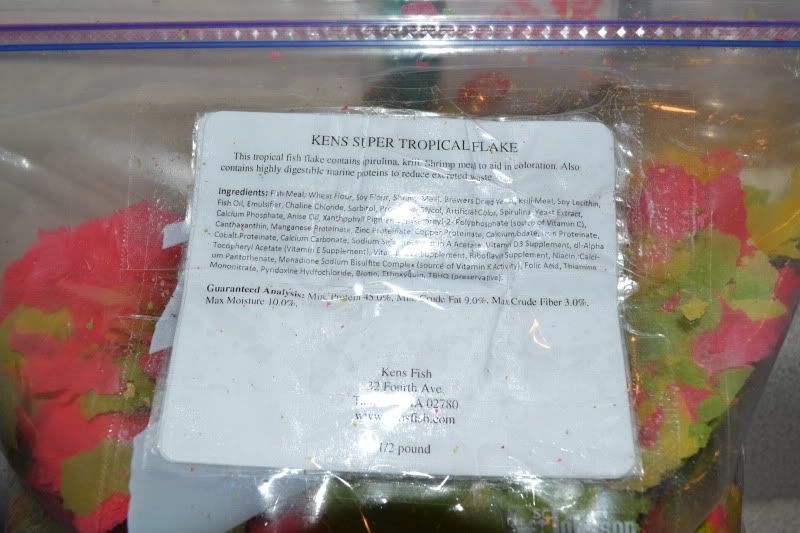 Kens Premium Color Max Flakes
*GONE*
http://i147.photobucket.com/albums/r288/bsmith782/work%20pics/kensfood11-10-10008.jpg[/IM[U][/U]G]
Premium Meat & Spirulina wafers *GONE*-Loaded with meat and Spirulina. Great for meat eating fish that like to feed on the substrate.
[IMG]http://i147.photobucket.com/albums/r288/bsmith782/food2-25-11001.jpg
Spirulina sticks
Earthworm sticks
Soft and moist with Krill
*GONE* -Great conditioning food for bottom dwellers and mid swimmers a like. Lots of good stuff in these, best kept in the freezer or fridge if your not using a ton of it due to all of the beneficial goodness.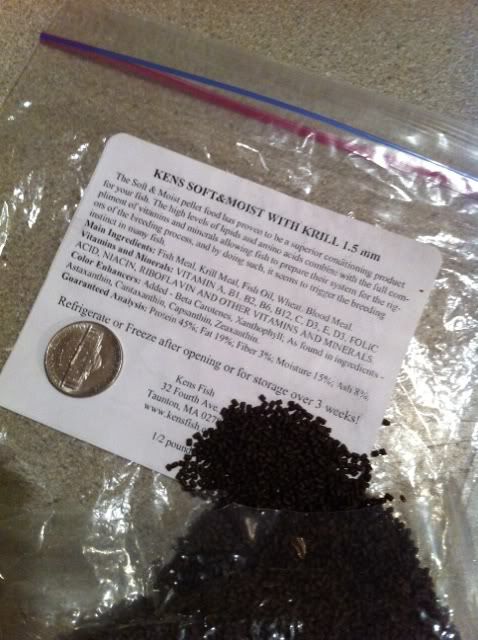 Kens Premium Sinking Color Bits
Kens Premium Super Color Pellets 3.0 mm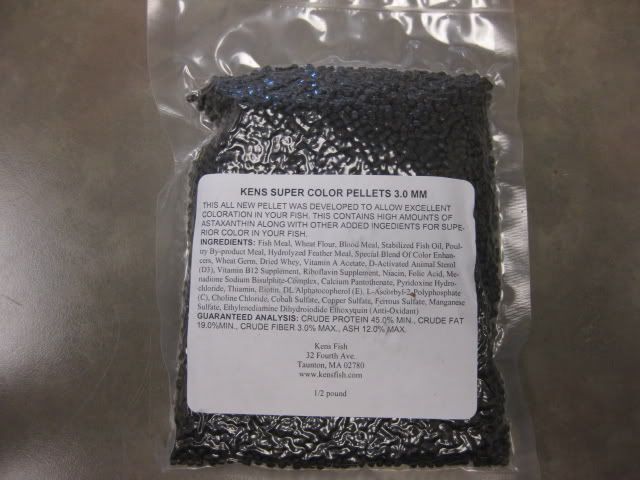 Sinking 4 Bit blend
~~~ONLY 3.5oz LEFT~~~ - A mix of Egg bits, Earth Worm Bits, Spirulina Bits and Color Bits. Excellent food for all fish with a wide variety of proteins and plant matter to help enhance breeding and condition.
Kens Premium 2.0 mm Slow Sinking Growth Pellets
*GONE*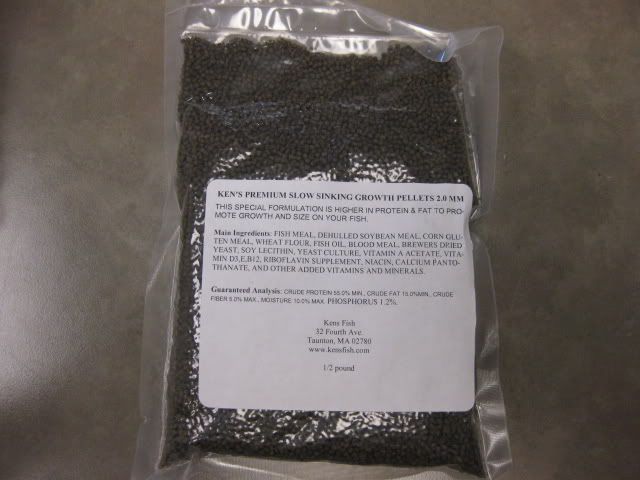 Tropical Green Granule 1.2mm
-This is a pellet that is formulated with a unique proprietary blend of algae that lends to it's striking green coloration. It is a super healthy pro-biotic food that aids in digestion and overall wellness of your animals!
Kens Premium Vegetable Sticks With Calcium
Super color crumble #2
-This stuff is really different than ANY food I have ever seen. It feels like fresh coffee grounds and smells like a wonderful mix of animal and plant proteins! This stuff is a game changer!
Premium Fry Crumble #3
~~~ONLY 3oz LEFT~~~- Contains Spirulina, Krill and natural color enhancers. Give your fry a great start!
Just for a visual reference. This is one oz of beef heart flakes and one oz of earthworm flakes. Its ALLOT of food for $9 shipped!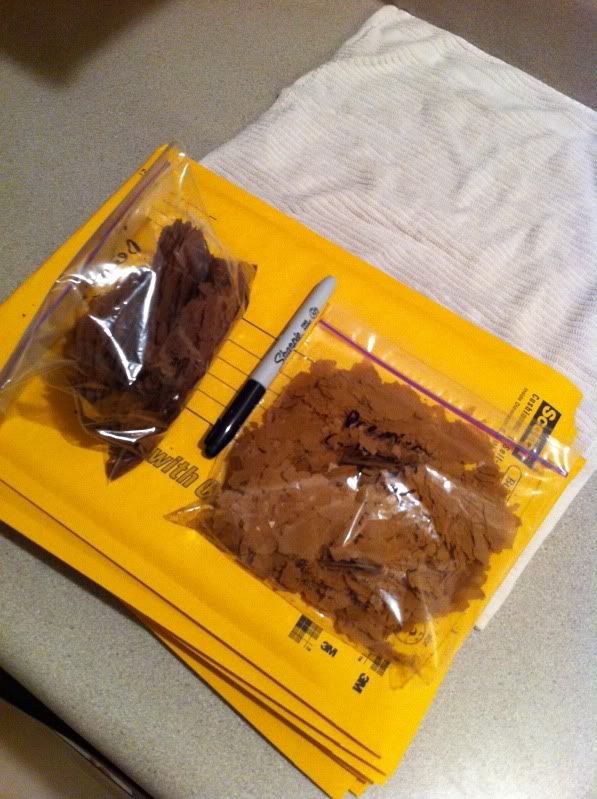 So since I'm getting a lot of messages from people who are wanting food for specific animals I'm going to put together some different mixes so the consumer would just have to pinch from one bag instead of mixing, not having enough of a singular food because they mixed too much X flake into it whatever.
All of these mixes will be sold in 1 2 and 4 oz portions for $5.50/$9.50/$16 respectively.

Flakes
Shrimp Growth Mix
-Will be a mix of earthworm/beef heart & spirulina flakes. Earthworm and beef heart are great sources of protein and the spriulina is fantastic vegetable matter with a good amount of Ca for good shell growth.
Shrimp/Snail Egg Production Mix
-Will be a mix of Beef heart,Earth Worm flakes and Colormax. Beef heart and Earthworm are the sources of protein which is what egg production mainly relies on the Color max also has a great amount of fish protein and will also keep them healthier and better looking during the trying process of reproduction.
Colormax+ Mix
-Will be a mixture of Colormax, and Super Tropical Flakes. I see the best result in my discus when I feed an even ratio of Colormax and Super Tropical flake which contains plant proteins and omegas that are great for fish/shrimp/anything in the tank!
Sticks
Shrimp/Invert/Bottom Dweller Growth Stick Mix
-Will contain Spirulina sticks, Veggie sticks w/Ca, and slow sinking growth pellets. This is great for large shrimp tanks and also for any bottom feeders that like these foods. You could also snap the pieces in bits for smaller tanks/less shrimp or animals.
Breeding & Conditioning Stick Mix
-Will contain Spirulina sticks, Sinking Color Pellets, Fry Crumble and Super Color Pellets. Spirulina is a good balance of properties, Sinking color pellets are full of good fiber to aid in digestion and the Super Color Pellets have nice amounts of protein and fat to help weather the storm.
Super Color Mix+
-Will contain Sinking Color Bits, Super Color Pellets and Soft & Moist w/Krill. I feed this to my pleco breeding tank once a week since the other foods are more based on breeding and this evens it out a bit.
Please if you would like to discuss your own mix shoot me a PM!