More will be up soon!
9/3: I have a ZooMed 501 canister for sale. Used it on my 5 gallon nano shrimp tank but had to downsize on tanks and never really got to use the thing. Perfect for nano tanks. Only catch is that it is just the filter itself with some parts like suctions cups and some new vinyl hosing that fits it but was never used. Original hose was tossed, it was dirty. I was using lily pipes on it so I the original pipes I do not have. I may have them but I cut them short to fit my 5 gallon nano. I'll throw them in anyway. You'll need new media as well as I didn't want to keep it. So fill it with whatever you'd like and use whatever pre filter sponge you may want if you choose to use one. I honestly ran it with just pure filter floss and some seachem matrix, that was it. Occasionally carbon or such for clearing up the water once in a while. I'm selling the unit for only $28 shipped since it is still a nice nano canister for somebody out there. I know its a popular little filter and I did quite like it for my shrimp tank.
Well I just trimmed up my 75 and I pulled up all my monstrous Chain Sword (E. tenellus). Decided I needed to change up the layout of the tank and have no room for it anymore. There is a ton of it! About 120 plants available! Very healthy root systems on them and most plants you will get are big plants, not all cheap tiny stuff. At least half of the plants you will get, if not almost all, will be nice mother type size plants. Average plant is about 4 -5 inches tall. There could possibly be a tiny bit of algae on a blade or two on a tiny percent of the plants but those leaves are easily clipped off. They gathered algae because some of these plants are very old mother plants that have accumulated some algae over a long period of time. Here is how we will do it....
10 plants for $10 shipped
20 plants for $16 shipped
50 plants for $30 shipped
Or the whole thing as one monstrous package for $50 shipped (That's over 115 plants at the LEAST!)
....and I always include extra with each package! Minimum of 10 plants per order to make it worth a trip to the Post Office! All include priority flat rate shipping so you get it fast!
Check out the pictures of this beast!!! (its back in a holding tank and will be packed fresh when sold!)
Here is the monster carpet being held right up to my 10 gallon breeding tank for size reference, this is just a portion of what I have!
Here is one big main clump of the carpet compared to my hand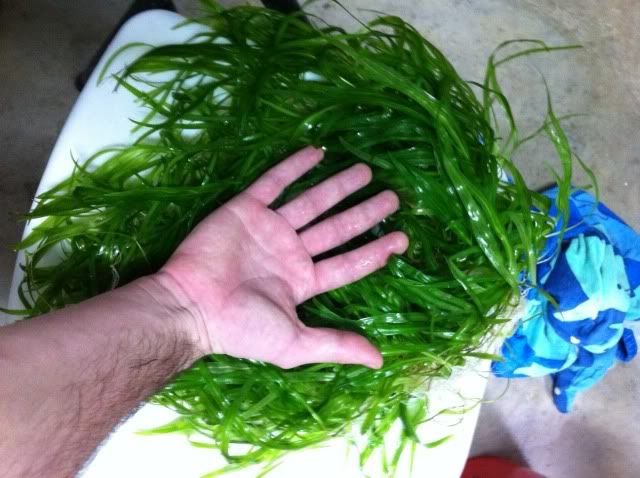 And the average single plant you will receive will be about this size (some much bigger and smaller but most are around this size with good roots as you see)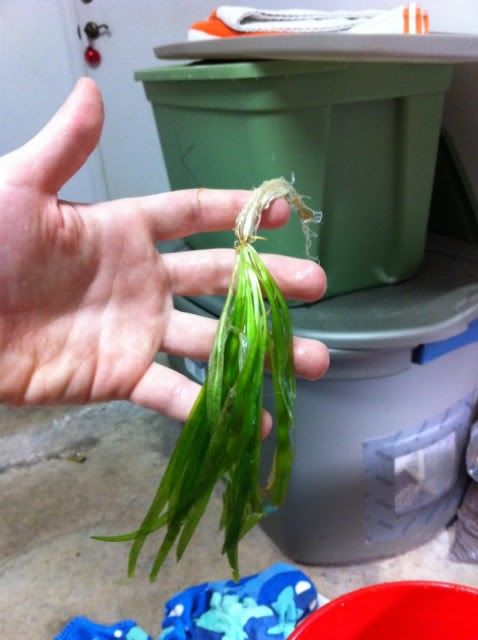 Check my feedback, I'm a long time member with a perfect pTrader rating.
PM if you want to purchase this package, paypal payment of course! I'll PM you my paypal address in a reply to your message.
Here is a link to a pic of the tank its coming from:
http://i176.photobucket.com/albums/w194/PRSRocker3390/IMG_0356.jpg