Discussion Starter
·
#1
·
It is with great sadness that I must part with my beloved aquarium.
It is a custom acrylic bow-in (not bow out!) 110 gal show tank with wood stand, sump, heavy duty pump, RENA filter, CO2 injection system (including 2-5 lb tanks). I'm keeping the fixture I'm currently using but have a 48" CURRENT (I think) fixture that should work well with this tank.
This is a 2 year old mature tank with huge swords and other plant life, plus blue pearl, emerald green and amano shrimp. And the greatest bristle nosed pleco there ever was. Oh! And breeding assassin snails.
I have been so busy that I haven't had the time to spend on it, so I stopped fertilization and CO2 and now it is completely self sustaining except for top-offs. But when it was injected, it looked absolutely amazing and I know it will get there again.
I'd be willing to piece this off, but would be thrilled to offer a killer deal to someone looking for the whole set up...like maybe $600? The tank alone was close to $2000. This tank was made for salt water so could be easily converted.
Pick up only, please. I'm located in Denver, CO.
Here's what it looked like when it was just set up: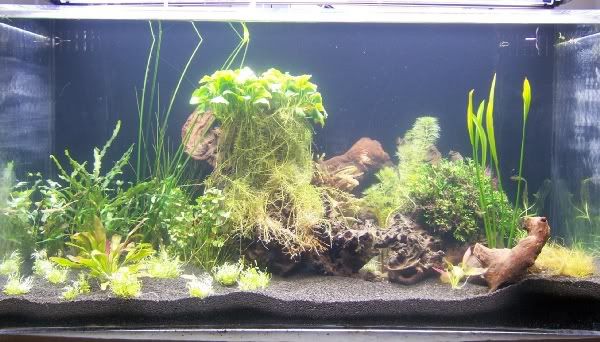 And here it is today. It has tons of potential! (BTW, that's riccia floating at the top!)