Specs:
Tank: 10 Gallon All-Glass
Lighting: 40 Watt USA Satellite 6500k/10000k
Substrate: Eco-Complete
Hardscape: Zebra rock
Ferts/Dosing: EI w/dry ferts plus Flourish and Excel, but while emersed just misting with diluted Miracle-Gro and Flourish Excel
Filtration: Toms Mini-Canister (later changed over to an Aquaclear HOB)
Flora: HC & HM
Fauna: None so far
Set up this tank on February 25, 2008, so it's been a little under a month since I put it together. I planted an HC lawn in the front, and purchased some HM to use as sort of a "backup" if the HC failed, which I suspected it might. I planted HM to the front right and also in the background. I intend to plant heavily with stem plants in the two back corners once I fill this thing up with water, with HM acting as a midground and HC as a foreground. I planned to grow these two emersed for about 8 weeks, at which point I hoped to fill the tank.
Here's some pics. I'm running into a little problem, which I'll discuss in my next post.
Pic 1: Tank as of 3.9.08 (2 Weeks after startup)
Pic 2: Overhead shot as of 3.9.08 (2 Weeks after startup) (Added a little more HM to front-right and middle)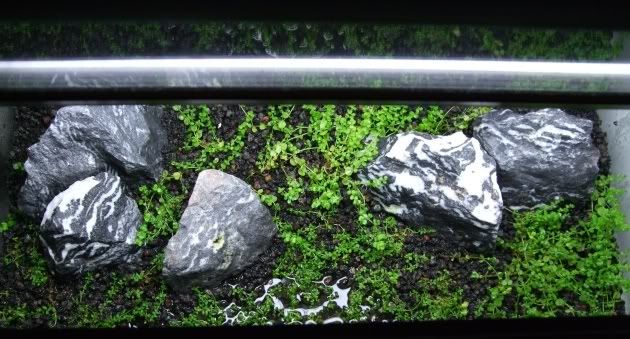 Pic 3: Overhead shot as of 2.25.08 (Date of Startup)