Discussion Starter
·
#1
·
Got this tank back in the beginning of 2016, a Marineland 37G Column (20"Wx24"Tx18"D). It was originally setup as a low tech planted with some guppies and swordtails. Had a real beautiful piece of driftwood that was perfect for the tall tank. And I did a pretty good job with the plants. But I always had a problem with cloudy water. Tried a bunch of things to clear it up, made it a little better but could never get it crystal clear. After awhile decided I wanted to put some different fish in there, so moved the guppies and swords to my wife's 20G.
I got 2 young blood red parrots and being frustrated with the cloudy water decided to redo it as a barebones setup. Bare bottom with some terra cotta pots for the parrots to hide in. Had a large fake mangrove ornament in there too. It was pretty "meh" as far as looks but the parrots have done great, laying eggs all the time. And the water was crystal clear, so it must have been something with the gravel or driftwood in the old setup. Maintenance was easy with the bare bottom, but it just never looked good. Filtration is a Fluval 206 canister supplemented by a Seachem Tidal 55 HOB for skimming and polishing (easier to change the pad there than the canister). Lighting is a Current USA Satellite Pro 18".
Started spending more time here again when I was getting our 150G indoor pond setup. And got the bug to re-do the 37G column. One of the things I've been reading a lot about is foam only filtration, Mattenfilters in particular. I'm pretty good about doing water changes, but I can tend to let my filters go longer than I should between cleanings. So a super simple, effective filter that can go long periods without needing to be messed with is a big draw to me. I sent an email to Swiss Tropicals to see what would be the best setup for the tank and fish. The owner Stephan was really helpful. He recommended the 90G Mattenfilter kit, and cut it slightly oversize to fit my tank. It's a 24"x20" sheet that's 3" thick with 2 large size Jetlifters in the 16" length. I went with 20ppi foam since the parrots are a bit messy.
Swiss Tropicals rates the large size Jetlifters for about 200GPH flow when used 50GPH air source. I'll be running 2 of them so I went with a Hygger 160GPH 2 outlet adjustable air pump. I have it at about 50-60% output right now and the flow is quite good, should be plenty of turnover. The Hygger pump is quiet, tiniest bit of hum but barely noticeable.
I have never used a dedicated planted tank substrate before but knew I wanted to try one this time. I didn't want anything that would break down over time so went with Seachem Flourite Dark. I read a lot of differing suggestions online about the best way to wash it. And also quite a few unhappy folks saying they washed it super well and it still clouded the water badly. The method I ended up using was to poke a bunch of small holes in the bag, and using the garden hose to rinse it out until the water ran clear. This worked surprisingly well, and the water did not cloud much when I filled the tank 1/3 full in preparation for hardscaping and planting. The Mattenfilter really helped here as well. Putting the Python hook in the back "chamber" allowed filling without disturbing the Flourite at all.
We went to the LFS today to pick out some hardscape and plants. My wife really liked the Texas holey rock so we went with that. I know the parrots don't need higher pH like some cichlids but they should be fine with a little bump from where it's at right now. For plants we got Cabomba, Hygrophila, Red Ludwigia, and Amazon Sword. I brought over a little Anubias (unknown variety) and some mystery moss, had these in the old setup. I'm trying out the Aquarium Co-op Easy Green fertilizer.
I took 2 of the "mulmy" sponges from the Fluval canister and put them behind the Mattenfilter to help seed some beneficial bacteria. Right now the parrots are in an old 10G with the Tidal 55 and a spare heater. Planning to put the Tidal 55 back on the 37G so I can move the fish back right away, and then remove it once I'm confident the Mattenfilter is cycled. Really looking forward to seeing how the Mattenfilter does
Here are a few pics of the new setup:
Flourite put in, ready for hardscape & plants. Washing it in the bags was easy and effective, would recommend. You can see the Python hook behind the Mattenfilter, this really helped minimize disturbing the substrate while filling.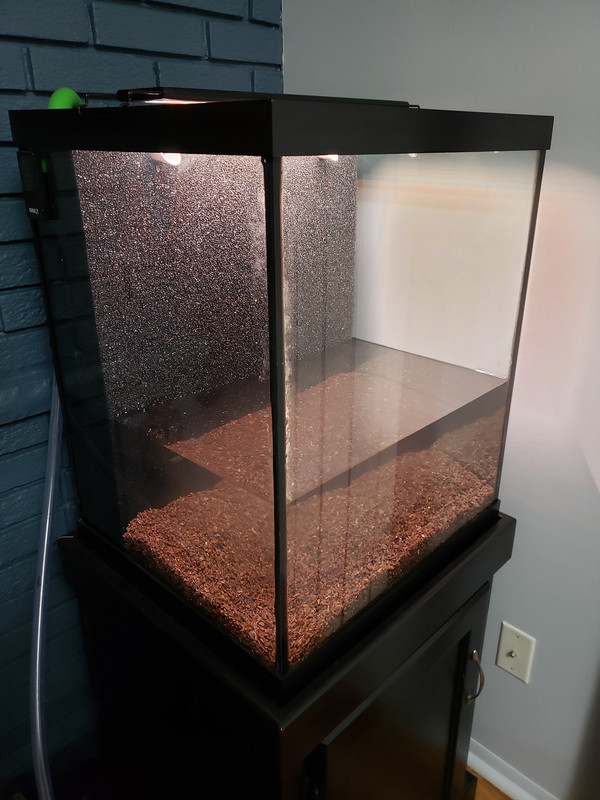 Parrots in their temporary home. I really love these guys, very active and love to interact with people.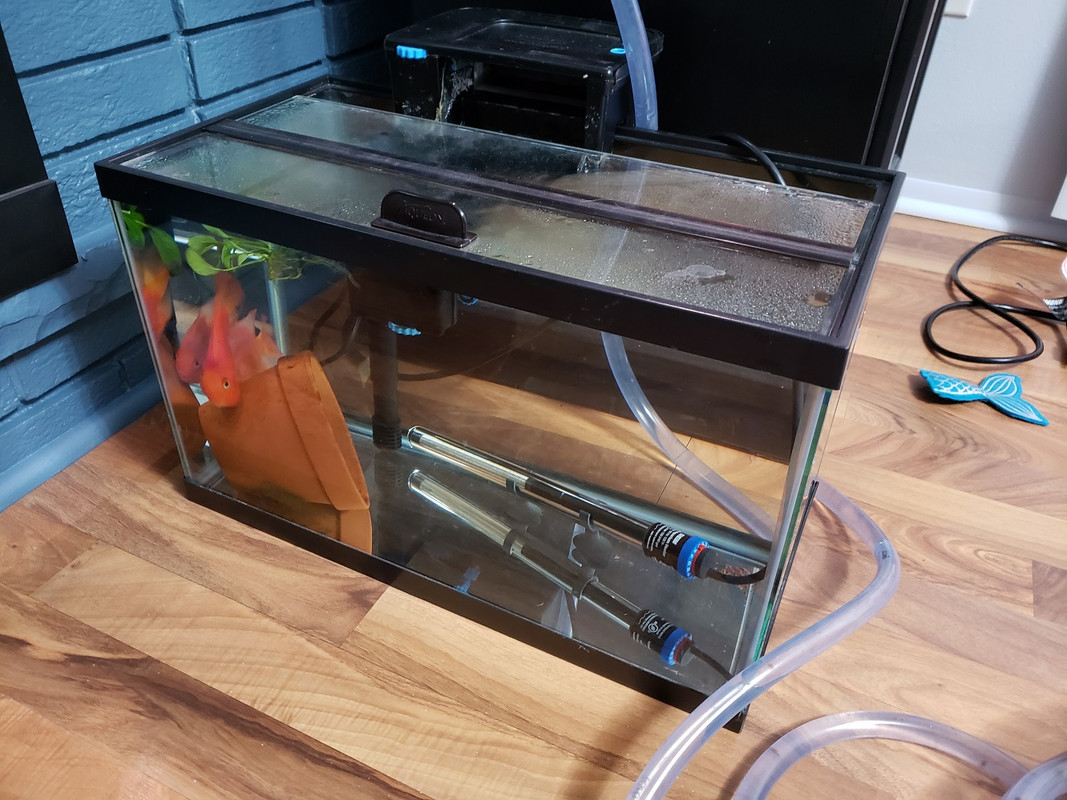 New setup, hardscaped and planted.