Discussion Starter
·
#1
·
Hey I'm new to this forum and new to owning an aquarium.
Just got a Fluval Spec V and this is the first tank I've ever had. After looking through this forum I thought I'd try my hand at turning it into a planted aquarium which will house a few friends once it completes its cycle. I appreciate any comments or suggestions, and remember I'm a newbie so go easy :angel:
Here's some photos to chart my progress putting it all together yesterday:
In the Box: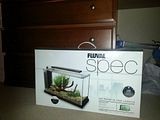 Nutrient substrate in and sand on top:
Managed to find an interesting piece of hardwood to weave some moss through.
Hardscape pretty much done: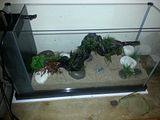 Planted a few of the smaller plants and grasses around it.
I decided to do the planting dry, before adding some water and keeping on checking they remained secure. This is because I'm a beginner and thought it could get pretty messy if I did all the planting half-full.
Started to put in some of the taller plants towards the back right:
All the plants in now and ready for some water: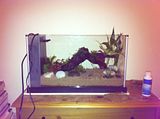 Moment of truth as the water starts to go in: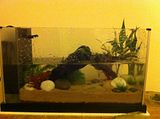 Water filled up: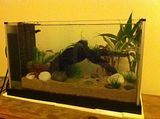 Now to set up the light and rest of tank: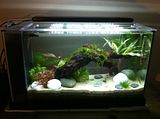 Had some air bubbles in the sand and needed a few finishing touches.
Finished Tank: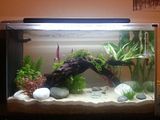 Quick Youtube video (1 min 20). Tried to show some angles:
http://www.youtube.com/watch?v=9WJbHSupsb8
Thanks, hope you like it. More to the point, hope my fish like it :hihi:
Pretty pleased with the tank and its looking pretty clear already. In the photos it was only running for about an hour or two and was quite crystal. Think it might be because I did dry planting, who knows.