yes, I have first hand experience with these fixtures and vendor.
1. the bulbs are labeled and sold at T5
HO
, yet the light given is no better than a regular T5, probably due to an inferior integrated ballast.
2. the vendor is a great guy, who responds to emails, will even swap blue bulbs for white, and the price is good, even for a regular T5 fixture.
3. the fixture does not present any hot spots while running, but the plastic legs are not rugged enough to withstand regular removal or relocation.
4. the slim bulbs are hard to remove with fingers, so you need to loop a twist tie under each bulb end in order to lift them out without breakage.
5. the Chinese
Katana
brand bulbs are of dubious quality, and may dim or blow out prematurely. one 24w bulb blew on me after only 3 Months.
Conclusion: if you can afford the NOVA T5HO fixture from Current, you will definitely get more HO light yield, longer life bulbs, and a better quality fixture that is worth the extra money. if you can only afford a Aqualight 2 bulb regular T5, and that amount of light is sufficient for your needs, then you may as well save a few more bucks and buy these ebaY fixtures instead.
~~~~~~~~~~~~~~~~~~~~~~~~~~~~~~~~~~~~~~~~~~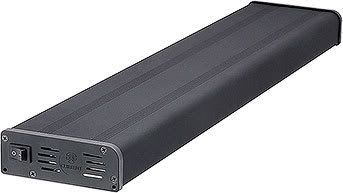 Great starter T-5 light fixture
See
Current's Nova Extreme™ T5 High Output X2 Freshwater Light Fixtures
. They come with one 'pink' freshwater plant growth bulb and one 10,000K bulb. Both bulbs are HO T5's. The fixtures are narrow at 4¼ inches.
They come in lengths from 24" to 48". These are the models:
24" - 2x24w
30" - 2x24w
36" - 2x39w
48" - 2x54w
WPG Examples
24" fixture - 15 gallon = 3.2 wpg
24" fixture - 20 gallon high = 2.4 wpg
30" fixture - 20 gallon long = 2.4 wpg
30" fixture - 29 gallon = 1.7 wpg
36" fixture - 30 gallon = 2.6 wpg
36" fixture - 38 gallon = 2.1 wpg
48" fixture - 40 gallon long = 2.7 wpg
48" fixture - 55 gallon = 2.0 wpg
Here's some places that sell them:
http://www.thatpetplace.com/pet/group/1392/product.web
http://www.drsfostersmith.com/Product/Prod_Display.cfm?pcatid=16770&N=2004+113175
The prices are good for these HO T5 fixtures. I'm sure they are brighter than
Coralife's NO T5 Aqualights
.
The picture looks like the fixture has a single reflector instead of a reflector for each bulb like the
SunlightSupply.com Tek Light™T5 HO Lighting Fixture
.