Discussion Starter
·
#1
·
Hello!
I just set up a small 14g (60x30x30cm) tank specifically for my lucky bamboo. I unintentionally had to add a TON of sand though (16kg... oops) to keep the bamboo upright. I don't mind it myself, but it does take a whole bunch of water volume away. I originally intended for it to just be a home for maybe a betta or some male fancy guppies, but now I'm wondering, are there any fish or other aquatic critters that enjoy a deep sand substrate that can also go into a smaller tank? Maybe certain bottom feeders/fish that like to bury themselves?
Here is a picture of the tank. The water is incredibly cloudy because I'm too lazy to rinse the sand, just gonna let it filter away before I add a heater/light and some plants and start cycling.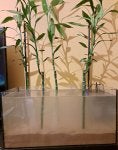 Thanks for reading and I welcome any advice/stocking suggestions!!