Discussion Starter
·
#1
·
I was at the local fish store last Friday and I came across this fish that was sitting in a tank all by itself. I was labled Goby, but I swear it's something else.
I threw this thing in the tank after I added a couple of Ghost Shrimp for fun. After it had been in the tank for 5 minutes it spotted one of the shrimp and made an attempt on it's life. It missed and returned to hiding by myfilter.
Another 5 minutes passed and I came back to the tank to have a look and found thist thing floating up side down under one of my lilies. I have never lost a fish so I felt bad and a little upset that it lasted all of 30 minutes out of the pet store. I tapped it a couple of times on its belly and it swam away quickly, right side up.
I kept waching and this thing swam back under the pad and flipped himself back-over. I nearly soiled my pants.
I watchedfor another couple of hours and this thing will swim completley level, half deep...perfectly still against a light current to survey the bottom of my tank for movement. It also sat upside down for a couple ofhours....tunrs out that this thing loves to float upside down...and it looks like a fish ( looking up from the bottom of the tank ) that is swing correctly. WOW what a cool fish.
It obviously has zero interest in flake or alage pellets, not ciclid stick, not even brins shrimp. It needs to see a live, moving animal to get it's interest. --Maybe he needs to be starved a little to try freeze dried food-- Just kidding ya hippies!!
I threw a couple crickets at him last night and he struck like a pike on a floater bait! Got him to eat a couple of worms today ( wax and meal worms )
Only ate the ones that were wiggling around on the bottom, no interest in the still, dead ones.
so, here are two picks. He is not moving at all in either pic.
I need a name too. Something evil, relating to hunter, stalker, croy the warrior king, etc.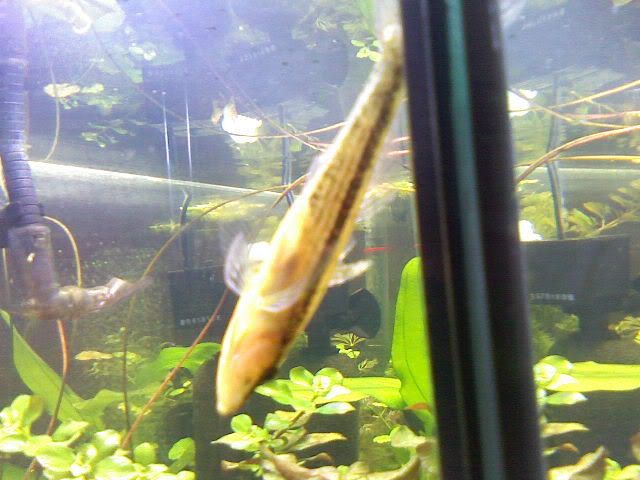 Not moving, surveying the bottom of the tank. Kinda belly up
Upside down again, hiding under the sword. He looks like he is right side up, doesn't he.
His stomach is lighter in color. the strip on him is slightly broken up, but mostly black.
What do ya think he is?