Discussion Starter
·
#1
·
Hi all, I've been lurking around here for about a week now doing research, and I still seem to be lost, so I guess I'll go ahead and ask some questions!
First, I'll start off with where I am now.
Pics first:
Full Frontal
The fiddlers, possibly fiddlin'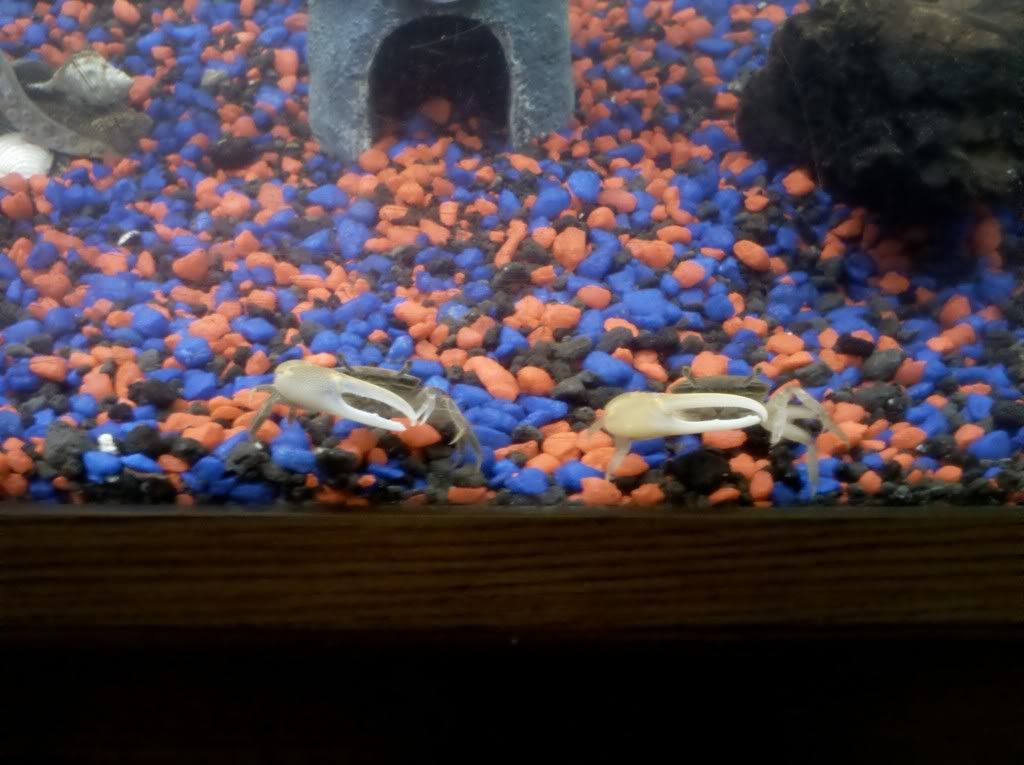 A view of the wooded end
Right after I brought home the leopard ctenapoma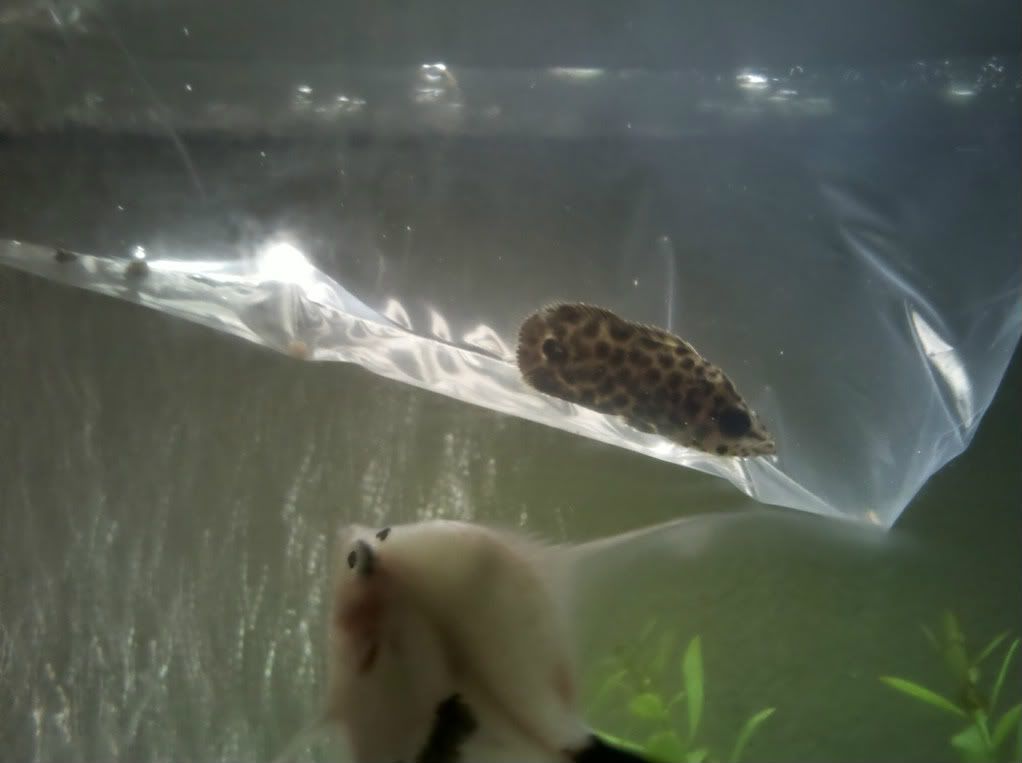 So what you see is a 55gal (48"x13"x21"),
slightly
brackish angelfish show tank (yes, angels and brackish in the same sentence). Six 2.5" angels, one lone platy from when I first started cycling the tank, a new leopard ctenopoma, three fiddler crabs, a clown pleco, and a common pleco, since the clown pleco doesn't eat algae.
Substrate is CaribSea Voodoo River mixed with red and blue gravel.
Lighting is whatever the heck I got when my friend gave it to me. I measured 22w pulled from the wall from each, and they are florescent, that's about all I can tell you about them. The bulbs are roughly four years old.
Filtration is a bit lacking ATM, a Rena XP1 with Bio-stars and activated carbon to clear the water from the tannins the driftwood releases. I just added a large piece of wood into the tank, and it was too long for me to be able to boil properly, so the carbon needs to stay for now, though I have read a lot of mixed views of carbon in a planted tank.
Ok, now that I covered what's already here, we'll move on to where I want to go with it:
Tomorrow I will be leaving for a little over a week to go stay with my wife's family up in Kentucky. While up there, I will go and see some of my family that had told me they had a 75gal aquarium I could have if I would come get it. They have the tank, filter, stand, everything, I would just need new media.
I'm not sure what kind of filter it has, but I will most likely replace it with a Rena XP3 or XP4, as I know how to use them, I can get the media easily and cheaply from my LFS, plus they are convenient and easy to service.
The gravel substrate will be replaced by a mixture of Caribsea Moonlight Sand & Tahitian Moon sand ordered from Dr Fosters & Smith. Can't beat $15 per bag, my LFS sells it for $26 per.
As for lighting, I will be going LED. I've looked at the Marineland double bright 48-60" kit, seems like it would fit the lighting bill for just the fish, but I don't know if it will be ok for a planted tank. If there is a less expensive DIY option, I'd love to hear about it (I've looked some of them up, but every one I've seen doesn't list the size of the final kit).
A buddy on another forum (an extreme computer water cooling forum, no less
) mentioned having a dimmer put onto lights so that there's no instant light shock for the fish in the mornings and no instant off at night. I'm assuming that the Marineland system won't work with this as it has a single switch that controls both sets of lights, which means that I would possibly need to make/wire my own lighting.
As for plants, I don't want a whole lot. Four small pots of Amazon Swords, four small pots of dwarf four-leafed clovers, and three bags of Java moss to cover the driftwood with and a bunch of nano moss balls. Will the Marineland/custom LED lighting be enough for these plants?
I've also read about CO2 insertion, I'm not sure where to start with all of that. I have a bubbler, but it's mostly for looks and can be controlled some. If anyone has any beginners' guides, please link me and I promise I'll do my reading.
I think I covered everything, but knowing me I probably left something out!
Comments/criticism/answers/million dollar donations are always welcome.
-Ben