Hey, long time lurker but I feel I guess I will finally post my tank. Initially I had only .75 wpg!! I had tons of troubles growing stuff period, some stuff did slowly, but I finally upgraded to 2.5 WPG in October and recently added CO2 a week ago. There are a lot of things I wish were going better but learning the hard way is the best way to learn! The tank has been up since last Spring and has been moved from my home to college apt. once so far (will move back during summer). Just started using Hagen CO2 and hoping this will make things better for me. As the pics show, I'm suffering with some BBA, but with my new SAE and CO2 I hope it starts to go away! Without further to do, specs and pictures!
Size: 20 Gallon High
Substrate: Flourite + Sand, I only used one bag of Flourite + Sand, I wish I added less sand and more flourite, but oh well... It really mixed together as well, but it seems to provide a natural look.
Filter: Aqua-Tech (Came with Aquarium package from Wal-Mart)
Heater: All-glass Aquarium (Again, came with package)
CO2: Hagen Bubble Ladder + Mix (Will use DIY recipe when this runs out, or if I get sick of it and want more bpm)
Fish: 3 Yo-Yo Loaches, 3 Platys, 2 Guppies (going to donate to fish store soon), 1 Sword Tail, 2 Otos, 1 SAE, various fry soon to be transferred/eaten by fish.
Plants: Jungle Val, Anacharis, Java Fern, Radican Sword, Cryptocoryne Wendtii? (need confirmation!), Dwarf Sagittaria, Hornwort, and a pitiful Melon Sword.
PICS!
Tank before Java Fern + Sagittaria,
Tank after new plants, took out half of the hornwort and threw it away, I plan to trim the Sagittaria eventually, unless I just wait for runners and then remove the big ones. Advice?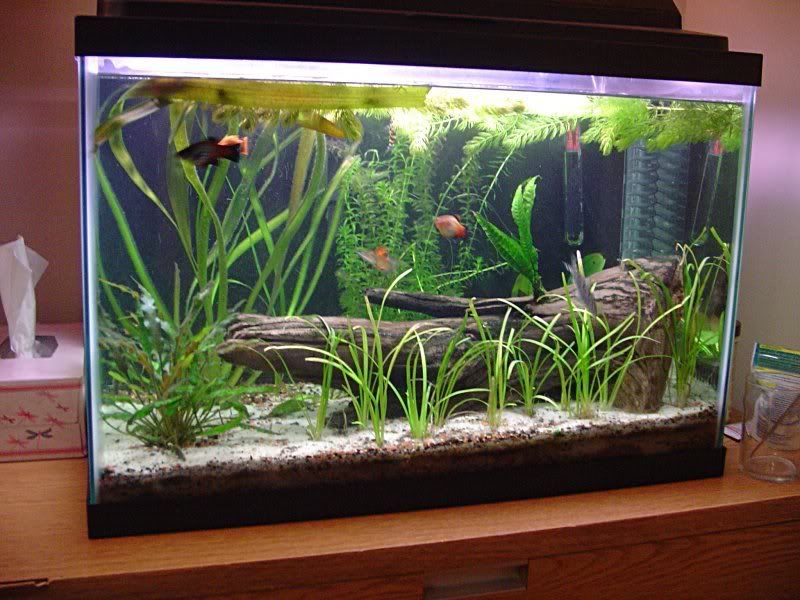 Close up on crypt.
Picture of a pitiful Melon Sword, should I toss it? It's gotten a little better since the CO2, but I don't even know if I have room for it anyways.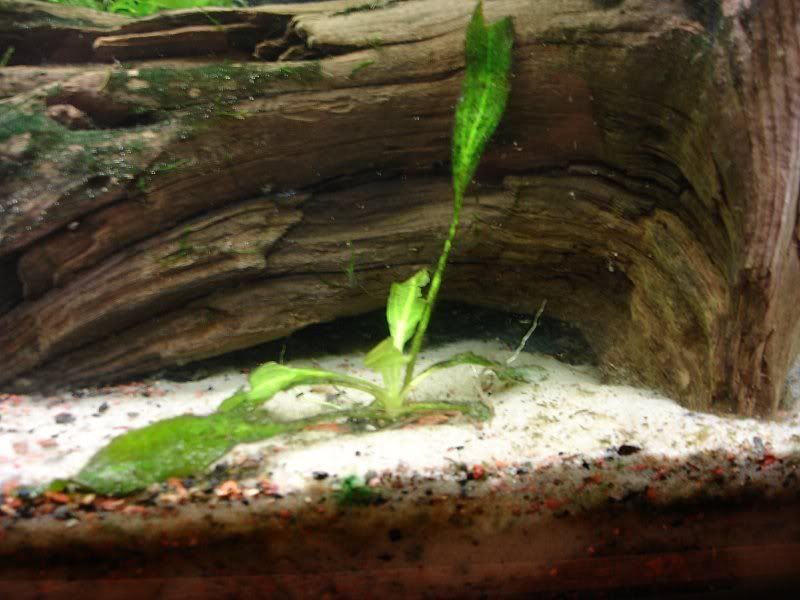 Close up on Radican Sword.
Close up on Anacharis, it keeps shooting off roots, but has been growing great after my new light/CO2.
My thoughts:
1. The Jungle Val probobly shouldn't be in such a small tank as 20g high, but I kind of like the look and for now I'll just keep trimming (it grows so fast).
2. All that Anacharis grew from 2 pitiful little pieces after I got my new lighting, that stuff really can bounce back.
3. The Radican sword is a new addition as of less than a week, it really is quite small to be behind my driftwood, but if it grows correctly I'm sure it will be TOO big possibly in the future.
4. I am thinking of removing the hornwort for good, it may be blocking my light for other plants making it a slower process, I do like this particular hornwort though, it seems to be a really nice variety that I don't see in stores around here, I got it from back home.
5. That driftwood is huge! The size of it might be whats making it hard for me to come up with a design for the tank, but I am gonna try to make it work, at least my tank will be unique...
6. Sand is the biggest PITA, I'd recommend any newbies to planted tanks to NOT use sand until they are more experienced and use Aquasoil, Flourite, Eco-Complete, or something similar first.
Definitely not show quality, but I'd like to make it better. Suggestions greatly appreciated! I am not dosing anything yet (waiting for CO2 to stabalize), but I have Flourish and Plant Glo Iron, I plan to buy root tabs in the future.
Thanks!